Ten years to transform our world
Today, progress is being made in many places, but, overall, action to meet the Global Goals is not yet advancing at the speed or scale required. With just 10 years left to achieve the Sustainable Development Goals (SDG), United Nations entities across the globe are joining forces to find  solutions to the world's biggest challenges — with a focus on poverty, gender equality, and climate action — and hence, are kicking off a campaign titled "Decade of Action".
On 22 January 2020, the Secretary-General outlined his priorities for the year, including the Decade of Action. This campaign will also lead up to a new annual event on the SDGs to be held during the United Nations General Assembly (UNGA 75) in September 2020.
UNIDO's contribution to the Global Goals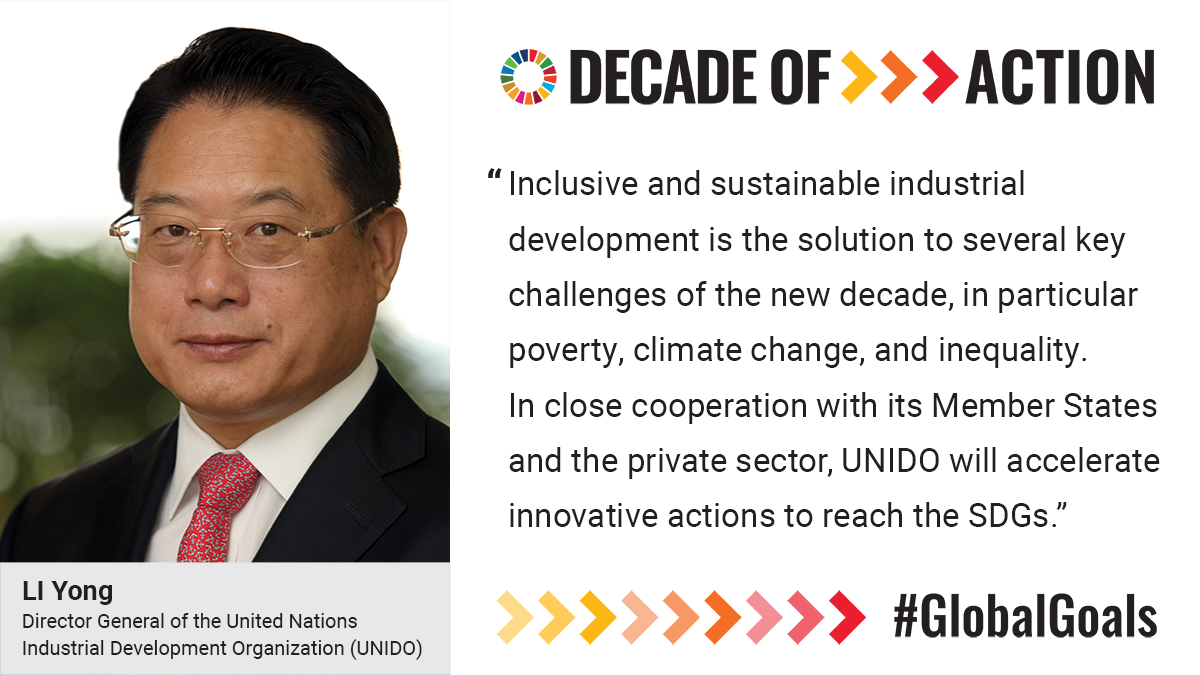 As a response to today's economic, social and environmental challenges, UNIDO promotes inclusive and sustainable industrial development (ISID) to harness industry's full potential to contribute to lasting prosperity for all, leaving no one behind. In this regard, UNIDO acknowledges the Secretary-General's global call for a Decade of Action to generate a fair globalization through ambition, innovation and solutions for everyone, everywhere.
So, how does UNIDO contribute to the eradication of poverty, promotion of gender equality and fight against climate change?
*Click on the icons to show more information
Ending Poverty

>Through ISID, and especially through the promotion of small and medium-sized enterprises and agro-business and agro-value chain development, UNIDO seeks to help societies move out of poverty while laying the foundation for the development of a green and modern industrialized economy.

Read our stories

Climate Ambition

> Achieving higher levels of ISID implies progress towards industrial patterns that minimize greenhouse gas emissions, including through sustainable energy solutions, resource-efficient technology and cleaner production and consumption.

Read our stories

Gender equality

> As a major driver of poverty reduction and social integration, UNIDO's vision of ISID supports women's participation and leadership in economic sectors, as well as promoting gender equality in all industrialization policies, programmes and processes.

Read our stories