When
2019 Jul. 03 14:30 PM
2019 Jul. 03 15:30 PM
From Aid to Investment: Supporting Economic Diversification and Industrialization in Africa
Limited industrial or manufacturing capacity is seen as the main constraint to economic diversification by African countries – as revealed by the Aid for Trade 2019 Monitoring exercise. Furthermore, African respondents rank inadequate infrastructure and diverging priorities between partners and donors as the top two factors limiting the success of the aid-for-trade support received thus far. In light of the above, and with a view to identifying a constructive way forward, this session will discuss innovative approaches to leveraging official development assistance (ODA) for increased investment in economic infrastructure and manufacturing industries in Africa.
The session will bring together leading Aid for Trade donors as well regional and country-level representatives from Africa, and private investors to discuss how best ODA can address key bottlenecks in mobilizing public and private investment in support of manufacturing capacity in Africa, in an overall context of rising debt levels and rapidly increasing automation in industry. Identifying best practices and promising schemes would be the objective of the session.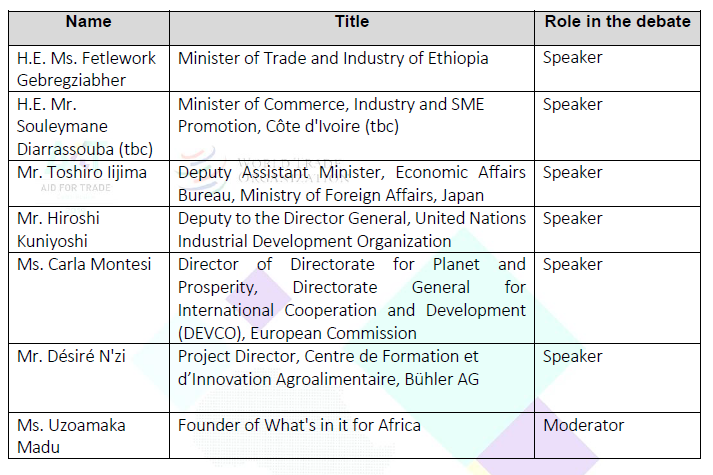 Find out the event flyer here.