When
2019 Jul. 04 12:30 PM
2019 Jul. 04 15:30 PM
Where
Conference Room 3, C-Building, Vienna International Centre (VIC) Vienna, Austria
Organizer
UNIDO, Government of Japan, African Union Commission
Pre-TICAD7 Event in Vienna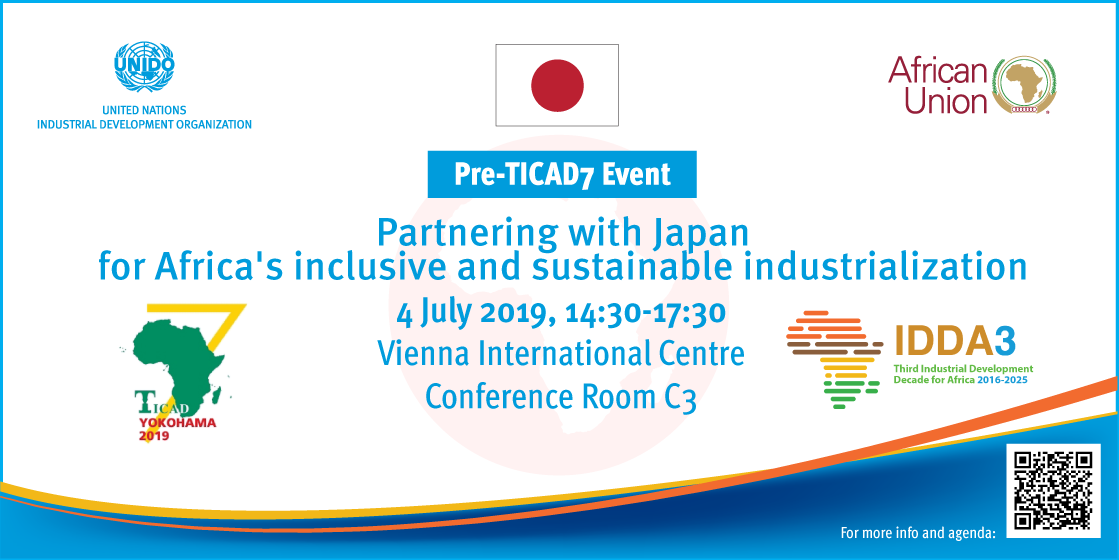 General Background:
The Seventh Tokyo International Conference of African Development (TICAD 7) is scheduled to take place from 28th to 30th August 2019, in Yokohama, Japan. Since its launch in 1993 by the Government of Japan, TICAD has become a major global platform for Africa's development with its inclusive and open approach through continuing process of support for Africa and consensus building around African development issues.
UNIDO has been an active partner and supporter of the TICAD process since its launch, with its strength in industrial development cooperation. As the specialized UN agency in charge of industrial development, UNIDO is the lead implementer of UN's Third Industrial Development Decade for Africa (IDDA III 2016-2025) to firmly anchor Africa on a path towards Inclusive and Sustainable Industrial Development (ISID).
Structural economic transformation and industrialization have become even more vital for Africa's sustainable growth and the linkage between TICAD, IDDA III and UNIDO's ISID mandate are being enhanced and strengthened. This pre-TICAD7 event will allow exchanging on the direction of industrialization in Africa and on how TICAD and IDDAIII can jointly respond to Africa's current development needs as well as to new technology trends and innovation.
Objectives of the event:
Strengthen understanding on TICAD process, industrialization in Africa, and IDDA III through UNIDO's ISID;

Formation of shared understanding on the structural transformation needs in Africa;

Discuss on critical role of partnership and cooperation between TICAD 7 and IDDA III in enhancing economic transformation through further industrialization and innovation in Africa.
Language of the event:
English and French.