When
2019 Aug. 29 11:00 AM
2019 Aug. 29 12:30 PM
Where
Exhibition Hall B05, Pacifico Yokohama, Japan
UNIDO-FAO Side Event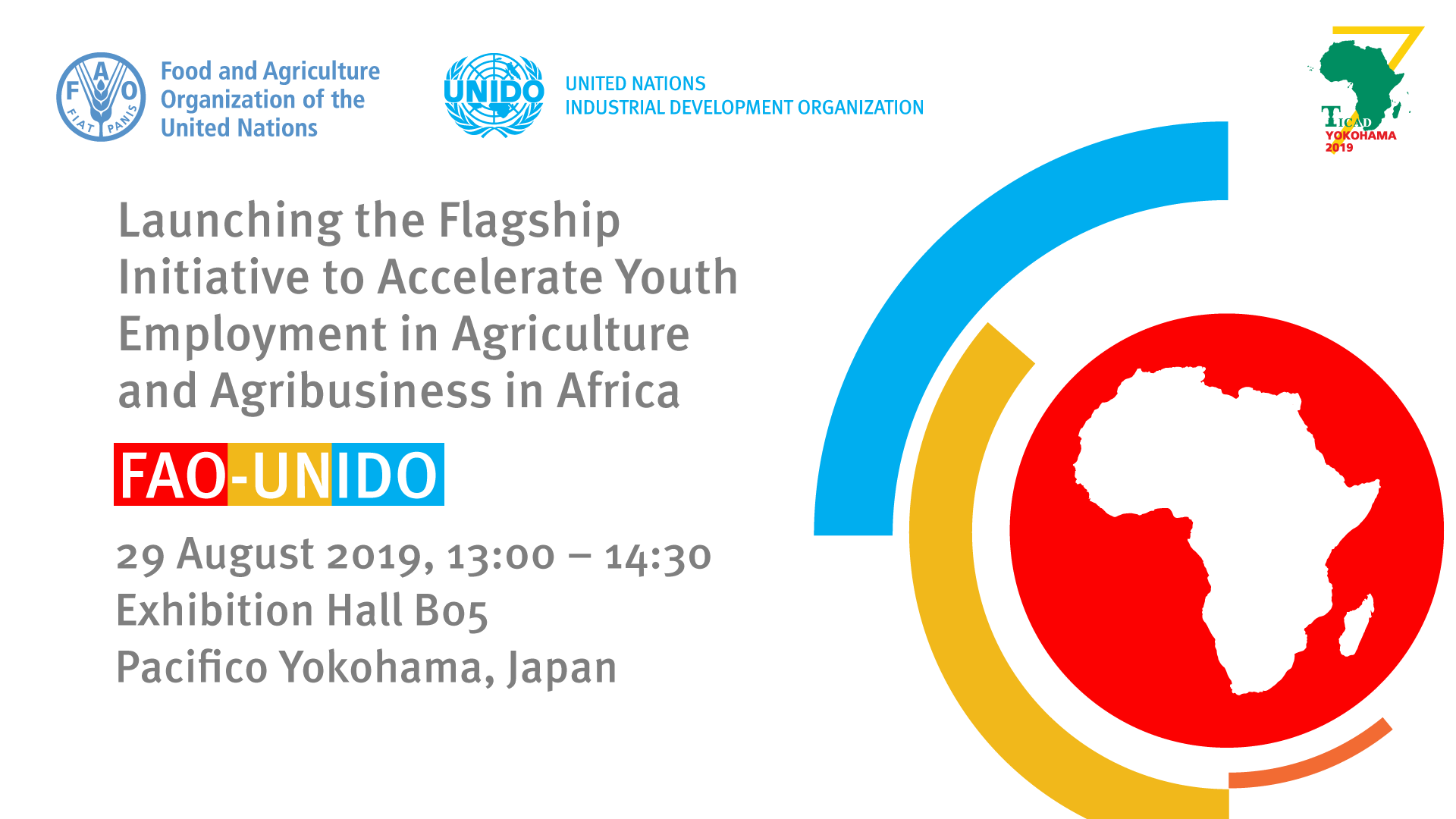 Find out more about the registration process here.
General Background:
Africa has the youngest population in the world. The share of youth in the labor force is also the highest in Africa ranging from approximately 35% in Sub-Saharan African (SSA) to 40% in North Africa. A large and so far untapped reservoir of employment opportunities can be found in some segments of value-adding agriculture (e.g. horticulture and floriculture) and agri-processing. Food demand in Africa is increasing due to growing population, urbanization and rising household income. This is creating new market opportunities for producers and processors, while also providing opportunities for job creation on farms as well as in peri-rural areas where food processing and logistics can reach minimum scale for efficiency.
Addressing the youth employment challenge is in line with achieving the Sustainable Development Goals. This reflects respective commitments towards advancing the global agenda, including through global networks such as the Inter-Agency Network for Youth Development, or the Global Initiative on Decent Jobs for Youth. Also, Agenda 2063 for Africa, for example, aspires to achieve equal prosperity of the continent based on inclusive and sustainable growth, driven by the potential of its peoples, women and youth in particular.
At the event, senior officials from FAO, UNIDO are launching a flagship initiative to accelerate youth employment in agriculture and agribusiness in Africa. Furthermore, key factors for the success of the initiative will be revealed and it will provide a platform to forge partnerships and mobilize resources for implementation.
Objectives of the event:
High-level launch of the initiative, including a presentation of the tentative road map for its implementation

Provide a platform to forge partnerships and mobilize resources to facilitate effective implementation of the initiative
Language of the event:
English.