When
2019 Aug. 27 13:30 PM
2019 Aug. 27 15:00 PM
Where
Annex Hall F025/F026, Pacifico Yokohama, Japan
Organizer
UNIDO, AUC, AfDB
UNIDO Official Side Event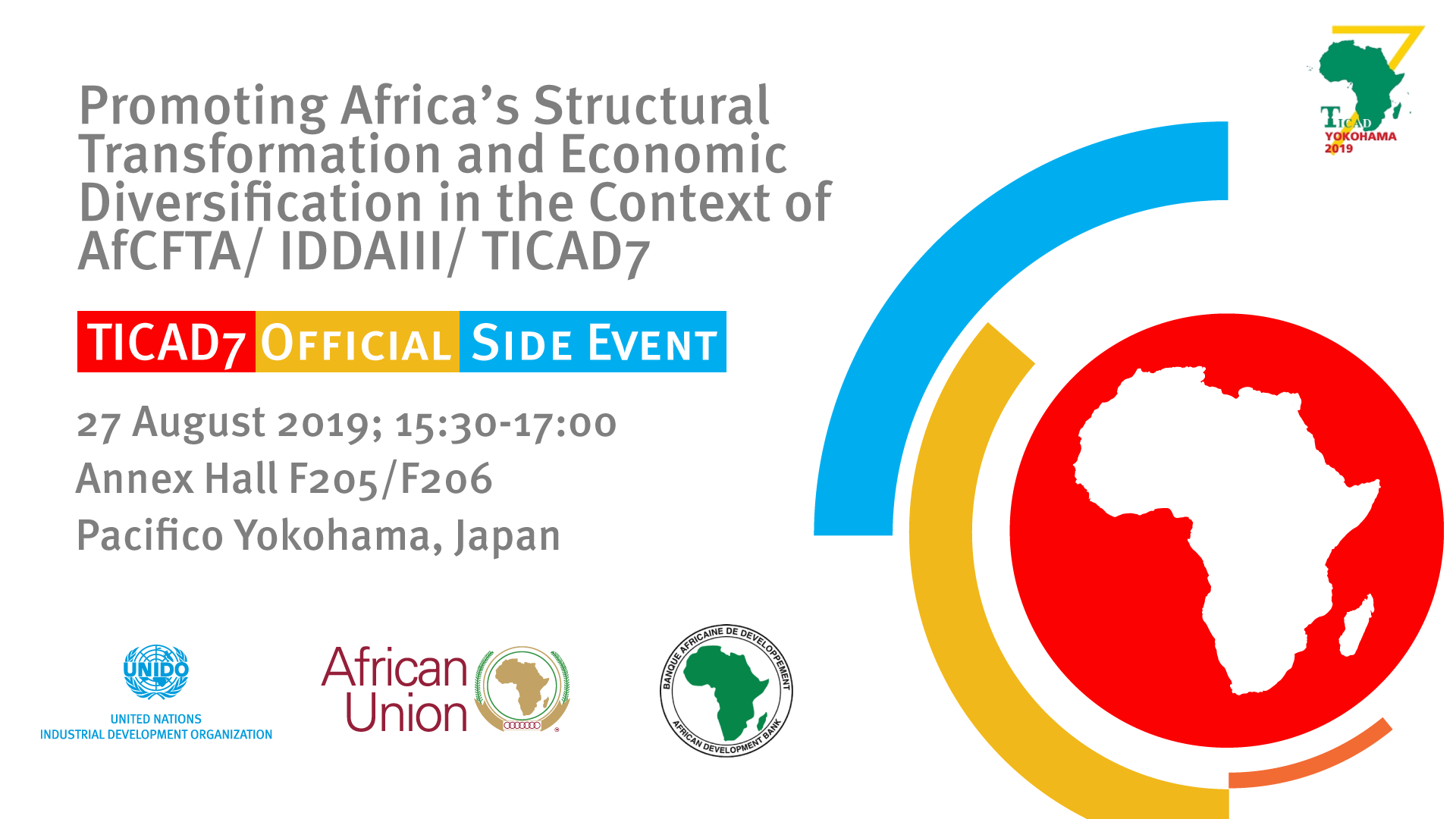 General Background:
The African Continental Free Trade Area (AfCFTA) entered into force on 30 May and its operational phase was launched on 7 July, 2019. With a total of 25 countries ratifying the AfCFTA so far, the AfCFTA aims to create a single continental market for goods and services that allows for the free movement of specialized labor and financial capital. The AfCFTA, with a combined total of 55 African Union (AU) Member States, covers a population of 1.2 billion and has an estimated GDP of US$ 2.5 trillion making it the world's largest single market.
The important role that trade plays as an engine of economic growth and development is empirically demonstrated, with many regions and countries succeeding in lifting their population from poverty to prosperity through trade. Furthermore, the continent-wide unified trade area will provide great opportunities for trading enterprises, businesses and consumers across Africa, gearing the process of structural transformation in Africa, in tandem with increased private investment and innovation.
At the event, high-level speakers and panelists will discuss how the AfCFTA will accelerate African business and Africa's structural transformation and economic diversification in the context of the Third Industrial Development Decade for Africa (IDDA III) and TICAD7.
Objectives of the event:
Provide better understanding of the role of the AfCFTA for inclusive and sustainable development in Africa through structural transformation and economic diversification;

Identify the needs and expectations of the private sector and how they can be addressed by the AfCFTA; and

Explore and discuss the innovative ways of enhancing partnerships between Africa and Japan as well as between IDDA III and TICAD7 to create viable opportunities for the AfCFTA.
Language of the event:
English, French and Japanese.