BEIJING, 13 March 2018 –Experts from the United Nations Industrial Development Organization (UNIDO) have introduced the circular economy business model - Chemical Leasing -  to stakeholders in China, and are encouraging companies to take advantage of the approach to achieve economic, social and environmental benefits.
More than 60 participants from government institutions, companies, and industry associations participated in a training session, jointly organized by UNIDO and the Solid Waste and Chemicals Management Centre, which is affiliated with the Ministry of Environmental Protection of China.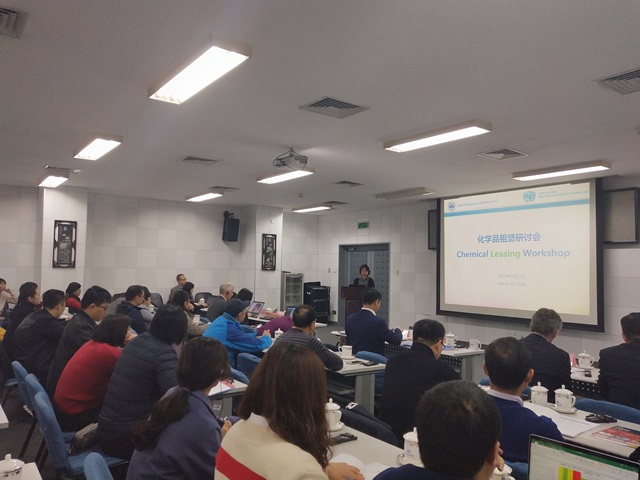 At the heart of the Chemical Leasing model is the idea that economic success no longer depends on the volume of chemicals sold, but rather on the service that is linked with the chemicals. In the Chemical Leasing model, the supplier does not sell quantities, the supplier sells the function of the chemical.
The training in Beijing addressed the general concept and policy perspectives of Chemical Leasing and introduced some of the best case studies showcasing the results of the approach at a global level. The training, which was part of a three-day mission to China, also showed participants how to establish a Chemical Leasing business case and how to quantify the benefits.
Representatives of the Government and of the private sector expressed huge interest and discussed potential ways of applying the Chemical Leasing approach in China.
The fourth Global Chemical Leasing award ceremony will take place in Vienna, Austria, in November 2018. It will be part of the Green Chemistry Conference 2018 in connection with the Council of the European Union (EU) programme, "Smart and Sustainable Europe", held during Austria's EU Presidency. Companies and individuals are invited to submit applications for the award in three categories:  case studies (for companies), research, and special innovation. The call for applications is open until 15 August 2018. More information can be found here.
For further information about UNIDO's chemical leasing programme, please contact:
Petra Schwager
Senior Industrial Development Officer
email