PHNOM PENH, 29 April 2019 – The United Nations Industrial Development Organization (UNIDO) and the Global Green Growth Institute (GGGI) signed a technical cooperation agreement to jointly improve waste recycling by reducing open burning activities and developing waste recycling in Battambang.
"Waste management needs to be addressed urgently as the nature of waste is becoming complex and mishandling it, for example through open burning, poses high risk of unintentional Persistent Organic Pollutant production, which harms both the environment and human health," said Secretary of State of the Cambodian Ministry of Environment Sao Sopheap. "If the pilot model, which is supported by UNIDO and GGGI, will prove to be successful, then it would be scaled-up and replicated in other cities in the country."
Battambang, like many other Cambodian cities, faces challenges in waste management such as uncontrolled disposal, limited waste separation at source and open burning in sub-standard landfills. These practices affect public health and decrease the overall livability, resilience and competitiveness of the city. According to recent GGGI estimates, Battambang currently produces 145 ton of municipal waste per day, 75 per cent of which ends-up on the local landfill.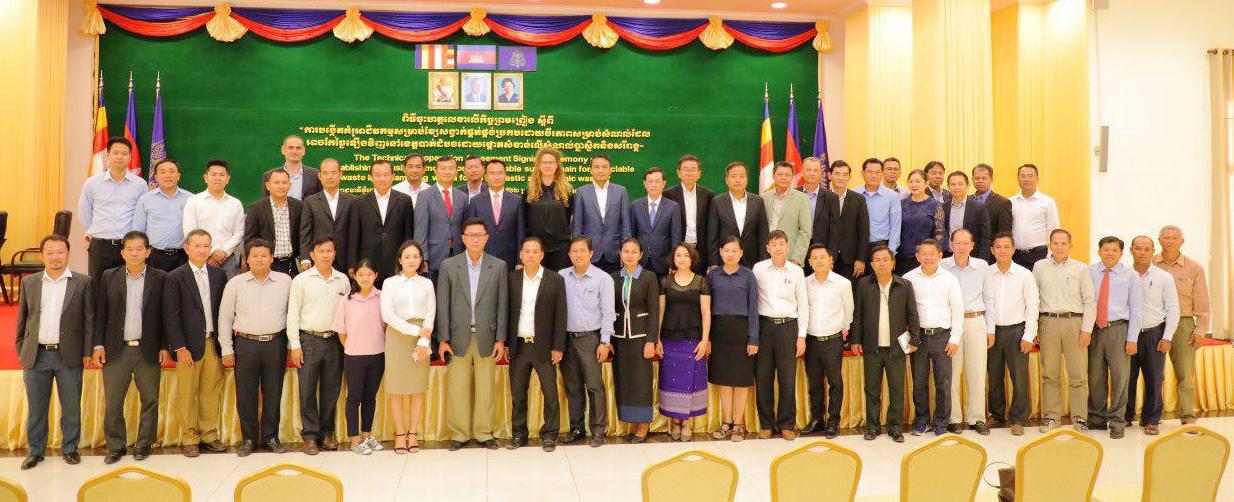 The agreement is based on the organizations' complementary projects in Battambang to tackle waste management, with a focus on capacity building and community education as well as on the design and implementation of a large-scale trial for household waste segregation and transport: existing recycling facilities will be upgraded and general recommendations to improve recycling in the city will be developed and subsequently implemented:
The GGGI aims to establish a sustainable supply chain for recyclable waste, with a focus on plastic and organic waste. As such,

GGGI and the National Council for Sustainable Development

(NCSD) support the city in developing costed options to establish segregation, collection and transport of recyclable waste; and on-sell of products.

UNIDO

, in partnership with the Department of Hazardous Substances Management of the Ministry of Environment, works towards reducing the emissions of

Persistent Organic Pollutants (POPs) from the open burning of waste in Battambang

by improving the equipment and technical capacity of the existing plastic recycling and organic waste composting facilities as well as by supporting the municipality with door to door collection of recyclables.
Waste management is one of the key priority areas under the Programme for Country Partnership Cambodia, and UNIDO is committed to support the Government's efforts in waste management.
For more information, please contact:
Sok Narin
UNIDO Country Representative, Cambodia
Karolien Casaer-Diez
GGGI Country Representative, Cambodia