UNIDO commits to the implementation of the Doha Programme of Action 2022-2031 for Least Developed Countries
21 March 2023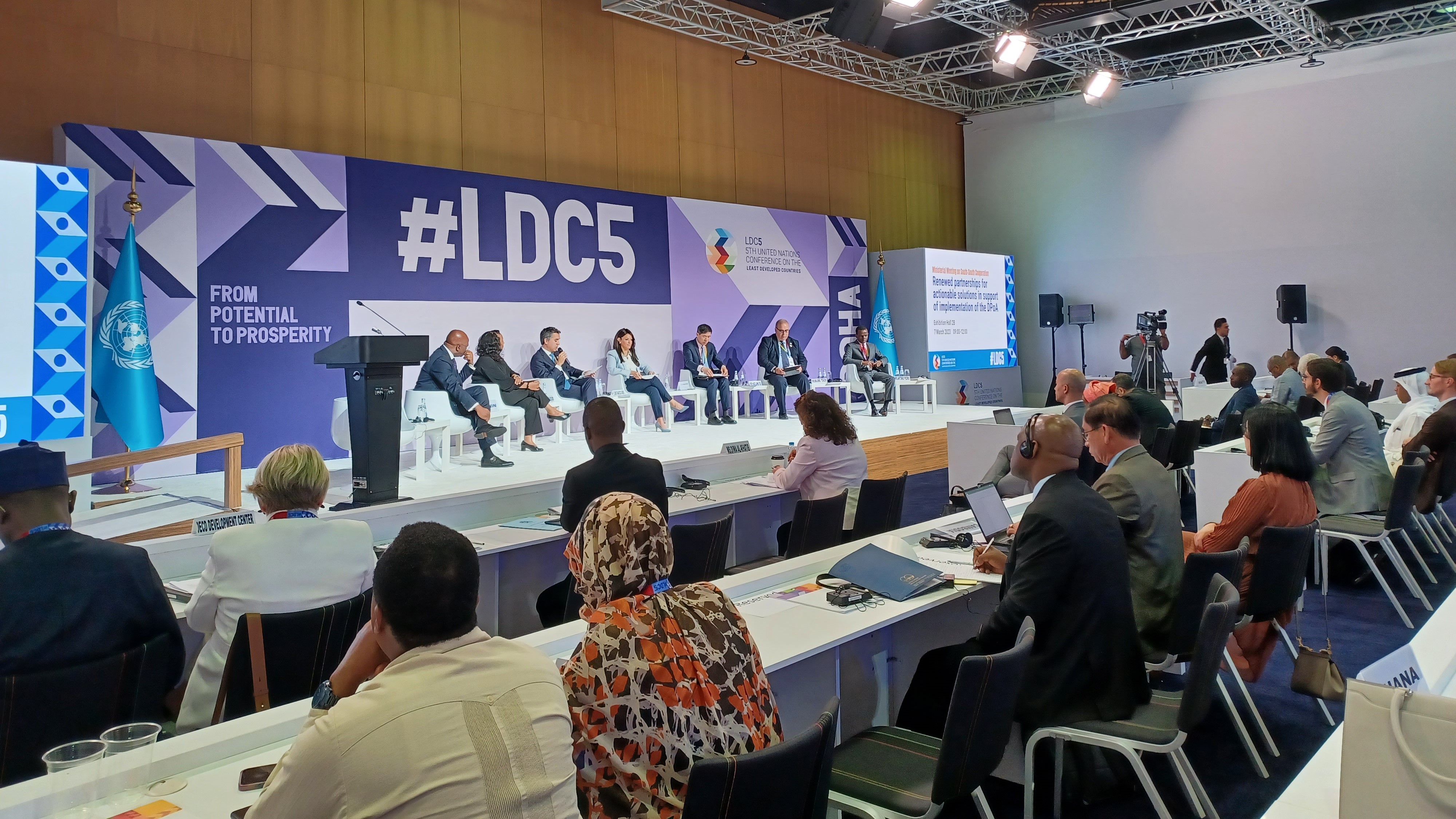 VIENNA – UNIDO reaffirmed the call by its Director General, Gerd Müller for a 'new deal' for the LDCs and is committed to implement the Doha Programme of Action (DPoA) following the fifth United Nations Conference on Least Developed Countries (LDC5), held in Doha, Qatar, 5 - 9 March.
Addressing industry-related challenges, fostering innovation, facilitating structural economic transformation as well as forging partnerships in support of LDCs' irreversible graduation was at the center of UNIDO's engagement at LDC5.
The Organization contributed to high-level discussions and focused tracks, organized an exhibition and a number of side events that fostered dialogues around strategies and partnerships for the DPoA implementation. Emphasis was given to the:
Relevance of digitalization and industrial skills to enhance economic competitiveness

The need to strengthen industrial policies and the engagement of the private sector – especially

start-ups,

agri-tech/agribusinesses in LDCs to help with food security and poverty alleviation.
A key highlight for the Organization was the launch of the FAO-UNIDO global initiative Agrifood Systems Transformation Accelerator (ASTA). LDC5 also provided a platform for UNIDO to reaffirm its support to LDCs with the release of its Operational Strategy for LDCs 2022-2031. The strategy adopts the six DPoA focus areas as its main pillars, notably 1) Investing in people; 2) Leveraging the power of STI; 3) Structural transformation; 4) Trade and regional integration; 5) Climate change and resilience building; and 6) Reinvigorated partnerships.
Cognizant of the key challenges in the world with the poorest being hit the hardest, UNIDO implemented 192 projects in LDCs in 2022, with a total budget of almost US$ 300.8 million. The European Union was the top donor covering one-third of the total budget. Other major partners included the GEF, Italy, Sweden, Japan, Norway and Germany. UNIDO will build on its existing strong partnerships whilst establishing new ones, particularly with the private sector, in support of sustainable economic growth and graduation for the LDCs.
To strengthen UNIDO's strategic engagement with its stakeholders, high-level bilateral meetings were held with Omar Alieu Touray, President of the ECOWAS Commission to boost youth's productive activities for job and wealth creation. The UNIDO Director General also met with Sheikh Mohammed bin Hamad Al Thani, Minister of Commerce and Industry of Qatar and Khalifa bin Jassim Al-Kuwari, Director General of the Qatar Fund for Development, to discuss future enhanced cooperation that will benefit the UNIDO LDC Member States.
Premised on its motto, "Progress by innovation" and its operational strategy, UNIDO will actively support the DPoA implementation at the national, subregional, regional and global levels over the next decade.