GENEVA, 3 July 2019 – The United Nations Industrial Development Organization (UNIDO) contributed to the joint OECD-WTO publication 'Aid for Trade at a Glance 2019' on economic diversification and empowerment, which was launched today during the Global Review of Aid for Trade.
UNIDO authored Chapter 3 on 'Promoting economic diversification and structural transformation through industrialization', which reiterates the importance of the manufacturing sector and the process of Industrialisation as the key drivers of economic growth that therefore remain at the core of many national and regional economic development strategies - as reinforced by Sustainable Development Goal 9 (SDG9).
"Industrial development based on the interplay between supply and demand factors is a major driver of economic diversification and structural transformation", said Senior Industrial Research Officer and UNIDO Lead Author Nobuya Haraguchi. "Chapter 3 also mentions that, through technological and skill development and effects on income, firms have an incentive to continuously enhance their production capabilities and innovate to diversify their product range".
UNIDO's contribution to the joint OECD-WTO publication further highlights that in countries, which have successfully industrialized, the growth of manufacturing and related service sectors has led to the absorption of large numbers of workers from the agriculture and informal sectors into productive jobs, and this has increased the prosperity of those workers' families and communities. Moreover, the industrial sector generates employment in other sectors through inter-sectoral linkages and thus serves as a basis for future economic growth.
Still, the major sources of employment in emerging and developing countries are low-tech and labor-intensive industries that target basic human needs, while demand for manufactured products increases formal employment opportunities and thus significantly contributes to income growth. This opportunity can, in turn, be used to foster human capital investments to support increases in productivity by promoting the workforce's ability to implement new technological innovations in the future. Marginalized groups, youth and women, in particular, can benefit considerably from successful industrialization, which makes the industrial sector a relevant actor in terms of sustainable and inclusive economic diversification.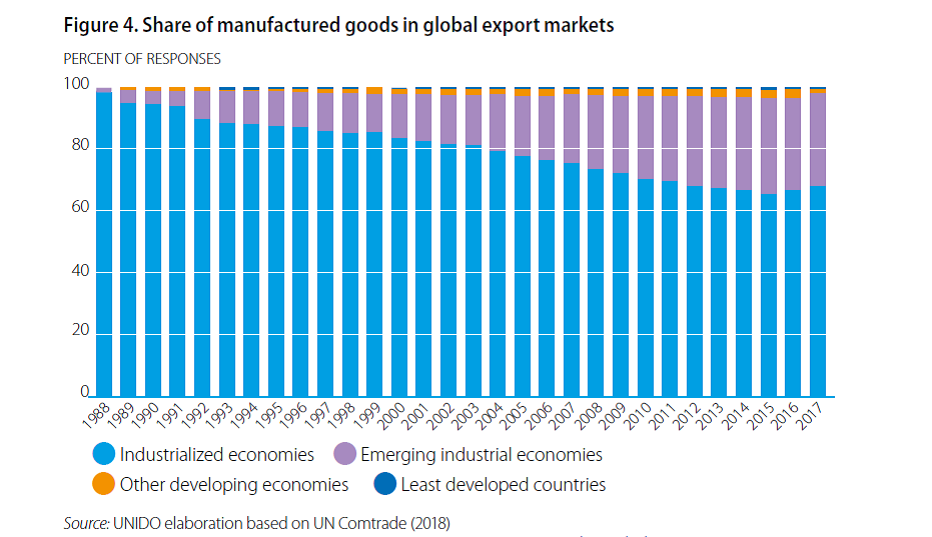 Read publication: Aid for Trade at a Glance 2019: Economic Diversification and Empowerment 
For more information, please contact:
Nobuya Haraguchi
UNIDO Industrial Research Officer