Vienna, 27 November 2020 – UNODC and UNIDO, together with the Permanent Missions of Finland, Norway and Sweden in Vienna, hosted the second annual Vienna Discussion Forum (VDF), a platform to discuss gender equality in the framework of the Sustainable Development Goals. In the context of COVID-19, this year's event was dedicated to crisis preparedness, response and recovery efforts and the necessity for them to be gender-responsive in order not to perpetuate or exacerbate already existing inequalities.
The 2020 Vienna Discussion Forum underscored that crises have repercussions on everyone, however they often disproportionately impact women and girls due to gender inequalities. Legal barriers and detrimental social norms leave them with less access to protection, resources and opportunities. The COVID-19 pandemic has made no exception to this, as recognized by LI Yong, Director General of UNIDO, in the event's high-level opening ceremony: "COVID-19 has exacerbated pre-existing inequalities for women. Gender-responsive preparedness efforts and women at the decision-making table are prerequisites for comprehensive crisis management."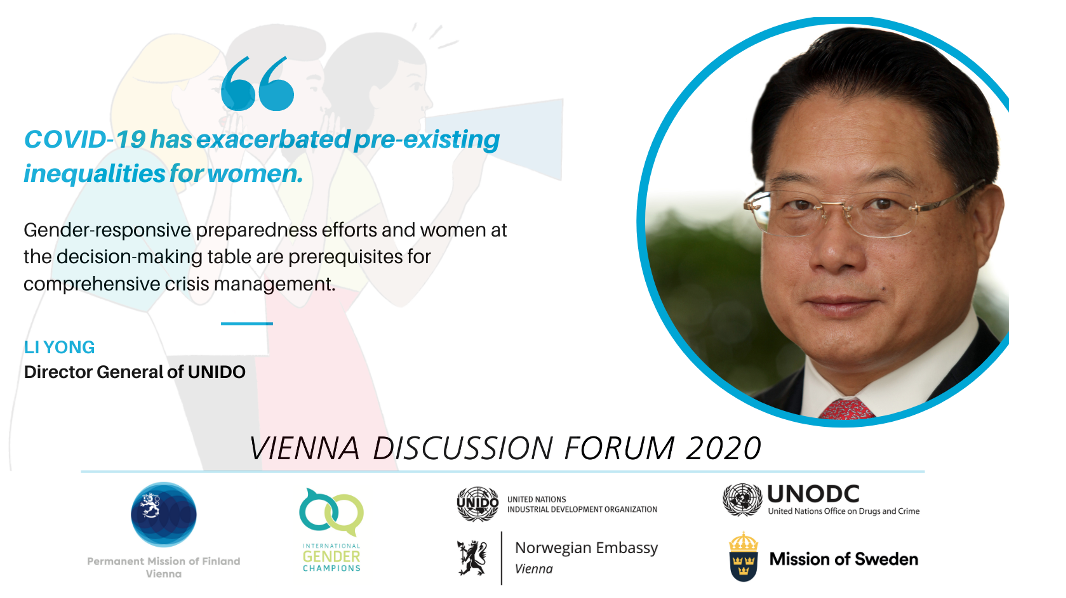 Gender-blind responses to COVID-19 have already affected the lives of women and girls across the globe as they are exposed to increased violence (the "shadow pandemic"), are denied their basic rights to vital services, and are bearing the brunt of economic hardship and increased unpaid care responsibilities. Responses to the pandemic must not fall into the historic pitfalls of recovery efforts, which all too often have resulted in women's needs going unaddressed and them being deprioritized. "In recovering from COVID we have the chance to bring change, if we focus on building truly inclusive and fair societies. I believe that UNODC's work for a more just world will be essential to supporting a women-centered recovery", said Ghada Fathi Waly, Executive Director of UNODC, in her opening remarks.
The 2020 Vienna Discussion Forum highlighted the need for concerted efforts to strengthen the integration of the principles of Human Rights, the Beijing Declaration and Platform for Action, the Women, Peace and Security Agenda and the commitments of the 2030 Agenda in the management of crises. Looking towards the future, Marte Ziolkowski, State Secretary at the Ministry of Foreign Affairs Norway, raised in her opening statement that "[a]n approach based on democracy, gender equality and human rights is key to fighting COVID-19 and realising the 2030 Agenda for Sustainable Development. Together, we can build back better, greener and with greater equality – ensuring that no one is left behind."
Following the high-level opening, an interactive online panel between national, civil society and UN representatives served as a platform for exchange on gender-responsive crisis management. The panelists emphasized that it is important for crises to address the needs of women of different backgrounds and identities, i.e. senior, minority and displaced women, or women with disabilities. The necessity of ensuring that accurate information on crisis measures reaches the entirety of society cannot be overstated, as the digital divide and unverified information shared on social media hamper comprehensive responses. Making use of dedicated toolkits and expertise on gender equality is essential for national, humanitarian and development recovery efforts.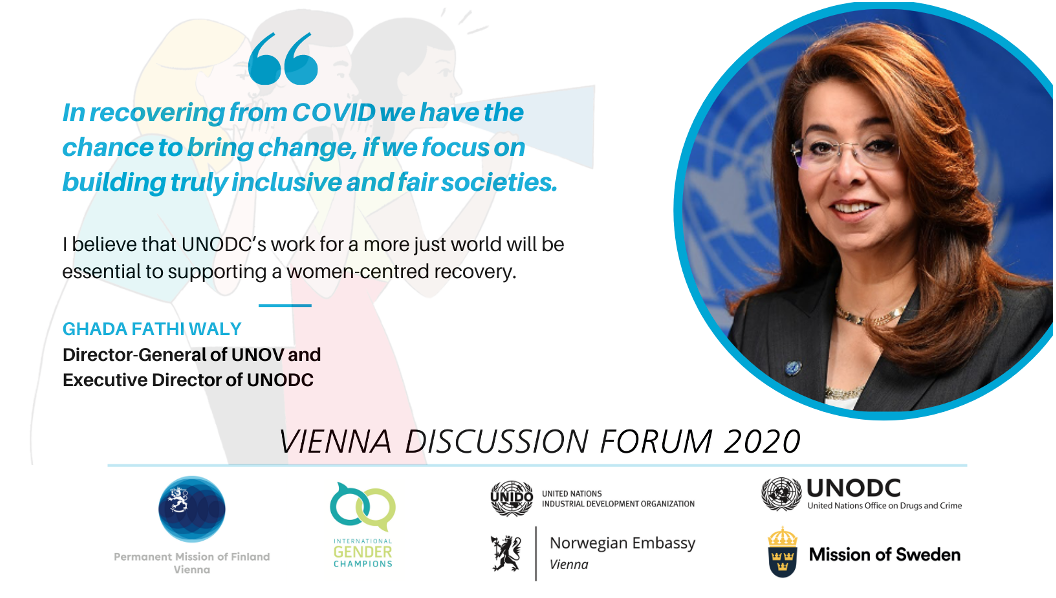 The 2020 Vienna Discussion Forum concluded that the rights of women and girls cannot be compromised in emergencies as they are inalienable and indivisible according to Human Rights Law and the Sustainable Development Goals. The status quo must be questioned and there must be a reflection on the inequalities and detrimental practices that have fueled, exacerbated or been deepened by crises. The experts agreed that the international community has a vital role in minimizing the devastating impact of crises on populations. The mandates of UNIDO and UNODC complement each other in this regard by ensuring that gender considerations are mainstreamed in their efforts to implement the 2030 Agenda towards more resilient and inclusive societies.
The event has culminated in a set of recommendations for gender-responsive policy-making in crisis management, which is available here.
You can access the event's interactive platform on Whova.
You can watch the recording of the 2020 Vienna Discussion Forum here.
Read about the 2019 Vienna Discussion Forum here and here.
For more information, please contact
UNIDO Office for Gender Equality and Empowerment of Women
UNOV/UNODC Gender Team