Women's leadership for climate-neutral and circular industries
19 March 2021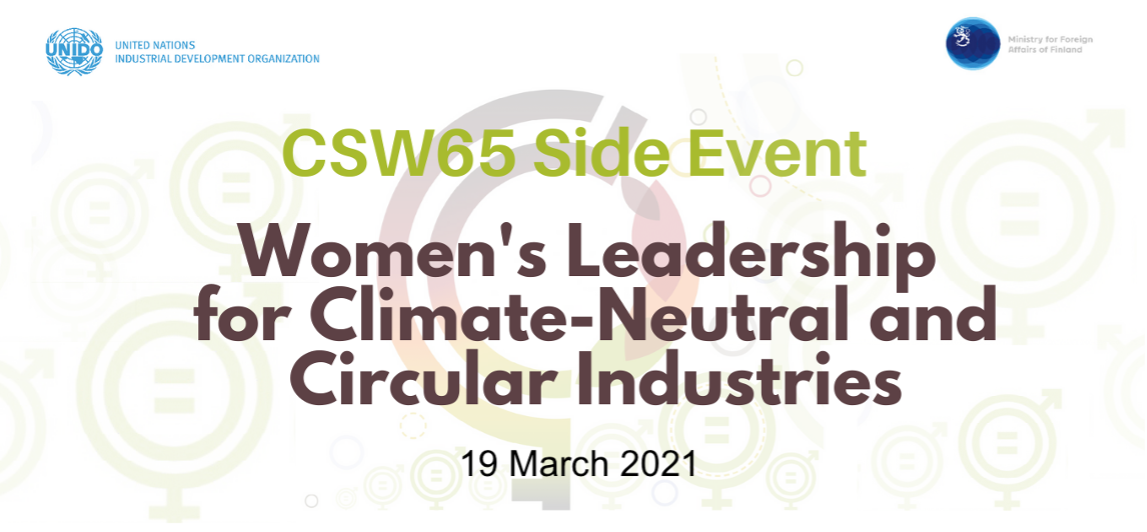 VIENNA, 19 March 2021 - The post-pandemic economic recovery measures represent a unique opportunity to harness women's full potential to reshape industrial development towards environmentally sound production, consumption and waste management practices.
In this context, the United Nations Industrial Development Organization (UNIDO) and Finland have organized an online side event in the framework of the 65th session on the Commission on the Status of Women. Based on the conviction that it is high time women's leadership and entrepreneurship are recognized and amplified in the fields of circular economy, climate technologies and the clean energy transition, the event aimed to celebrate women entrepreneurs and their businesses that contribute to climate action.
The event, moderated by Stephan Sicars, Managing Director of the UNIDO Directorate of Environment and Energy, featured four speakers:
Opening remarks were delivered by Ville Skinnari, Finland's Minister for Development Cooperation and Foreign Trade.
The discussion centred on the trajectories and innovative business models of the four entrepreneurs, who focus on green building design, biogas, wastewater management and climate-smart investment. There was also discussion of how financial institutions, governments and international organizations can support women entrepreneurs and the necessity to eliminate gender-based barriers and biases to ensure everyone can contribute to a more sustainable, greener future.
The discussion concluded that the planet can't be repaired if gender inequalities persist. Efforts need to be strengthened to harness the full potential of women, be it as industry professionals, policymakers, entrepreneurs or consumers, in order to ensure an inclusive and sustainable future for all.
In her closing remarks, Costa Rica's Marcela Guerrero Campos, Minister for the Status of Women, stressed that climate action and gender equality are intrinsically linked, hence promoting women's leadership is an essential component for achieving environmental sustainability and a clean energy future.
A recording of the discussion can be accessed here.
Further reading: