Circular Economy, Impact Financing and Industry 4.0
Headquarters of the Ministry of the Environment, Peru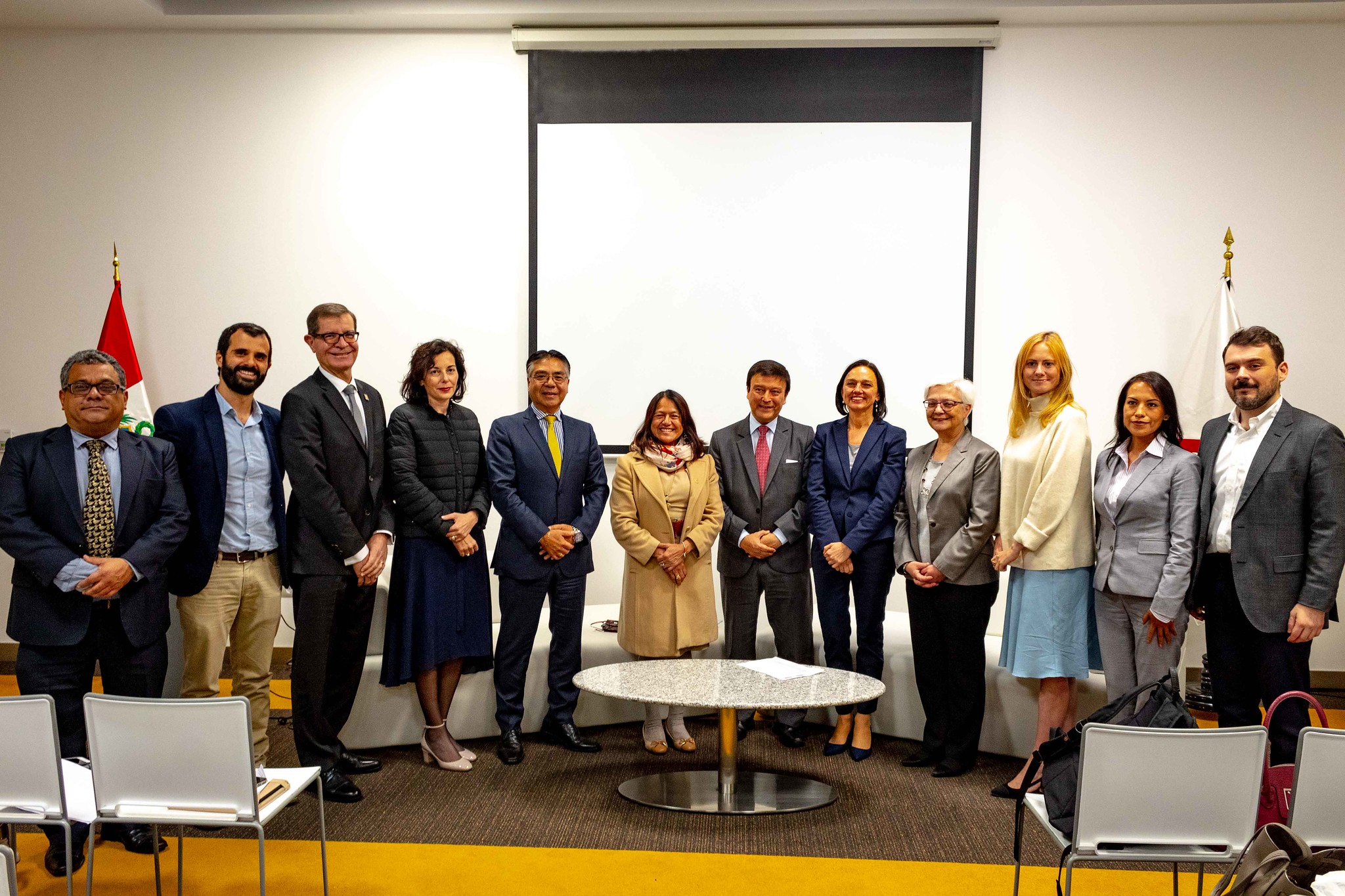 Background
Today's manufacturing takes raw materials from the environment and turns them into new products, which are then disposed after use. In a system of linear processes raw materials might eventually run out while waste is being accumulated. Multi-dimensional supply chains with new flows and formats, service networks, recovery loops for products and materials are needed. Their value needs to be protected, to design them to be ready for resale, repair, remanufacturing or recycling.
According to the first Circularity Gap Report (De Wit , M, at all (2018), Circularity Gap Report, Circle Economy), our world economy is only 9.1% circular, leaving a massive circularity gap. There is a growing need for material, water and energy because of both population growth and increased demand by infrastructure, industry and consumers in developing countries. Circular economy activities have the potential to address a significant share of this need— dampening or, possibly, reversing the raise in resource use by developing countries, and in turn reducing resource depletion, climate change and the pollution of natural areas.
The circular economy is gaining increasing attention worldwide as a means to reduce dependency on primary materials and energy, while at the same time becoming an economically viable alternative to the linear economy. In a circular economy, products are designed for durability, reuse and recyclability, and materials for new products come from old products. As much as possible, everything is reused, remanufactured, recycled back into a raw material, used as a source of energy, or as a last resort, disposed of. Consequently, this would lead to the emergence of more sustainable production and consumption patterns, and could thus provide opportunities for developed and developing countries to achieve economic growth and inclusive and sustainable industrial development (ISID) in line with the 2030 Agenda for Sustainable Development.
The transition towards a circular economy requires systematic innovations including new innovative financing models, partnerships, business models and close integration of industry 4.0 principles.
Circular Economy and Industry 4.0
Industry 4.0 bears enormous opportunities to enable circular economy in which end of life products are reused, remanufactured and recycled. Industry 4.0 is a paradigm shift from centralized to decentralized smart manufacturing and production and refers to the computerization of manufacturing. Increasingly, companies are applying innovative solutions, including through the "Internet of Things" (IoT), cloud computing, miniaturization, and 3D printing that will enable more interoperability and flexible industrial processes and autonomous and intelligent manufacturing.
How to finance a Circular Economy?
While supporting the manufacturing industry and increasing its competitiveness, circular economy brings innovations need innovative financing mechanisms such as impact financing. All investments have consequences for individuals as well as for whole communities and for the economy. In addition to generating financial returns, investments can create jobs and thus have positive impact on the society and also on the environment. Impact investment goes beyond avoiding harm and managing risk and aims to generate a positive social or environmental impact alongside a financial return.
Objective
The objective of the event is to engage and sensitize representatives from the public and private sector, academia, financial institutions and civil society on circular economy; highlighting the opportunities of industry 4.0 as an enabler of Circular Economy and outlining the different aspects of impact financing as a tool to bring forward Circular Economy.
Partners
The United Nations Industrial Development Organization (UNIDO) under its mandate of inclusive and sustainable industrial development (ISID), and in compliance with Sustainable Development Goal 9, which calls to "build resilient infrastructure, promote inclusive and sustainable industrialization and foster innovation", has joined efforts with the Government of Peru in the Programme for Country Partnership (PCP) for Peru. The PCP Peru is aligned with the priorities of the national Government and seeks to accelerate innovation, productivity and competitiveness of national industries in line with the principles of ISID.
Circular Economy relies on innovative approaches, business models and partnerships and so does the PCP. The PCP rests on a multi-stakeholder partnership and builds synergies with ongoing government and partner interventions relevant to industrial development in order to facilitate the mobilization of partners and resources to achieve larger development impact.
UNIDO supports the adoption of circular economy principles that would lead to higher resource efficiency and less waste and is one of the leading UN agencies in regards to implementing and monitoring SDG 9.
The European Commission adopted a Circular Economy Package in December 2015, i.e. a set of laws and actions designed to guarantee a more resource-efficient future for Europe and since then implemented a series of measures to accelerate the transition to a Circular Economy, with individual Member States adopting a Circular Economy Action Plan. Among these is a Europe-wide EU Strategy for Plastics in the Circular Economy which was adopted in January 2018.
The Ministry of Production (PRODUCE) promotes the formalization, digitization and productivity of the industrial sectors, focusing on micro small and medium enterprises (MSMEs). In the effort to streamline and implement actions to achieve the above priorities, the concept of the circular economy is considered an increasingly important model for generating growth, creating jobs and reducing environmental impacts.
The Ministry of Environment (MINAM) is committed to promoting the sustainable use of natural resources and reconciling economic development with environmental sustainability. In this context, MINAM approved the Law on Integral Management of Solid Waste was approved, which promotes a new conceptual framework in which waste from an industrial activity is conceived as a raw material for other industries, thereby creating added value. This law seeks to integrate circular economy into value chains in order to minimize the negative effects of the production chain on the environment and to give the greatest possible productivity to resources.
PRODUCE together with MINAM have started with the development and adoption of a Roadmap for Circular Economy which has a financing component that seeks to promote access to public and private financing for environmental adaptation and sustainable technological modernization and the design of mechanisms and incentives to promote innovative initiatives and clean technologies.
Participants
The participants include representatives from government and private sector, institutions, academia and chambers.
For more relevant photographs, please click here.