People and Culture
PCOR enabled staff to make the best use of change

To effectively address the 'people' and 'culture' elements of the LCOR model, the Organization started off with looking into issues such as values and norms and their impact on behavior, and designing initiatives to improve teamwork, appraisal and incentive systems, knowledge sharing and effective communication.
In order to ensure the smooth introduction of new business processes and enable staff to make full use of the new business model and the new ERP system, etc. a number of staff members were designated as change agents to, among others, communicate and drive the necessary operational and cultural changes. Furthermore, a dedicated Culture Operational Group to deal with the 'People' and 'Culture' elements of the LCOR model was established in the refined PCOR Governance Structure.
Framework for Culture Change
The Framework for Culture Change, which was agreed upon during a dedicated Retreat in October 2011, has six pillars as follows: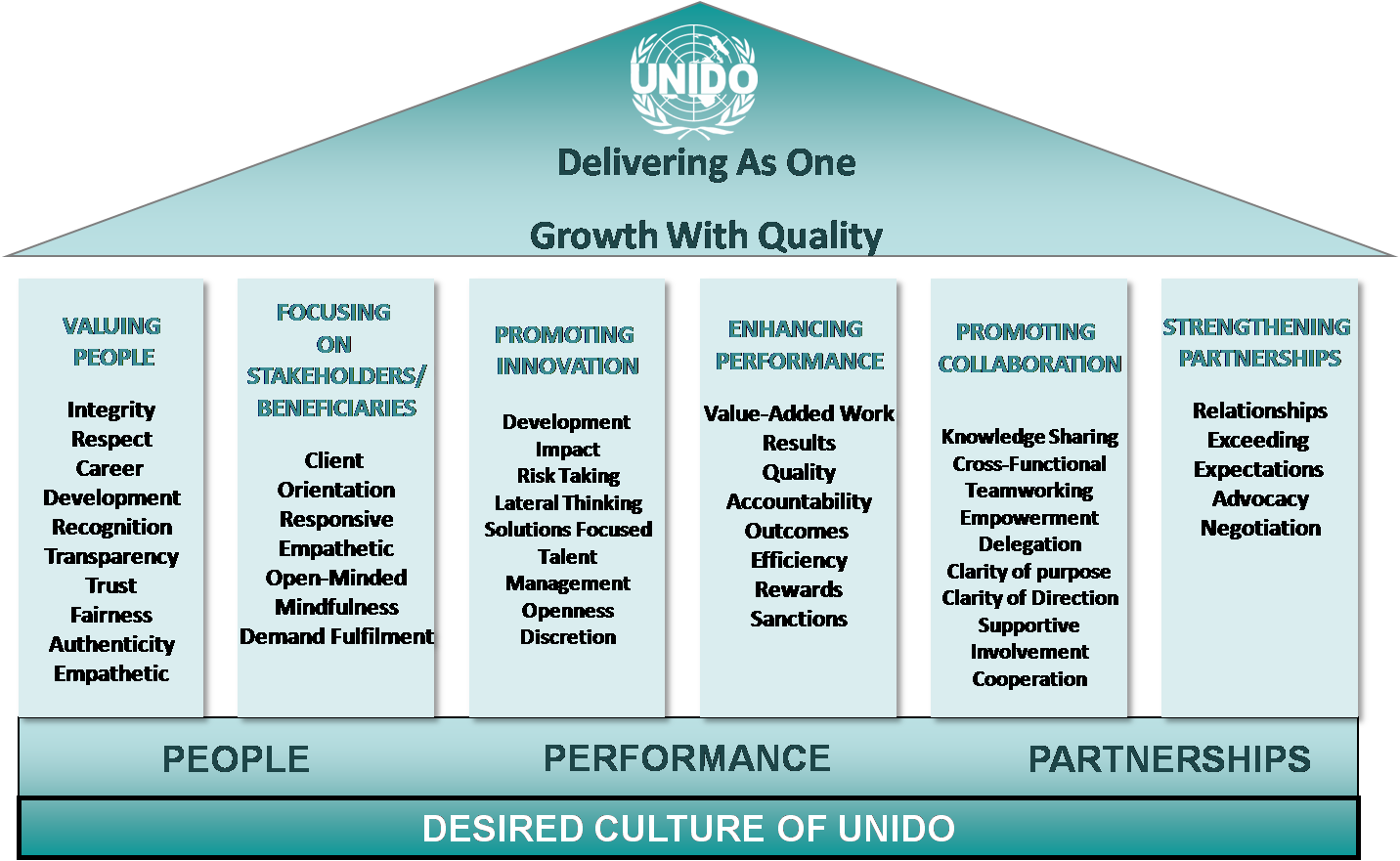 Starting a new way of working
We went live with a number of ERP modules
In January 2012, UNIDO achieved the timely go-live of the first ERP modules (Portfolio and Project Management and a number of Human Capital Management modules). This major milestone was only possible due to the enormous commitment and dedication from a large number of staff and consultants from all parts of the Organization, who had been working hard to look at more efficient and innovative ways of doing business. These joint efforts have resulted in positive cultural changes in the areas of collaboration and communication, as well as teamwork and knowledge sharing.
This culture change is expected to continue throughout beyond the implementation of PCOR. For instance, the introduction of the new performance management system or online collaboration spaces are expected to considerably contribute to staff development and cross-organizational collaboration and knowledge sharing. To ensure good teamwork, key success factors for effective teamwork were defined and communicated to staff at large. Furthermore, the global accessibility of the system contributes to decentralization by ensuring that field staff can be fully involved in all stages of the project management cycle.
Improved Performance Management
A 360 degree staff performance management system gives a holistic overview of a staff member's job performance
A performance appraisal is a method of evaluating a staff member's job performance. The staff member receives feedback, in anonymous form, on performance ratings from multiple sources - a circle of stakeholders – peers, superiors and subordinates. Their collective appraisal gives the staff member clear feedback on personal strengths as well as areas that need further development. The new online staff performance management system, which includes 360 degree performance appraisal, was rolled out to all staff in March 2012. The first part of the appraisal cycle was completed during May 2012, followed by the mid-term review in end September 2012 and the 360 degree feedback in end November 2012. The new system, which is complemented by a new performance management framework, supports and reinforces results-based performance management with meaningful and relevant consequences as it enables the holistic assessment of staff members' performance. The new system is considered a major tool for fostering and facilitating cultural change.
Cultural Diagnosis
Cultural Diagnosis identified areas for further culture change development
To better understand the working culture of UNIDO and establish a baseline to assess the progress of cultural change and promote widespread participation in PCOR, a comprehensive cultural diagnosis survey was conducted between April and June 2010. The results provided a lot of positive feedback from staff as well as some key areas to be improved (i.e. knowledge sharing and performance appraisal and career development, team work).  Identified areas for improvement were addressed during the ERP implementation.