Internship
Click on the video to find out what it is like to be an intern in UNIDO!
For students and recent graduates, the UNIDO Internship Programme provides a great learning opportunity and on-the-job training. You will have the chance to apply your theoretical knowledge in the daily work of the Organization. The programme also allows you to contribute to the mandate of UNIDO as well as support the various projects in the area of industrialization and sustainability. 
 
How will a UNIDO Internship boost your career?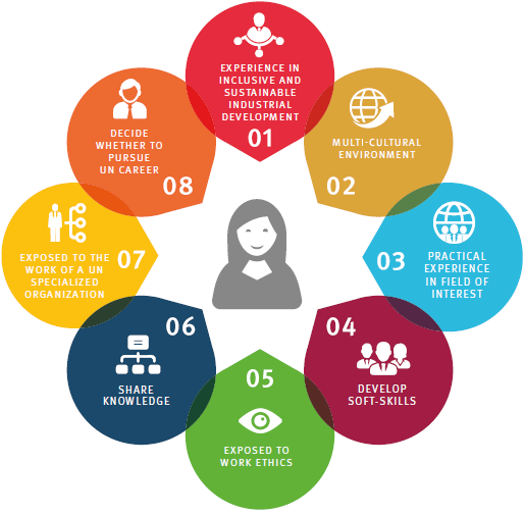 Are you eligible for the Internship programme?
What is the programme's duration?
An internship usually varies from 3 to 6 months. UNIDO can facilitate the issuance of a visa, for non-Schengen nationals.
When can you apply for an internship?
You can apply for a UNIDO internship at anytime. Doing so, your name will be added to the list of applicants interested in the internship field of your choice. When the need for a new intern in a particular area arises, we will draw on the list of applicants of that respective field.
Please note that applications should be submitted no earlier than 6 months before the start of the intended period.
In which fields can you do an internship?
a) Internships at UNIDO's Headquarters
Important message: we have resumed with the internship programme as of 1 February 2021 in a hybrid modality, with at least 50% of the internship to be carried out in the duty station.
(Vienna, Austria): 
To apply kindly select the area of your interest.
Please note that you can apply to more than one internship.
b) Internships in a UNIDO Field Office: if you are interested in doing an internship at one of our Field Offices, please visit this page.

Important Note
Please read the General Information and Conditions very carefully, as incomplete applications will not be considered.
Upon submission of an online application, you will receive an automatic confirmation receipt. Should your profile fit the available openings, you will be contacted directly.
Requests for further information should be addressed to: internship@unido.org
- UNIDO partners with University and other Institutions in the framework of the Internship Programme.  A Template Letter of Agreement has been set for similar Partnerships. To find out more, don't hesitate to contact us.
- The Vienna International Center (VIC) has a big community of Interns and they organize several events throughout the year!