Junior Professional Officer (JPO) Programme


What is the JPO Programme?
The Junior Professional Officer (JPO) Programme is a unique opportunity that can be provided by your donor country to you as a young graduate, to experience professional work in the field of international cooperation. The JPO initiative has enabled many youngsters to launch their careers in international organisations. Our programme offers challenging job opportunities in a variety of different areas of UNIDO's activities.

Why become a JPO?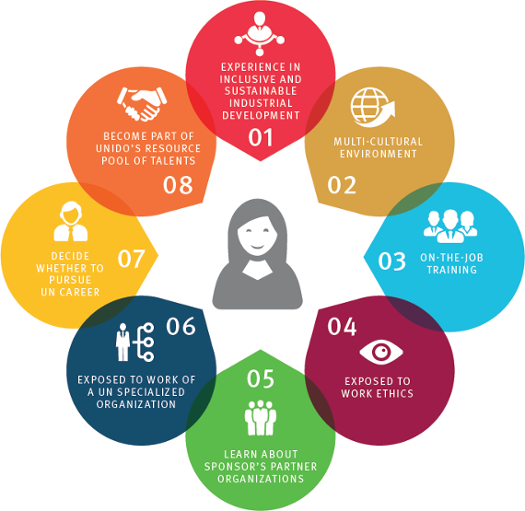 Meet our JPOs
"The value of this programme for one's professional advancement is incredibly high."

Junior Professional Officer, Regional Office in Thailand


Bianca's story
"Becoming a JPO has helped me strengthen my HR toolkit . . . ."

Junior Professional Officer, Department of Human Resources Management


Lichao's story
"What I like the most about my job are the very diverse opportunities I have every day for learning and experiencing something new."

Associate Expert, Agro-Industries Technology Division


Chiara's story
What qualifications are required for a JPO?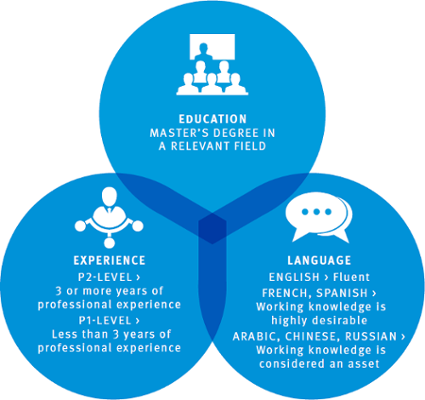 What are some examples of a JPO's responsibilities?
Below is an example of a JPO's generic duties in the area of technical cooperation:
- Programme Development: Assists in the development and formulation of technical cooperation projects/programmes in the area of specialization of the Department, in line with the guidelines and procedures governing the delivery of UNIDO services, and obtains internal approval
- Programme Implementation: Assists in gathering data, analyzing information, tracking status and rectifying actions related to ongoing projects and in the provision of projects/programme implementation services, ensuring that assigned inputs are delivered on-time, at the right level of quality and within the allocated budget. Assists in the preparation of the necessary inputs (consultant job descriptions, Terms of Reference, training arrangements, equipment specifications, etc.), monitors progress in implementation including missions to the project site, takes part in oversight meetings in the field and at headquarters, and assists the Evaluation Group in its evaluations of projects/programmes
- Global Forum Function: Assists in the organisation and running of UNIDO global forum activities (conferences, seminars, expert group meetings, etc). Assists in the preparation of technical papers or other inputs for external seminars, conferences, expert group meetings, etc. Prepares UNIDO publications and other information dissemination aids and tools. Keeps abreast of technical and economic developments in the area of specialization of the Department, through close contacts with specialized institutions and industry representatives, following the technical press, market developments and trends
- Other Special Projects: Performs other special projects and assignments as required by the Branch and also beneficial for the development of the experience of the JPO

What is the status of a JPO?
Under the UNIDO contractual agreement for JPOs, you will be a staff member and an official of UNIDO covered under the Convention on Privileges and Immunities of the United Nations. Additionally, since JPOs are considered as international civil servants, you will not be subjected to taxation on your UNIDO income.

What is the programme's duration?
The usual duration of the JPO programme is 24 months. Upon the donor's request, this may be extended to 36 months or shortened to 12 month.

Who sponsors JPOs?
JPOs are recruited under bilateral agreements between UNIDO and the donor countries to work for development projects under the organisation's wide fields of competence.


To have an overview of some statistics on our JPO programme, please visit JPO Facts and Figures. Countries currently supporting the JPO programme are China, Germany, Italy, Japan and Kuwait.

How to apply?
The donor countries are responsible for announcing the job profiles for the competitive process at the national level, resulting in a final shortlist of candidates recommended to UNIDO for selection. Therefore, if you are a national of a donor country, please contact your national counterparts.

Download:
Framework for the JPO Programme