Annual Report 2004
Message from the Director-General (excerpt)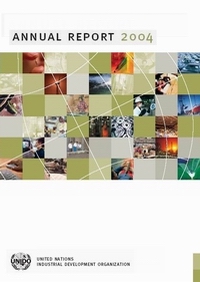 I take great pleasure in being able to inform Member States that the favourable trends of recent years were sustained into 2004. Reflecting the increasingly beneficial impacts of the programmatic, administrative and financial reforms undertaken during the previous six years, which have resulted in a comprehensive transformation of UNIDO, the Organization recorded significant improvements in all relevant performance indicators.
Thus, in 2004 the value of our technical cooperation delivery reached $98.8 million, significantly exceeding the corresponding figure of $94.7 million in 2003 and for the first time surpassing the "pre-crisis" figure of $97.3 million recorded in 1997, when our regular budget was some 20 per cent higher than in 2004. This growth in our technical cooperation delivery was made possible by a corresponding increase in voluntary contributions received by UNIDO from its development partners. Funding through the Industrial Development Fund and through trust funds (almost all from governmental donors) reached $62.8 million, including $3.9 million in trust funds from "recipient" countries. This represents a 32 per cent increase from the $47.4 million of 2003, and is the second highest level in the history of UNIDO, just below the level reached in 1992.
This sharp increase in voluntary contributions reflects a continued strengthening of the international development community's confidence in UNIDO, which was underlined by the very positive comments about the Organization made in a parliamentary debate in the United Kingdom in November 2004. An empirical foundation for this increased confidence was given by an assessment of 23 multilateral development organizations undertaken in 2004 by the Department for International Development of the United Kingdom under its programme for assessing and monitoring multilateral effectiveness. UNIDO was ranked sixth in overall terms in this assessment, and first among the United Nations standard-setting agencies.
The growth in technical cooperation delivery is all the more impressive when viewed against the background of changes in the Organization's staffing levels. The data for per capita levels of technical cooperation delivery (i.e. the total value of technical cooperation divided by the total number of staff) shows an increase from $178,600 in 2003 to $188,100 in 2004. Viewed over a longer time horizon, the figure for 2004 represents an increase of 28 per cent over the corresponding figure for 1997. This impressive growth may be seen as an outcome of the extensive efforts made during the past several years to sharpen the focus and deepen the substance of UNIDO's technical cooperation programmes on the one hand, and to enhance the specialization and professionalism of UNIDO's staff on the other.
These favourable developments notwithstanding,......