Annual Report 2005
Message from the Director-General (excerpt)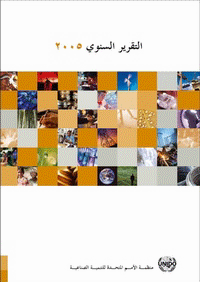 The year 2005 can be recorded as one in which the reform efforts of UNIDO bore fruit.
The chapters in this report speak for themselves, from the active role of the Organization in the United Nations system, as described in chapter I, to its achievements as measured over a wide range of indicators and summarized in chapter V.
Throughout the United Nations system the effort to reform has become a universal leitmotif. The UNIDO approach to meeting the challenge of measuring its performance can be seen throughout this report, and particularly in chapter V, which also demonstrates the Organization's commitment to results-based management, first introduced in 2004 and developed significantly in 2005.
This report testifies to UNIDO's commitment to improve the lives of people in the countries that it serves. Whether its performance is measured by increased volume, efficiency, effectiveness, the developmental impact of its services, or the increased confidence of the donor community and its strategic partners in a variety of fields, UNIDO is on the right track.
Kandeh K. Yumkella