Annual Report 2006
Message from the Director-General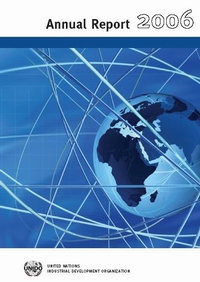 ... This year's Annual Report outlines how UNIDO's work to promote sustainable industrial development has contributed to global efforts to reduce poverty and achieve the other Millennium Development Goals. Although it includes important chapters on the reforms that have taken place within and outside the Organization, I do not regard these reforms as ends in themselves—rather they are a means to enhance the positive impacts of UNIDO's programmes on the lives of people, in developing countries..... In the same spirit, our positive approach to the United Nations coherence agenda during 2006 was guided by the conviction that, if properly implemented, it will result in greater impact at the country level.
By 2010 there will be over 700 million more people of working age in developing countries than in 2005. Without increased opportunities to earn a living these people will have little possibility of fulfilling their potential. Some will undoubtedly become alienated from a society that they see as having failed them. The implications are obvious, and make it all the more important that we work to create wealth and employment in developing and transition countries, including those that are emerging from conflict. In this context, providing employment to the youth is a pressing need.
UNIDO believes that the only way to create the required jobs is to promote the development of a dynamic private sector. Our focus is on small and medium enterprises as they account for the lion's share of the growth in jobs in developing countries. Whether we are working to increase the ability of enterprises to export their goods—through our trade capacity-building work—or training women entrepreneurs, our aim is to facilitate the creation of employment and wealth. We have done so through a number of successful programmes, but much more needs to be done.
In addition to the economic and social dimensions of sustainable development, there is a further dimension which UNIDO helps to address—environmental sustainability. Of all the challenges we face in the coming years few, if any, are as multi-faceted and complex as climate change. ... The launch of UNIDO's new initiative on South-South cooperation during 2006 will significantly increase the ability of developing and transition countries to work together better in the future, through exchanging policy experience, transferring technology and promoting intra-South investment flows. ...

Kandeh K. Yumkella