Annual Report 2010
Message from the Director General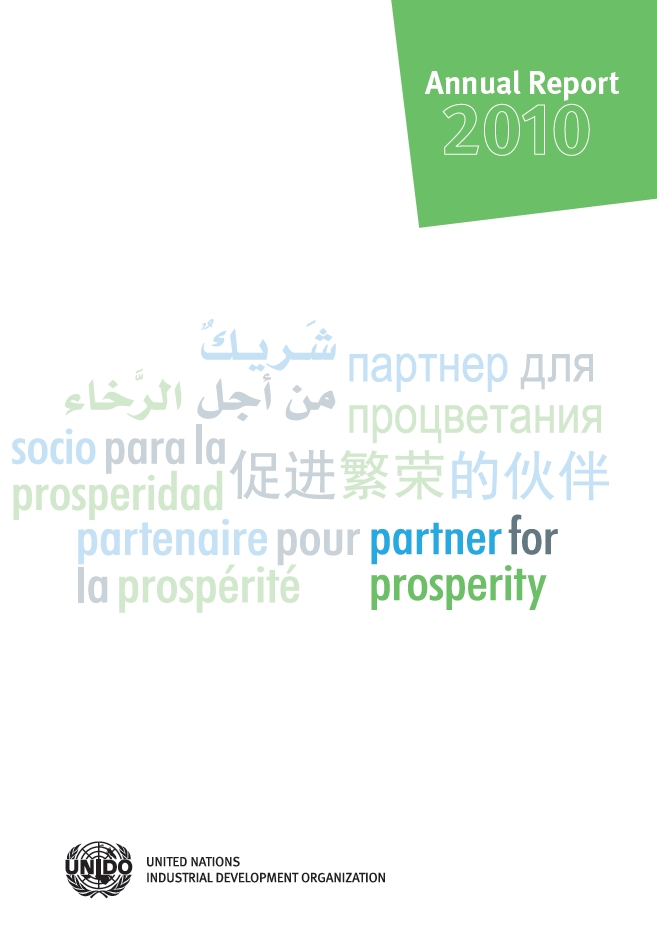 Readers of the 2010 Annual Report of UNIDO will recognize a number of further enhancements in its presentation and structure designed to reach out to a broader audience beyond its primary readership, the representatives of Member States in our policymaking organs. The change in the look, style and content of the Report reflects a continuation of our efforts to present UNIDO to readers hitherto unfamiliar with our Organization and its work and who, reading about our role in the reduction of poverty, may wish to work with us, support us, or call on our expertise to help them solve pressing developmental problems. It is also intended to show the centrality of sustainable industrial development as a prerequisite for enduring poverty reduction through economic diversification into more productive and competitive activities, with particular emphasis on least developed countries. Sustainable industrial development is also a requirement for increased integration into global trade flows, using environmentally and socially acceptable approaches. This, we believe, is a sine qua non for genuine wealth creation, which goes well beyond the mere alleviation of poverty.

During the year in review, UNIDO was able to build upon the successes of the preceding years. Once again, we were deemed to be the best performing implementing agency of the Montreal Protocol, and the length and breadth of our activities were recognized by our stakeholders in both developed and developing countries. These favourable developments notwithstanding, we have continued our efforts to increase our efficiency, effectiveness and results orientation, in order to make UNIDO an even more valuable partner for prosperity. Our efforts are built on the foundation of a comprehensive programme of change and organizational renewal that we have initiated with the guidance and support of Member States. This will lead to fundamental changes in the way our Organization operates, as described in greater detail in chapter 1.

More than ever before, UNIDO excels at filling a niche, at providing specialized services that represent essential brushwork in the vast canvas of the activities undertaken by the United Nations to promote economic and social development. We work together with other agencies and are just as happy to provide the essential foundations on which others build, as we are to assume a leadership role in those areas in which we have been given the relevant mandate by our Member States and the international development community. We pride ourselves on being efficient and reliable partners, responsive to the needs of others and flexible enough to adjust our approach and methodologies to the individual situations of our client countries. In this connection, we are particularly pleased at the recognition given to industrial development and related energy issues in the outcome document of the United Nations Summit on the Millennium Development Goals held in New York in September. Our aim, first and foremost, is to reduce poverty effectively and lastingly through the promotion of sustainable industrial development.

The Annual Report 2010 illustrates some of the countless instances where UNIDO is making a real difference through the introduction of innovative solutions to the developmental challenges facing our Member States. It is often the multiplier effect of our services that leads to their success. In this
Report, readers will find a cross-section of UNIDO achievements throughout 2010. Chapters 2 to 6 of this year's Report each contain a special feature, showcasing a current trend in UNIDO—energy access and agribusiness received particular emphasis in 2010—or providing additional details of an activity referred to in the body of the respective chapter. We are particularly proud of the 2010 Trade Capacity Building Resource Guide, featured in chapter 4, as well as our efforts in supporting the domestic production of essential pharmaceuticals in developing countries as our contribution towards the fulfilment of the Millennium Development Goals. The special feature in chapter 6 underlines the crucial nature of research and analytical work undertaken by UNIDO that enables us to offer sound advice to governments and formulate programmes and projects built around a solid conceptual framework.

At the same time, the Report responds to guidance received from the policymaking organs of UNIDO by incorporating the Organization's financial performance report and programme performance report. Similarly, the Report meets the requirement placed upon us to report our activities related to the triennial comprehensive policy review of operational activities for development of the United Nations system (GC.11/Res.3) and the implementation of the medium-term programme framework 2010-2013 (GC.13/ Res.3) through our Annual Reports. The comprehensive appendices cover, among others, operational statistics, a list of all technical cooperation projects, including those targeting the least developed countries, as well as project approvals under voluntary contributions.

Chapter 2 places special emphasis on the contribution of UNIDO to system-wide coherence within the United Nations, as well as our broader range of partnerships with other actors in the field of international development. The new mission statement of UNIDO (see chapter 1), adopted in 2010, starts out by reiterating that UNIDO is a partner for prosperity, the theme of the present Report. The partnerships we engage in and promote are manifold. This Report touches, inter alia, on partnerships with other United Nations agencies, partnerships between UNIDO and the private sector, partnerships between developing countries (South-South cooperation), and partnerships between industrialized and developing countries. This is why we have devoted a special chapter to the theme, although readers will encounter partnership as a leitmotif throughout the Report.

In conclusion, I would like to invite our readers to visit the UNIDO website (www.unido.org) to learn more about our Organization or keep abreast of the latest developments. The Annual Report can do no more than provide an overview of our work in 2010 but it will, I trust, allow you to judge for yourselves just how much we have been able to contribute to international development. If it whets your appetite for more information about UNIDO and the valuable services we offer, then this mission will have been accomplished.