Industrial Development Report 2002/2003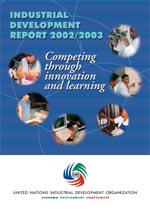 Industrial Development Report 2002/2003: Competing Through Innovation and Learning
Abstract
With the Industrial Development Report 2002 / 2003, UNIDO launched a new series of Industrial Development Reports (IDR). The series is intended to address crucial and emerging issues facing developing countries and economies in transition in their struggle to gain a foothold in the global economy, using manufacturing as a dynamic force. The reports are also expected to contribute to the ongoing dialogue on how best to participate in the process of globalization while fighting marginalization through sustainable industrial development. The report is designed to raise awareness and assist governments, intermediary institutions and civil society organizations, including business communities, on:
How to compare and monitor industrial performance and drivers with other countries in terms of a UNIDO Industrial Development Scoreboard;

How to formulate, implement and monitor national strategies and policies for sustainable industrial development;

How to use the global sources of technology and knowledge to develop domestic industrial capabilities;

How to build competitive productive capabilities and upgrade them over time;

How to strengthen the national innovation and learning systems.
The IDR series does not attempt to provide ready-made solutions. It serves as a comprehensive learning instrument, allowing concerned stakeholders to draw upon theory, empirical evidence, performance and capability benchmarks and case studies of best practice - serving as a source of information on the formulation and implementation of strategies, policies and programs towards building competitive industrial capabilities. The Industrial Development Report 2002 / 2003, first in the new series, focuses on competing through innovation and learning.