By Jie ZHAO, Coordinator for South-South and Triangular Cooperation of UNIDO
Manufacturing plays a crucial role in the economic and social development of many countries. A strong manufacturing sector can not only serve as the foundation for countries' economies, but also provide countries with the necessary resilience against economic shocks and crises and can determine the pace of economic recovery in the wake of economic disruptions.
The COVID-19 pandemic has shown that strengthening national manufacturing sectors can serve as a viable strategy to stimulate economic growth and industrial development. For decision- makers, the choice of which policy instrument to use and how to implement it successfully to support their country's economic recovery has become vital. Therefore, considering experiences, lessons learnt and good practices from early industrialized countries can provide decision-makers with guidance on how to successfully navigate today's economic recovery efforts.
In this context, the United Nations Industrial Development Organization (UNIDO) has analysed the experience of formulating and implementing industrial policies in countries at different stages of industrialization, and summarized 10 policy instruments that can effectively promote industrial development. Practice has proven that the establishment of industrial parks is an effective way to stimulate domestic industrial production and facilitate trade. It interconnects and supports other policy instruments, including investment and export promotion policies, to accelerate the upgrading of a country's industrial capacities. UNIDO's recently released International Guidelines for Industrial Parks also indicates that "the objective of industrial parks development should be part and parcel of a country's overall industrial policy". At the same time, industrial parks can serve as a catalyst for industrial development and local engines of economic growth which can contribute significantly to the global economic recovery in the coming post-COVID-19 era.
Among other economies, China is effectively promoting industrialization, and has set up a good model for developing industrial parks. Over the past four decades, China has successfully built and operated a variety of industrial parks at home and abroad, overcoming issues that hinder the development of parks, such as infrastructure financing and coordination of policies and measures, and has accumulated a rich repository of experience, knowledge and good practices. In addition, China has succeeded in controlling the pandemic and resuming work and production, which is a consequence of the country's economic resilience and the effectiveness of its industrial policies. In this context, UNIDO joined hands with China to consolidate experiences and best practises of industrial park development in the country. The result of these efforts is a comprehensive study titled The Experiences and Best Practices of Industrial Park Development in the People's Republic of China, which UNIDO and China would like to share with Member States and partners at this critical moment.
"China offers various successful and diverse industrial parks experiences with global recognition. Its experiences have been successfully replicated and promoted in many countries and have been used as a benchmark model for industrial park development globally. Therefore, an in-depth analysis and objective stocktaking of China's industrial parks development model and the dissemination of its experience is valuable for countries considering industrial park as part of its industrialization policy, in particular developing countries and middle-income economies."— LI Yong, Director General of UNIDO and GU Xueming, President of Chinese Academy of International Trade and Economic Cooperation.
Cooperation between UNIDO and China on industrial parks development dates back to 1980 when the government of China decided to establish several special economic zones (SEZs) in the provinces of Guangdong and Fujian. In September 1980, UNIDO organized a six-week study tour for a Chinese delegation to benchmark the experiences of Ireland, Malaysia, Mexico, the Philippines, Singapore and Sri Lanka. This was the first Chinese delegation sent abroad to study the implementation of SEZs. This historic visit led to recommendations which contributed to the development of legislation governing the operations of China's SEZs, and the establishment of China's first generation of SEZs. Since then, China has established various types of industrial parks of different scales. Among others, the National Development Zones (NDZs) have shaped the history of China's national industrial park development, representing the highest level of development in this area.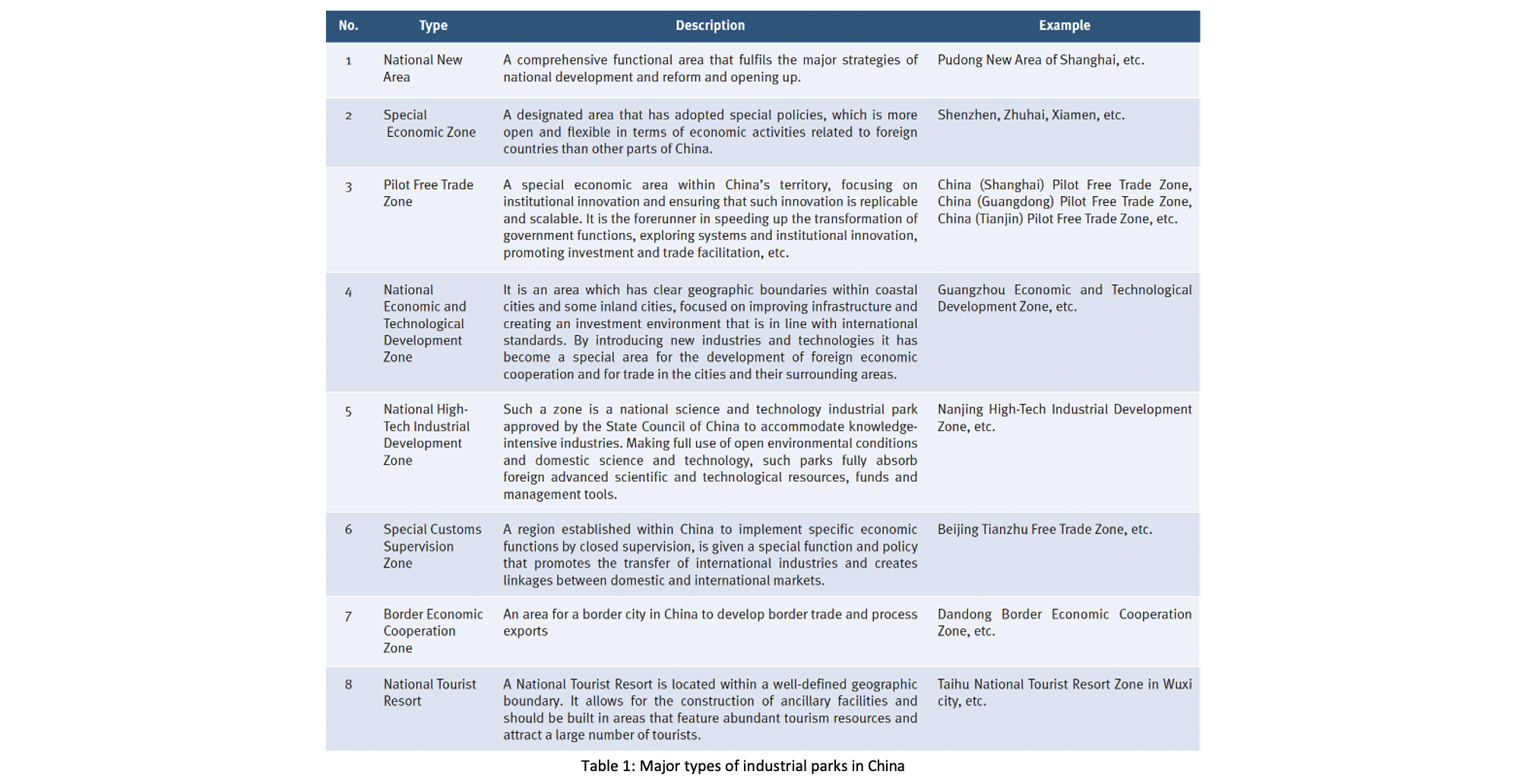 The study presents seven interrelated chapters, covering key elements of industrial park development, including preparatory work, planning and construction, park management, marketing and investment promotion, operation and management, and performance evaluation.

The study aims at offering a set of best practices and can serve as a reference for developing countries and economies in transition to develop their own industrial parks. It analyses best practices of selected NDZs, including national economic and technological development zones, national high-tech development zones and special customs supervision zones. It also presents experience from China related to the four operational dimensions of industrial parks development.
The study has been co-produced by UNIDO and the Chinese Academy of International Trade and Economic Cooperation (CAITEC), one of the 25 high-end national think tanks in China with more than 70 years of research experience. Going forward, UNIDO will deepen cooperation with Member States and various partners to effectively utilize the potential of industrial parks to drive new sustainable pathways towards industrialization and for a better and faster recovery for the international community. UNIDO is committed to assisting Member States in preparing for entering the post-COVID-19 era to jointly promote inclusive and sustainable industrial development.
Download the publication: