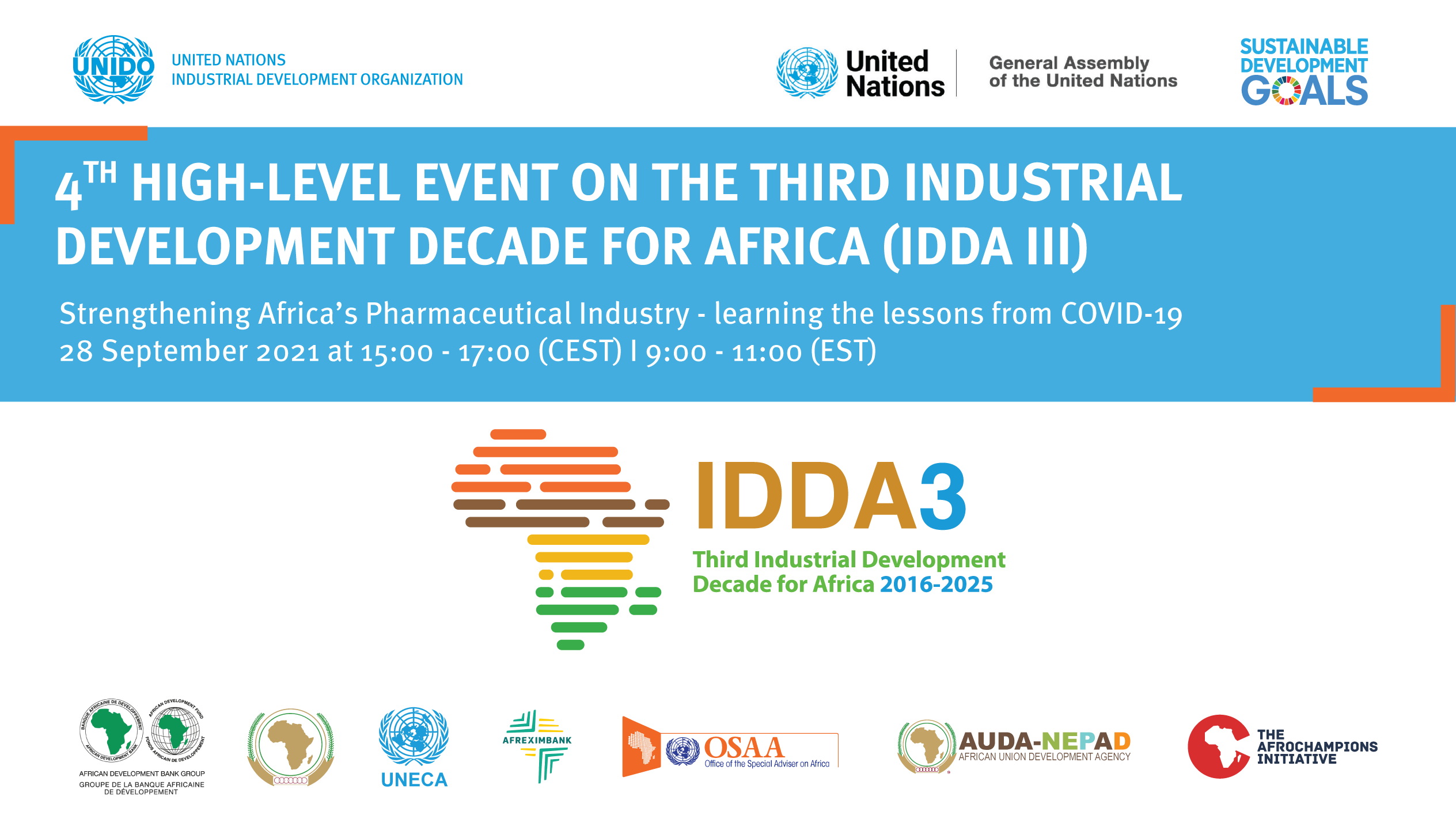 The pandemic has highlighted Africa´s vulnerability due to its reliance on imports for much of its vaccines, medicines and other health product needs. This high-level event will focus on the public health benefits that a stronger pharmaceutical industry in Africa can bring and the contribution it can make to economic development. The event will deliberate on key challenges that need to be overcome to strengthen health industries. 
Many interrelated challenges need to be addressed and the power of the private sector has to be leveraged. Investment needs to be mobilized, technology accessed, skills developed and policy frameworks that are supportive of industrial development implemented. Key pillars that need to be considered include: Investment, Market Consolidation, Regulatory Oversight, Human Resource Capacity and Knowledge, and New Technology.
EVENT OBJECTIVES
Discuss and highlight tangible action areas, solutions and necessary policy measures to boost Africa´s pharmaceutical industry,
Explore innovative solutions for the systemic barriers hindering development of the continent´s health industries.
Discuss optimal approaches for mobilizing investment for Africa´s pharmaceutical sector.
Highlight on-going initiatives to strengthen the sector and opportunities for new technologies to contribute to transformational change.
Identify how current high-level focus can be translated into long term engagement.
EXPECTED OUTCOMES
A joint communique on industrial development of Africa´s pharmaceutical sector;
High-level consensus on the need to expedite and support local production of pharmaceuticals and health industry in Africa;
Recommendations on key initiatives to advance Africa's pharmaceutical and health industries;
Mobilisation of partnerships and resources in support of Africa's pharmaceutical industry agenda.
CONFIRMED SPEAKERS
15:05 - 15:30 - Opening Session:
LI Yong, Director General, UNIDO
Amina J. Mohammed, Deputy Secretary-General of the United Nations
Gerd Müller, Minister for Economic Cooperation and Development, Germany
Vera Songwe, Under-Secretary-General of the United Nations and Executive Secretary of the UN Economic Commission for Africa 
Cristina Duarte, Under-Secretary-General and Special Adviser on Africa to the United Nations Secretary-General
Albert Muchanga, AUC Commissioner for Economic Development, Trade, Industry and Mining
Akinwumi Adesina, President, AfDB 
Ibrahim Assane Mayaki, Chief Executive Officer, AUDA-NEPAD
Paulo Gomez, Co-Chair, AfroChampions Initiative
 Martin Seychell – Deputy Director General INTPA, European Commission (Confirmed)
Stanley Okolo, Director General, West African Health Organization
15:30 - 16:00 - Session 1 on "Learning the lessons from COVID-19 – improving resilience of African health systems through strengthening the local pharmaceutical industry within the framework of the AfCFTA":
Roch Marc Christian Kaboré, President of the Republic of Burkina Faso
Sahle-Work Zewde, President of the Federal Democratic Republic of Ethiopia 
Uhuru Kenyatta, President of Kenya
➢ Signing ceremony of the Joint Declaration for the implementation of Kenya Self-Starter Programme for Country Partnerships (SSPCP)
16:00-16:55 Session 2 on: "Strengthening Africa´s pharmaceutical sector – the interface between public health and industrial development":
Martin Friede – Coordinator for vaccine research, WHO
Abdu Mukhtar – Director, African Development Bank 
Emmanuel Mujuru – Chair, Federation of African Pharmaceutical Manufacturer Associations
Greg Perry – Assistant Director General, International Federation of Pharmaceutical Manufacturers Associations
Stephen Saad – Chief Executive Officer, Aspen Pharmacare 
Robert Koopman, - Chief Economist and Director of the Economic Research and Statistics Division, WTO
Janet Byaruhanga – Senior Progamme Officer, AUDA-NEPAD 
Radwa Elmoneer – Head of Central Administration of Pharmaceutical Policies and Market Access, and Supervisor of Central Administration of Chairman Office at the Egyptian Drug Authority
Information about additional speakers coming soon...