UN Climate Change Conference in Bonn, 6 - 17 November 2017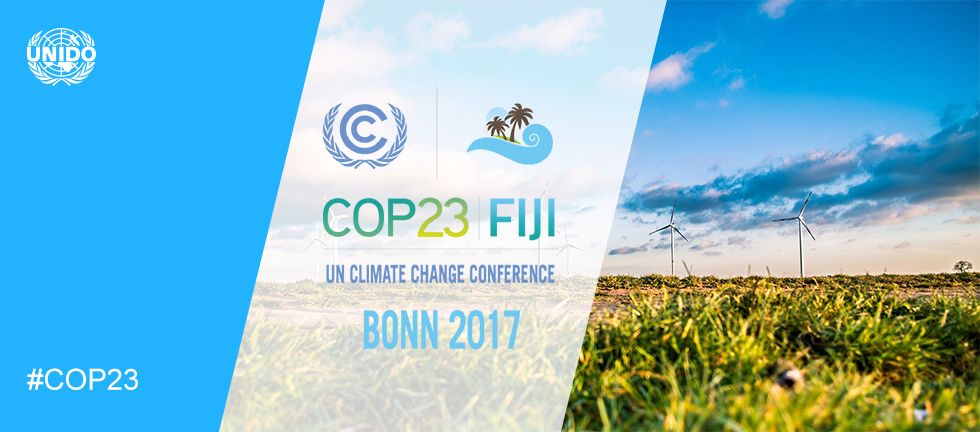 At this year's UN Climate Change Conference, the COP23, nations of the world will meet to advance the aims and ambitions of the Paris Agreement and achieve progress on its implementation guidelines. The conference will take place in Bonn, Germany, hosted by the secretariat of the UN Framework Convention on Climate Change (UNFCCC), and presided over by Fiji. This year's COP aims to advance and accelerate climate action for vulnerable societies, through planning and implementing climate action initiatives. UNIDO's presence in Bonn will focus on how the organization's diverse portfolio of projects assists countries worldwide to achieve their ambitious goals and targets on climate action.
At COP21, held in Paris in November-December 2015, the parties negotiated what is known as the Paris Agreement, which established specific actions and targets for reducing greenhouse gases emissions, mitigating and adapting to the effects of climate change, and financing mitigation and adaptation efforts in developing countries. Signatory countries agreed to work to limit global temperature rise to below 2 degrees Celsius and to make strong efforts to keep the rise to 1.5 degrees Celsius. The Paris Agreement is especially significant because it is a legally binding agreement.
UNIDO will be acting as a co-lead to 24 side-events at COP23, with partners from all over the world, including UN agencies, the business sector, governments and civil society. Topics discussed are related to UNIDO's programmes and projects in Industry 4.0, the Global Cleantech Innovation Programme, the Climate Technology Centre and Network, the Private Financing Advisory Network , and Nexus and Energy Efficiency Accelerators. In addition, UNIDO will also present its newly launched report: Accelerating clean energy through Industry 4.0: manufacturing the next revolution.
The Global Cleantech Innovation Programme (GCIP), led by UNIDO, supports the development of innovate climate solutions as profitable business models, by empowering cleantech start-ups and small and medium sized enterprises. GCIP will be featured in multiple side events focusing on innovation, entrepreneurship and investment for climate solutions, more information can be found here. 
A list of all side events that UNIDO is (co-)organizing on site can be accessed here, and the full COP 23 schedule of side events can be found here.
Follow us on Twitter to find out more about UNIDO's global projects and work on climate action and join the discussions at social media via the hashtag #COP23 and at the climate talks live page.