When
2019 April 01
2019 April 05
UNIDO at Hannover Messe 2019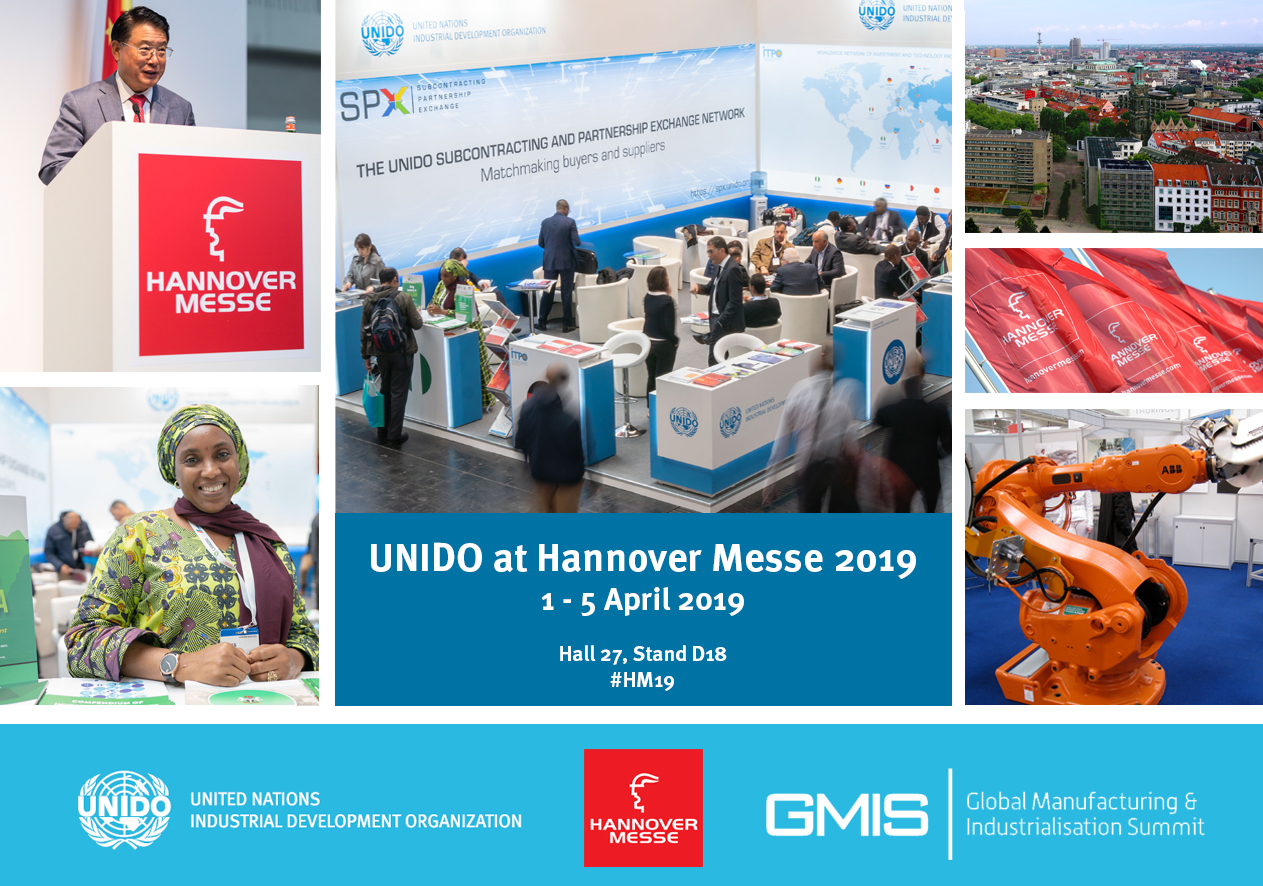 UNIDO will again, for the fifth time, actively participate in this year's Hannover Messe from 1 to 5 April 2019 with various activities planned, including an exhibition stand in the Global Business & Markets (GBM) Section (Hall 27, D18), which will provide a platform for co-exhibitors from various countries and regional stakeholders engaged in a number of UNIDO technical assistance projects and programmes to present their work and exchange knowledge.
This year, UNIDO's Investment and Technology Promotion Offices (ITPOs) from Bonn and Shanghai, representatives from UNIDO's Programme for Country Partnerships (PCPs), including Ethiopia, Morocco and Senegal, and investment promotion institutions from Colombia, Iraq and Tanzania will be present at the fair, joined by UNIDO's partners such as the World Association of Investment Promotion Agencies (WAIPA) and the Regional Investment Agency (RIA) for the Common Market for Eastern and Southern Africa (COMESA).
At the occasion of the Hannover Messe 2019, UNIDO will sign two Memorandums of Understanding (MoU), a renewal of the MoU with the owner of Hannover Messe, the Deutsche Messe AG as well as with Festo Didactics.
The Global Manufacturing and Industrialisation Summit (GMIS) – a multi-stakeholder platform co-chaired by UNIDO and the United Arab Emirates that draws on the experience of manufacturers who are driving technological advances to achieve the goals of the UN 2030 Agenda for Sustainable Development – will also participate in the Hannover Messe with an exhibition stand and will provide various presentations and a series of workshops at the booth (Hall 27; E23).
Moreover, a GMIS Gala Dinner will serve as the official launch of a new strategic partnership between GMIS, UNIDO and Deutsche Messe and will delve into key challenges and opportunities associated with Industry 4.0, with a focus on collaboration and cooperation in the digital age.
The Gala Dinner will take place on 1 April 2019 from 18:00 to 21:00 at the Expo Whale, Hannover.