Gender-smart financing in the MENA region highlighted during 2022 UFM-UNIDO Women Business Forum
20 July 2022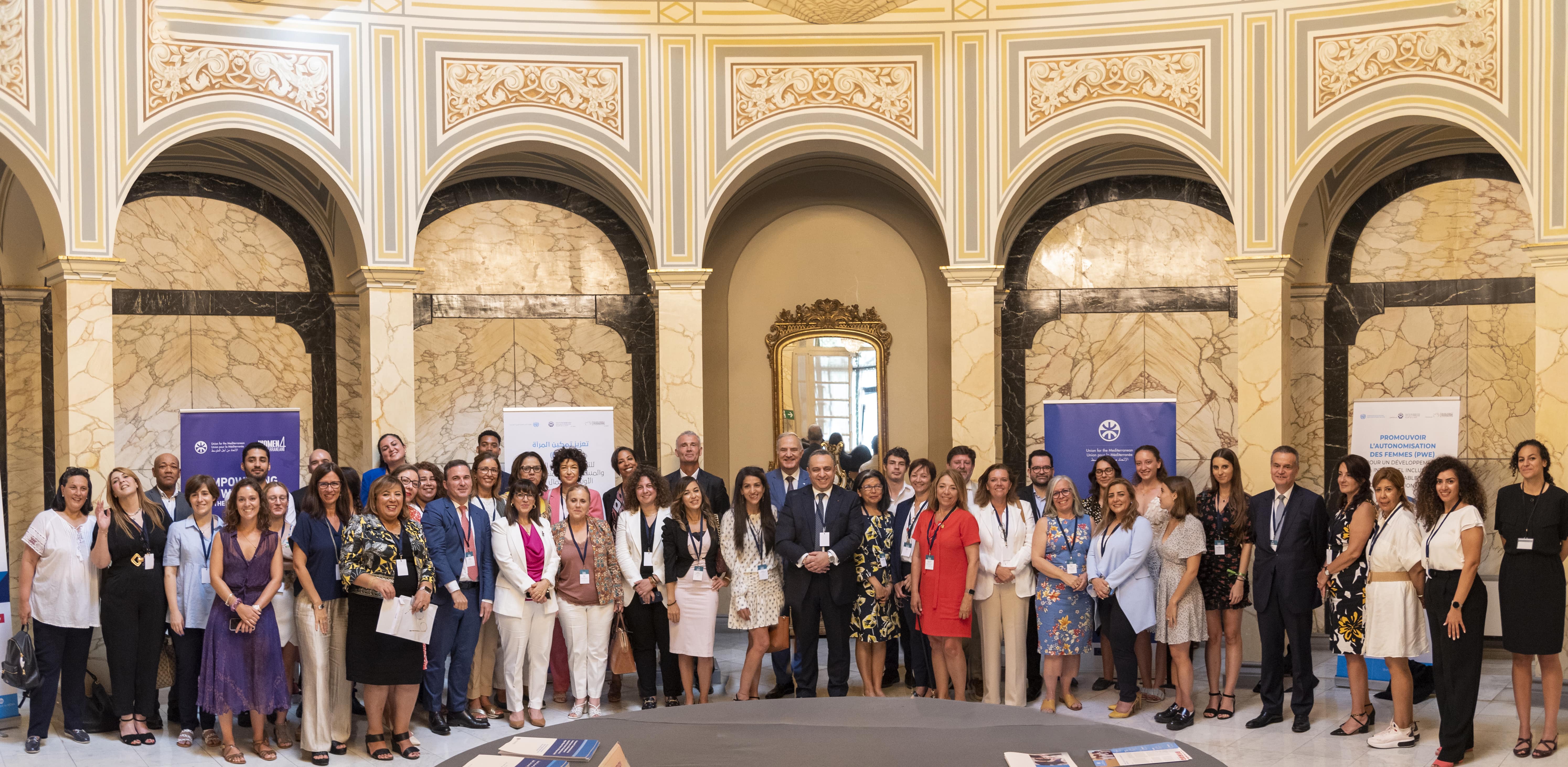 20-21 July 2022, Barcelona, Spain -- With the support of the governments of Italy and Sweden, the Union for the Mediterranean (UfM) and the United Nations Industrial Development Organization (UNIDO) organized the 2022 UfM-UNIDO Women Business Forum under the theme "Gender-Smart Financing to Unlock Women's Entrepreneurial Potential in the Middle East and North Africa region".
Held in Barcelona, the two-day hybrid event discussed ways to empower women as entrepreneurs and professionals as well as addressed the gender-based financing gap, also by exploring successful models and best practices, which ensure that women-led businesses can be engines of growth and job opportunities for women and girls in the MENA region.
"When it comes to their financial capabilities, women do not enjoy equal opportunities to innovate, upscale and grow, or else create wealth through equity funding", said Ambassador John Paul Grech, UfM Deputy Secretary-General. "Despite all this, data confirms that when funded, women entrepreneurs perform equally well as their male counterparts, sometimes even better".
"Studies show that investing in women entrepreneurs makes sense from a business perspective: once women-led start-ups and enterprises dispose of reasonable financial means, their return on investment are above average", said Cecilia Ugaz Estrada, Director for Gender Equality and Empowerment of Women Office at UNIDO. "This year's theme – Gender-Smart Financing – is crucial to leveraging the full potential of women entrepreneurs".
The MENA region has the world's largest entrepreneurial disparity between men and women as there are less than 5% of women-led business (compared to a global average of 23% to 26%) and one of the weakest female labour participation rates. Studies show that women in the MENA region face some of the highest levels of discrimination in accessing productive and financial resources: as the venture capital industry is 92% male, gender bias seems to play a role in men funding other men, often overlooking the female entrepreneurs who are also seeking business funding.
The financing challenges as well as other pervasive issues hampering female entrepreneurship development in the MENA region are at the core of a White Paper produced by UNIDO within the framework of the UfM-labelled "Promoting Women's Empowerment (PWE) for Inclusive and Sustainable Industrial Development in the MENA region" project. Furthermore, the White Paper highlights the relevant knowledge accumulated by UNIDO over the years and presents the lessons learned and good practices carried out, including on access to finance, as well as a set of specific recommendations for future projects.
"Projects like the PWE have proven to have an impact on the entrepreneurial ecosystem and should be replicated and scaled up by the donors' community. I would like to highlight the originality and sustainability of this project, thanks to its focus on dynamic Women Business Associations in the 7 target countries", said Ambassador Fabio Cassese, Director General for Development Cooperation at the Italian Ministry of Foreign Affairs and International Cooperation. "I would also like to praise the extensive capacity building and investment promotion programmes implemented by the PWE, which have empowered women business associations to become solid agents of change in the entrepreneurial ecosystem".
The UfM-UNIDO Women Business Forum is a regional platform taking place every year that offers women-owned and women-led businesses a unique opportunity to grow their business by learning from successful and innovative business models, and by building business connections with diverse and high-level international business leaders, policy makers and experts from the world's leading companies.
For more information, please contact:
UfM:
Anna Dorangricchia
Project Manager Gender Equality, Social and Civil Affairs Division
anna.dorangricchia@ufmsecretariat.org
UNIDO:
Bashir Conde
Project Manager, Department of Agribusiness