International Recognition: Passport to global value chains
15 June 2022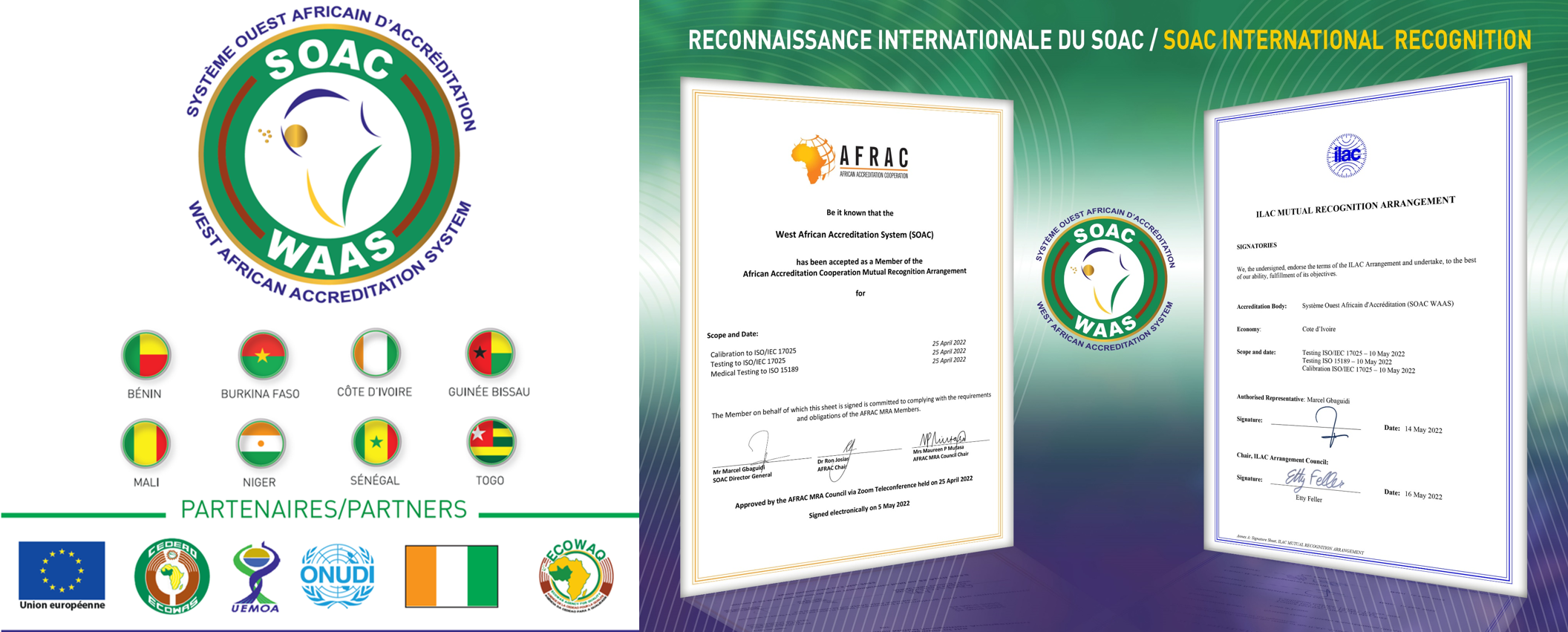 VIENNA, 15 JUNE 2022 – The West African Accreditation System (SOAC) signed the Mutual Recognition Agreement (MRA) with the African Accreditation Cooperation (AFRAC) on 5 May 2022 and with the International Laboratory Accreditation Cooperation (ILAC) on 14 May 2022.
"This is an historic milestone", said Bernardo Calzadilla-Sarmiento, Managing Director of the United Nations Industrial Development Organization's (UNIDO) Directorate of Digitalization, Technology and Agri-Business. "SOAC is the sole accreditation body covering 8 West African countries that, together with Nigeria National Accreditation System (NiNAS) and Ghana National Accreditation Service (GhaNAS), contributes to facilitating trade while protecting health, safety and the environment".
"We congratulate the General Assembly, the Administrators and in particular the Resident Representative and Director General, his staff and SOAC external experts (...) for this recognition", said UEMOA Commission President Abdoulaye Diop.
Accreditation is the supreme recognition of competency for testing/calibration laboratories, certification and inspection bodies. It is expected to play an increasing role in sustainable development: by driving more sustainable production and responsible consumption, conformity assessment can foster digitalization and a more circular economy. Furthermore, accredited and hence reliable conformity assessments support the global response to climate change by testing, certifying, verifying and inspecting numerous areas including the reduction of greenhouse gas emissions, energy efficiency or renewable energy.
The results achieved by SOAC stem from a series of successful projects supporting the West African Quality Infrastructure Scheme, which were made possible through a long-standing partnership between UEMOA, ECOWAS, the European Union and UNIDO. SOAC presently serves 9 ECOWAS Member States: Benin, Burkina Faso, Côte d'Ivoire, Guinea, Guinea Bissau, Mali, Niger, Senegal and Togo.
Learn more about SOAC here.
For more information, please contact:
Bernard Bau
UNIDO Project Manager