UNIDO launched the Global Quality and Standards Programme country project in Albania
10 May 2022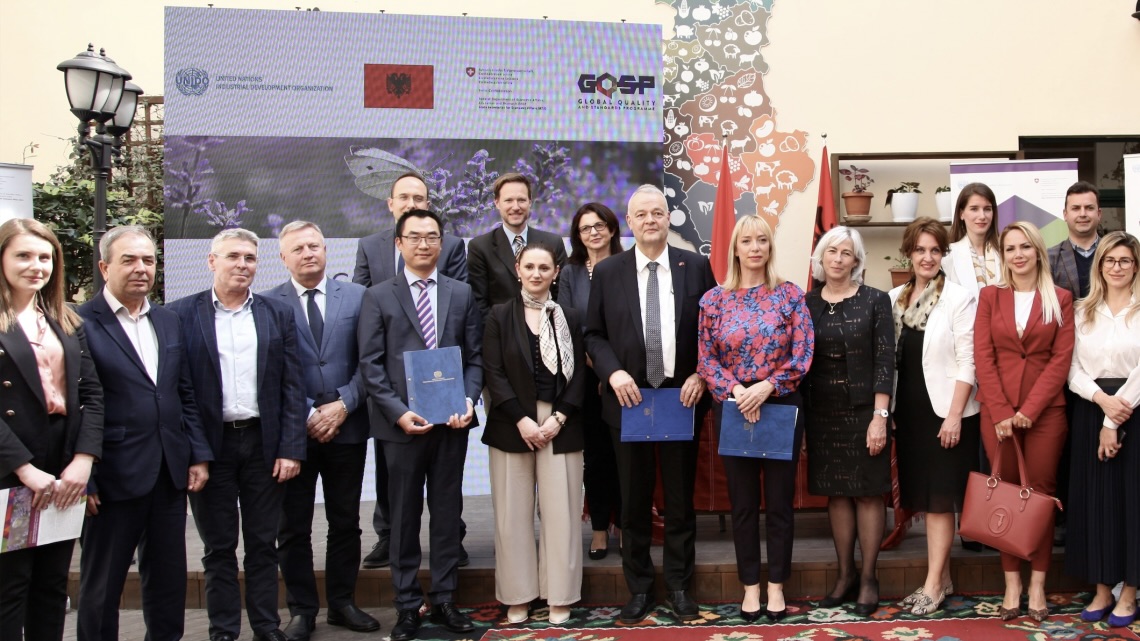 VIENNA, 10 May 2022 - UNIDO launched the Global Quality and Standards Programme (GQSP) country project together with the Minister of Agriculture and Rural Development of Albania and the Embassy of Switzerland in the country last week. It paves the way for a €1.84 million project funded by Switzerland through the Swiss State Secretariat for Economic Affairs (SECO), which aims to support the Albania's efforts to strengthen quality and standards compliance capacity and improve market access in the medicinal and aromatic plants and the fruit and vegetable sectors.
Frida Krifca, Minister of Agriculture and Rural Development who signed the project document stated that "the agreement is one of the most important ones I sign in my capacity as Minister of Agriculture and Rural Development, due to its focus on complying with standards and enhancing quality across value chains for two of the most important export products of our country, medicinal and aromatic plants as well as fruits vegetables".
"Enterprises in Albania need to comply with international and European standards to increase their productivity and competitiveness. This is a necessary step to increase efficiency and boost market access. It also helps to improve working conditions", said Adrian Maître, the Swiss Ambassador at the signing ceremony.
The project "Strengthening Quality and Standards Compliance Capacity for Selected Value Chains in Albania" is part of the Global Quality and Standards Programme (GQSP), an innovative approach jointly developed by UNIDO and Switzerland to strengthen the quality and standards compliance capacity in selected value chains of partner countries to facilitate market access for small and medium-sized enterprises (SMEs).
The project aims to enhance the quality compliance capability of both value chains and strengthen the service capacity of quality infrastructure (QI) system in Albania - primarily in terms of pesticide and bacterial contamination - in order to reduce border rejections in key markets and to improve both quality and productivity in these value chains. The project will also address cross-cutting issues including promoting a culture for quality along the value chains for sustainable development.
The project will be implemented in close collaboration with various partners including the Ministry of Agriculture and Rural Development, the Ministry of Finance and Economy, QI institutions, food safety authorities, Albanian Investment Development Agency (AIDA), and leading associations and academia.
Project factsheet
GQSP brochure
For more information, please contact:
Cong WU