Changing one life changes the world
25 July 2021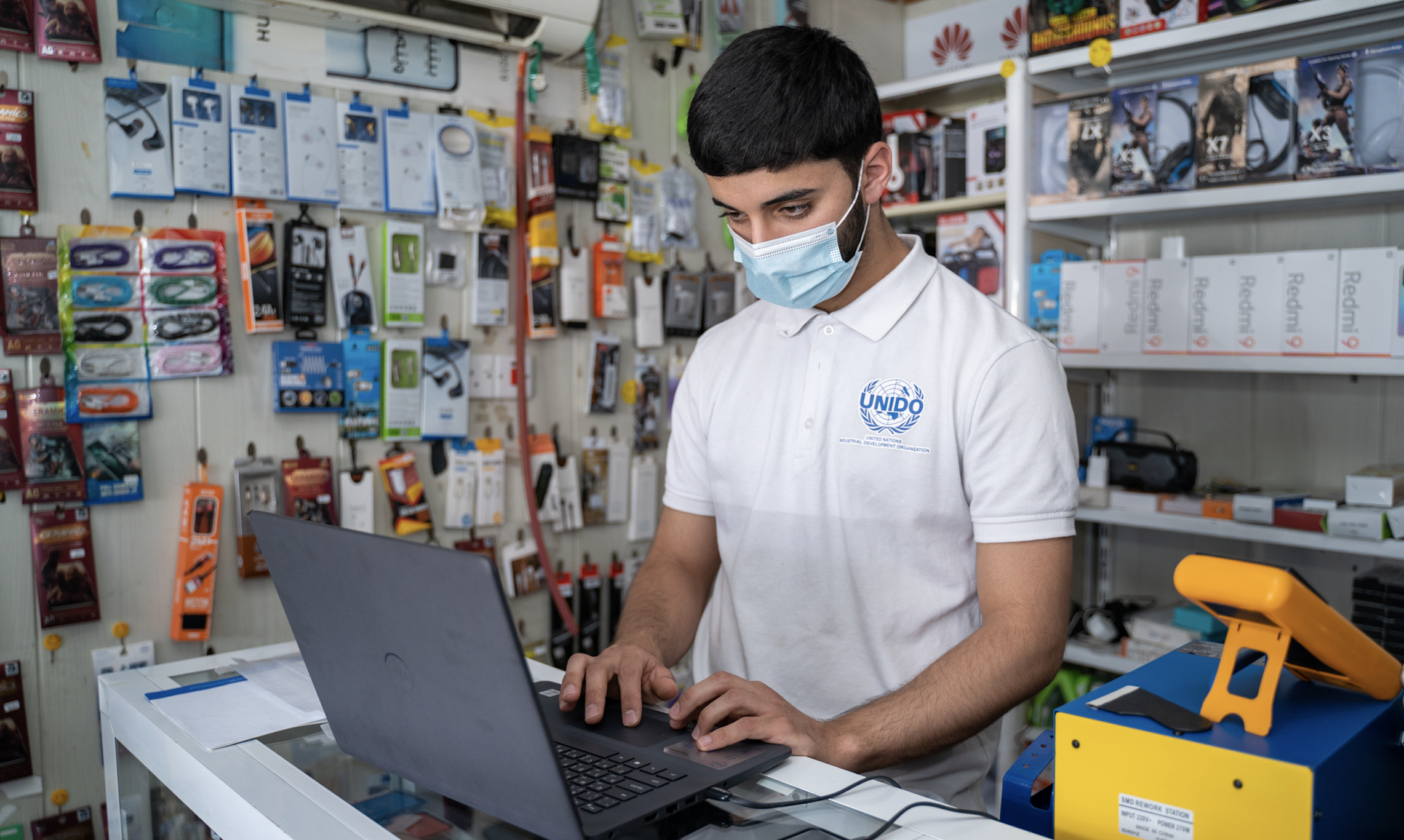 With the financial support of the Government of Japan and within the framework of its global Human Security efforts, the United Nations Industrial Development Organization (UNIDO) promoted the social stabilization and the acceleration of the Iraqi Nineveh Governorate's economic recovery.
In particular, the project, which was completed at the end of June 2021, contributed to the economic resilience of the protracted Internally Displaced Persons (IDPs) by providing them skills and entrepreneurship training coupled with equipment and tool support to establish their own livelihood and income generating activities. As such, the Japanese-funded project helped improve the learning environment for the benefit of an entire young generation of Iraqis who will be able to contribute to the rehabilitation and industrial recovery of the newly liberated areas.
Ibrahim Abdulkarim is one of the beneficiaries of the project; he recently completed a course on mobile repair and now put his skills and new equipment to use. Ibrahim and his family are Kurds from Mosul and were thus targets of the country's sectarian conflict; they had to leave and managed to reach Sheikhan, a town in the Kurdistan Region.
Ibrahim was only 12 years old when the family fled, but he needed to work to help support his family and began selling phone accessories with his older brother. He now got the chance to participate in a UNIDO training course on mobile repairs and basic programming.
"Since I was a child, I liked to play with mobile phones and figure out how they work, but I never had the chance or money to take a course", said Ibrahim. "Now I know the inner workings of different phone models and can easily exchange scratched and cracked screen, repair water-damaged microphones and charger ports, perform mobile updates, and transfer information between phones".
All beneficiaries received a repair kit including tools, multimeter, and DC power supply.
"My equipment is carefully set up in my brother's small shop", said Ibrahim. "I'm very happy with the course as I learned some very useful skills".
The UNIDO course has given him and other beneficiaries the formal training that they had to miss, thus setting them up on promising career paths. And by changing one life, the Japanese-funded project changed his world.