Suriname's pineapple industry embarks on ambitious journey
20 November 2023 United Nations Suriname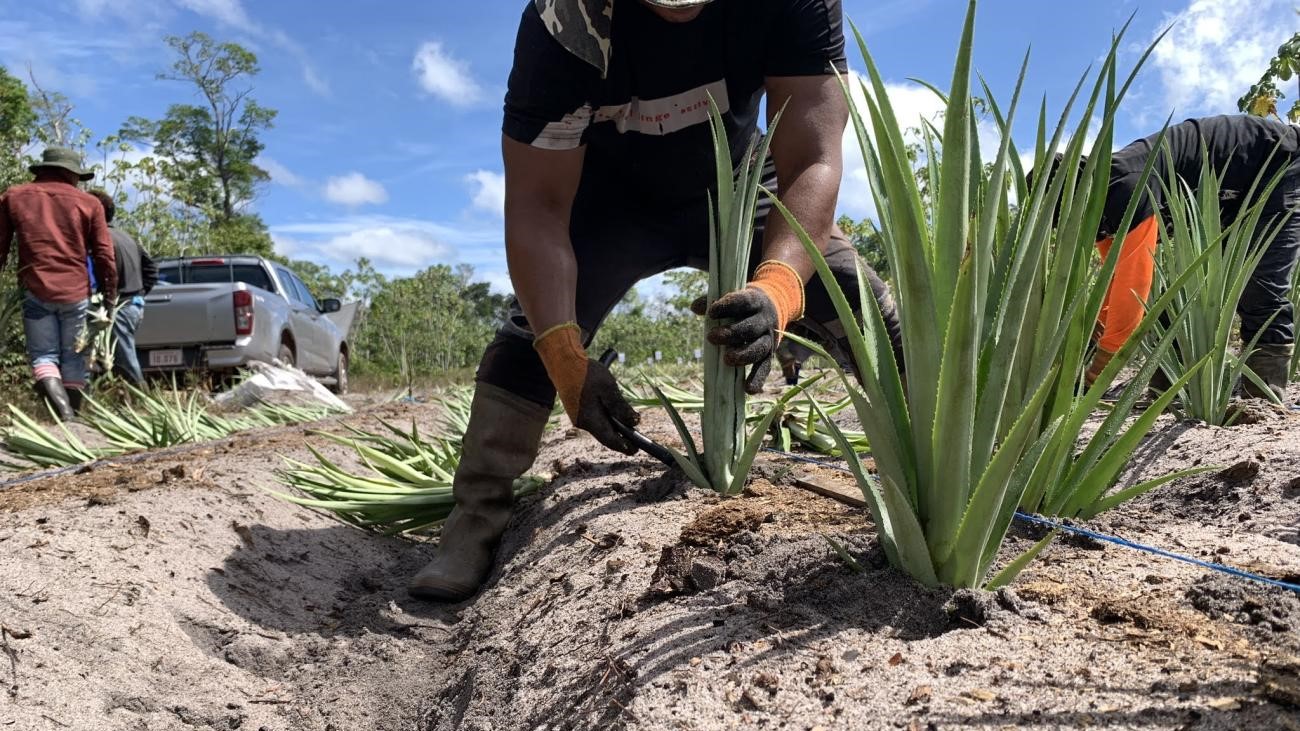 Deep in the heart of Suriname's Para district, the village of Redi Doti is not just witnessing history but actively shaping it.
A 1,200 square meter state-of-the-art trial plot, carefully selected for its well-drained sandy soils, serves as the canvas for a pioneering agricultural experiment. Over 3,000 pineapple plants of the local Stuger and Ingi Nasi varieties have been meticulously planted, involving harrowing, sub-soiling and bedding, while upholding the principles of organic farming.
International agronomist, Freddy Gamboa, a seasoned professional with a wealth of experience in pineapple cultivation garnered from his work in Costa Rica and the Caribbean region, is leading this remarkable journey.
He set up the trial plot in Redi Doti and conducted a series of interactive training workshops on pineapple production tailored to the specific conditions of Suriname, engaging a wide range of participants, from government officials, community leaders to private sector representatives and local farmers.
Gamboa works with the Agrifood Systems Transformation Accelerator (ASTA) programme. The programme aims to upgrade pineapple cultivation practices, while seeking to address gender and labour challenges and establish Suriname as one of the major pineapple producers in Caribbean in the future.
ASTA is a collaborative initiative, implemented together with Suriname's Ministry of Foreign Affairs, International Business and International Cooperation (BIBIS) and the Ministry of Agriculture, Livestock and Fisheries.
Over the next 18 months, the Surinamese authorities and ASTA teams will introduce a suite of modern techniques and good agricultural practices. High-density planting, organic fertilizer application, artificial flower induction techniques, integrated pest management and post-harvest handling are among the innovative practices aimed at boosting yields, improving quality, and ensuring long-term sustainability.
The knowledge gained here will not just benefit the village of Redi Doti but will reverberate across Suriname, becoming a catalyst for the expansion of sustainable organic pineapple farming.
The Sustainable Pineapple Value Chain Development project, implemented in the framework of the ASTA in Suriname, is a four-year joint programme funded by the Joint SDG fund and co-led by FAO and UNIDO, with support from the ILO and UNFPA.
Developed in close collaboration with the Government of Suriname and local pineapple actors and stakeholders, the comprehensive programme provides training, capacity building, and access to finance for smallholder farmers to adopt organic and regenerative production practices. It also facilitates investments in processing facilities and infrastructure to add value while minimizing food loss and waste.
By linking farmers to new domestic and international markets for premium pineapple products, the initiative seeks to catalyze broad-based economic development in Suriname's rural communities. With a strong emphasis on gender equality, youth engagement and environmental sustainability, the ASTA pineapple project embodies an integrated approach to building resilient, inclusive agrifood systems.
The above is an edited version of this article: Empowering Suriname's Pineapple Industry