What's so important about mini-grids?
30 March 2021 Leisa Burrell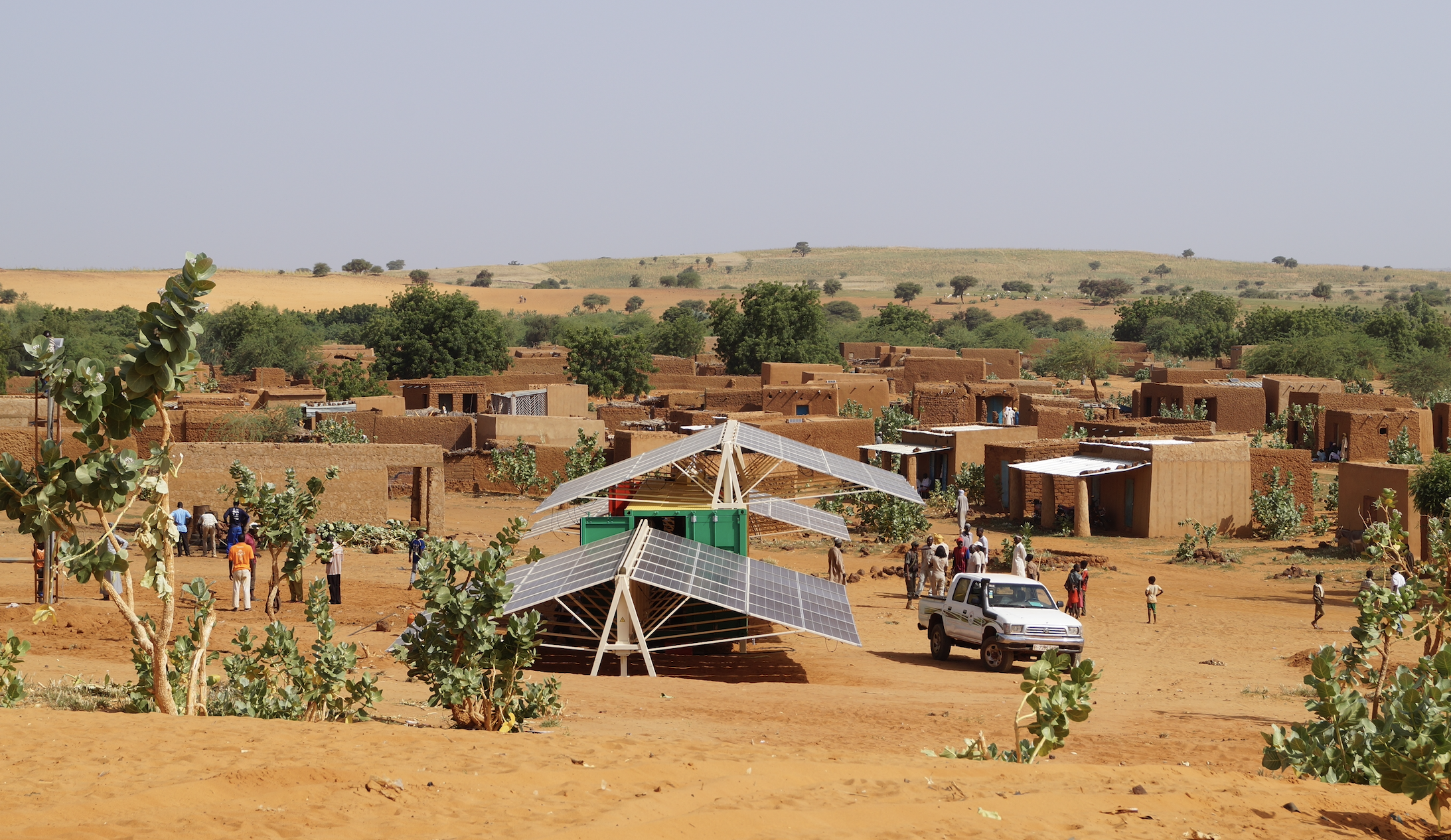 By Leisa Burrell
Photo credit: Africa GreenTec
To power a drill, run a lathe, turn a mill or work a pump, a thriving business needs electricity. Without it, the work must be done by hand.
Six hundred million people living on the continent of Africa lack access to energy. These 600 million people need electricity to light their homes and to run their businesses.
In places where the national transmission grid does not reach or only provides an intermittent or irregular supply of electricity, manufacturers must rely on manual labour or use a diesel-powered generator to provide electricity. The former limits productivity, while the latter pollutes the air, overheats the climate and is subject to fluctuating global oil prices.
And this is where mini-grids are coming to the rescue.
A mini-grid is a set of small-scale electricity generators interconnected to a distribution network that supplies electricity to a small, localized group of customers. It usually operates independently from the national transmission grid.
Renewable energy mini-grids, powered by solar, wind or hydro, are emerging as the superstars of energy access, particularly in rural areas, where they have become a viable option for providing reliable and high-quality electricity to rural populations and businesses.
In total, 47 million people worldwide are already connected to 19,000 mini-grids, of which more than 2,500 are operational clean-energy mini-grids (ESMAP, 2019).
But around 180,000 more mini-grids would need to be built to supply electricity to 440 million people. The World Bank estimates that 140,000 of these are needed in Africa. This would represent a significant step towards meeting the goal of providing universal energy access by 2030 (SDG7).
What are the obstacles that prevent mini-grids from reaching scale and how can policymakers help to smooth the way for greater uptake?
To propel mini-grids to even greater heights, and realize their potential, the United Nation's Industrial Development Organization (UNIDO), along with its partners the Alliance for Rural Electrification (ARE); the African Development Bank (AfDB); the Green MiniGrid Help Desk; and the Africa Minigrid Developers Association (AMDA); and INENSUS, recently launched a new mini-grid policy guide, to help policymakers achieve the most cost-effective way to achieve rural and last mile electrification.
The Clean Energy Mini-Grid Policy Development Guide helps policymakers - particularly those in sub-Saharan Africa - to navigate the renewable mini-grid market, providing them with tools and recommendations on how to approach policies and regulations in this space.
Helping to bridge the mini-grid policy shortfall
Speaking on the challenges associated with the large-scale deployment of mini-grids in rural areas, Aaron Leopold CEO of AMDA, explained that although mini-grids are a mature technology that provide high quality energy, they are often located in remote areas, which "presents some challenges from a policy, business and logistical perspective."
David Lecoque, CEO of ARE noted that "their business models are quite different to many independent power producers." Correspondingly, he argued "there is an enormous gap between what is needed in terms of delivery and what is currently possible in terms of governance, which shows the extremely urgent need for new thinking and approaches to policy and regulation across the continent."
Explaining the objectives of the Clean Energy Mini-Grid Policy Development Guide, Rana Ghoneim, who coordinated UNIDO's contribution to the publication, explained that "the policy guide takes a decision-makers' perspective on the options, trade-offs and benefits of different approaches a country might take to designing the policies. The guide also provides a number of templates for contracts and agreements, which can be used as references by policymakers when seeking to tailor such documents for their respective markets."
Ghoneim further explained that the guide presents policymakers with a set of key recommendations on how to approach policies and regulations for a decentralized infrastructure market such as mini-grids– this- she emphasized would "require important and sometimes significant changes to how governments approach their energy policies and electrification planning."
Getting progress toward the Sustainable Development Goals (SDGs) back on track
Speaking on the lost ground towards the SDGs caused by the global pandemic, Ghoneim conceded that it was likely that momentum towards attaining the Goals had been shifted to focus on addressing the immediate impacts of the pandemic, but now with less than a decade to go, tools such as the Clean Energy Mini-Grid Policy Development Guide were now more important than ever as "around a dozen of the SDGs require universal energy access as a prerequisite for their success".
"Every tool in policymakers' arsenal should be dedicated to addressing the clean energy deficit." Ghoneim said. Thus, the Clean Energy Mini-Grid Policy Development Guide will be "an essential, 'gold standard' instrument for policymakers seeking to integrate mini-grids in their country's grid, and once the worst of the pandemic is over, to kick-start their economies and even surpass where they were prior to this point in time."
Read the publication here:
Clean Energy Mini-Grid Policy Development Guide
For more information, please contact:
Rana Ghoneim, Chief, Energy Systems and Infrastructure Division, UNIDO.