The Better Cotton Initiative Launches in Egypt in collaboration with UNIDO. Approximately 2,000 Smallholder Cotton Farmers Will Receive Training and Support on How to Grow Egyptian Cotton More Sustainably While Also Improving Their Livelihoods
12 October 0021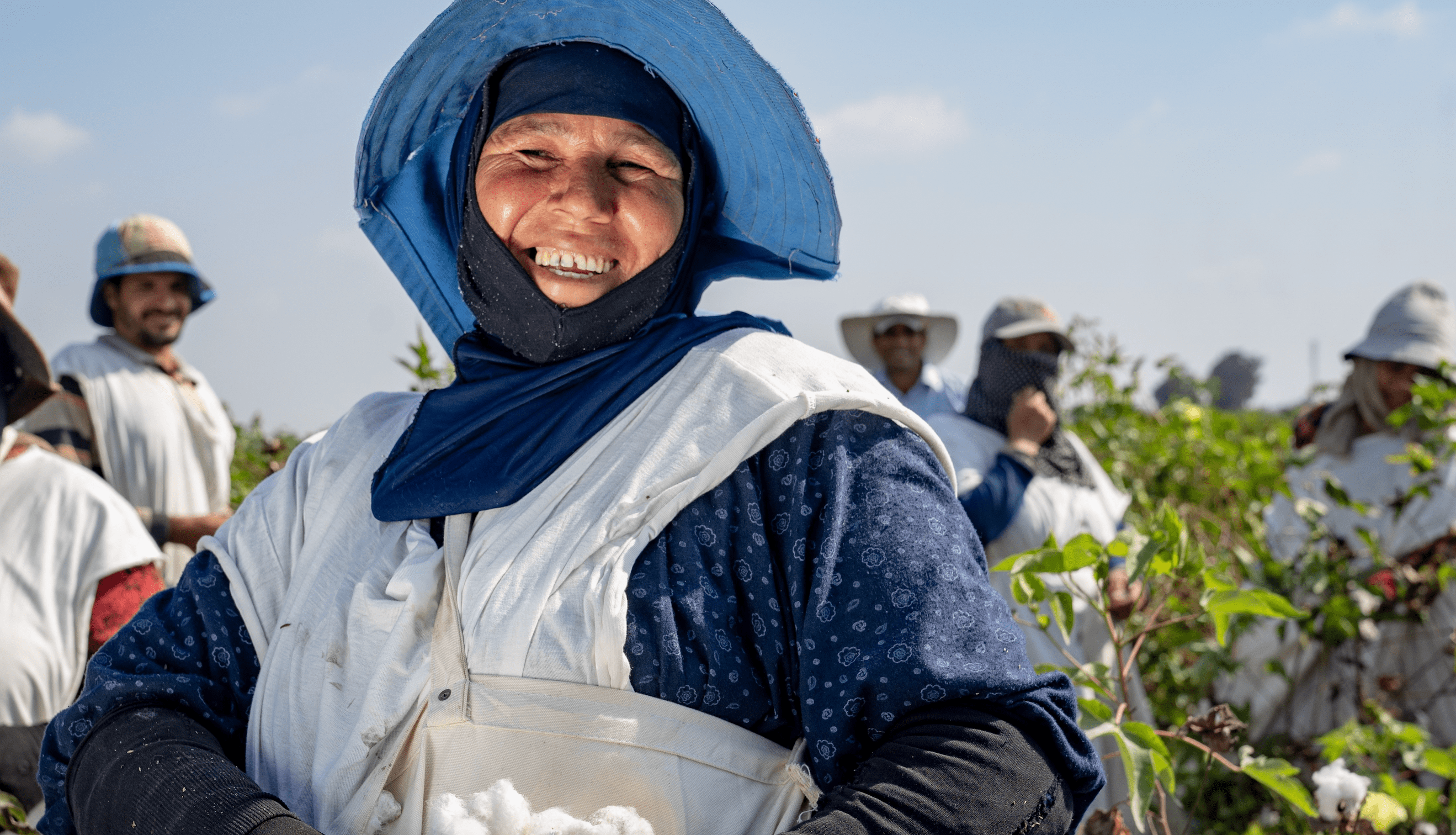 After many years' engagement and preparation, the United Nations Industrial Development Organisation (UNIDO), together with the Better Cotton Initiative (BCI), is delighted to announce the launch of a BCI Programme in Egypt. The participating farmers will receive training on the Better Cotton Principles and Criteria. By adhering to these principles, farmers produce cotton in a way that is measurably better for the environment and farming communities.
The BCI Programme aims to support farmer livelihoods through the adoption of more sustainable practices. In 2019, BCI initiated a trial project with the Egyptian Cotton Project to train cotton farmers on the Better Cotton Initiative's approach to sustainable cotton production. Following a successful trial project and completion of the necessary new country start-up process, Egypt officially became a new BCI Programme country in May 2020 as part of a renewed drive in the country to increase sustainability and improve conditions for Egyptian cotton farmers.
The Egyptian Cotton Project is an initiative funded by the Italian Agency for Development Cooperation, aiming to enhance the sustainability, inclusiveness and value addition of the Egyptian cotton value chain. This project is implemented by UNIDO in collaboration with the Ministry of Trade and Industry with Cotton Egypt Association as key entity supporting Egyptian cotton trademark and branding to international buyers, the Ministry of Agriculture and Land Reclamation as well as with local and international textile private sector stakeholders, and leveraging on "Cottonforlife" CSR initiative by Filmar Network.
Thanks to Cotton Egypt association's (CEA) network, Better Cotton Initiative was initially introduced to UNIDO via The Egyptian Cotton Project. Khaled Schuman, CEA Executive director said that the Association introduced this initiative after UK retailers expressed to CEA their demand for sustainable Egyptian Cotton.CEA is jointly managing with UNIDO the Private sector working group, bringing together local and International retailers, traders, manufacturers and brands to cooperate and coordinate to ensure the success of this great project. We will continue to support this programme because we believe that the consumer deserves a more sustainable Egyptian Cotton..
"The Egyptian Cotton project looks forward to implementing the Better Cotton Standard System in Egypt to support and advance the Egyptian cotton industry in a sustainable way. We care for the farmers and the environment, while supporting the country's economy - through this multi-stakeholder joint program, coordinated by UNIDO" said Riccardo Savigliano, Project Manager and Division Chief at UNIDO.
There is a high level of multi-stakeholder engagement in Egypt from government agencies, civil society organisations, trade associations, farmer associations and commercial actors within the supply chain, which will allow the BCI Programme to be implemented in a robust way.
Together with the Cotton Research Institute and Implementing Partners (organisations responsible for supporting and training farmers to continuously improve their sustainable agricultural practices according to the Better Cotton Principles and Criteria) ALKAN and Modern Nile Cotton, UNIDO will ensure that farmers receive the knowledge and tools to improve their agricultural practices, through the collaboration with Cotton Connect, a specialized organization in implementing BCI programs worldwide.
From the 2020-21 cotton season onwards, farmers in Egypt who participate in the BCI Programme may be eligible* to receive a licence to sell their cotton as 'Better Cotton'.
Ongoing trainings to support the implementation of the Better Cotton Standard System by Egyptian farmers and smallholders currently cover essential preparation methods for the upcoming cotton season as well as raise awareness on Better Cotton Principles and Criteria for more sustainable cotton cultivation. However, to ensure the safety of farmers, farm workers and on-the-ground partners during the ongoing global Covid-19 pandemic, innovative methods are being employed by temporarily delivering the programme's trainings via digital online platforms instead of in-person field trainings; respecting of precautionary and safety measures set by the government.
*In the face of the Covid-19 pandemic, we acknowledge that travel or movement restrictions might interfere with assurance activities this season, and this could potentially affect the licensing process, preventing farmers from receiving a licence and Better Cotton from entering the global supply chain in 2020. We will know if assurance activities in Egypt will proceed as planned by the beginning of Autumn, 2020. Learn more about BCI's response to the Covid-19 pandemic.
For more info visit: https://www.facebook.com/EgyptianCottonProject.UNIDOEG
Contact us:
Ms. Rana AboulEnein, PR & Communications Officer
UNIDO Regional Office in Cairo, Egypt