Enormous opportunities for Africa, says UNIDO DG at "The Africa we Want: Reconfirming the Development of Africa as a Priority to the United Nations System"
20 July 2022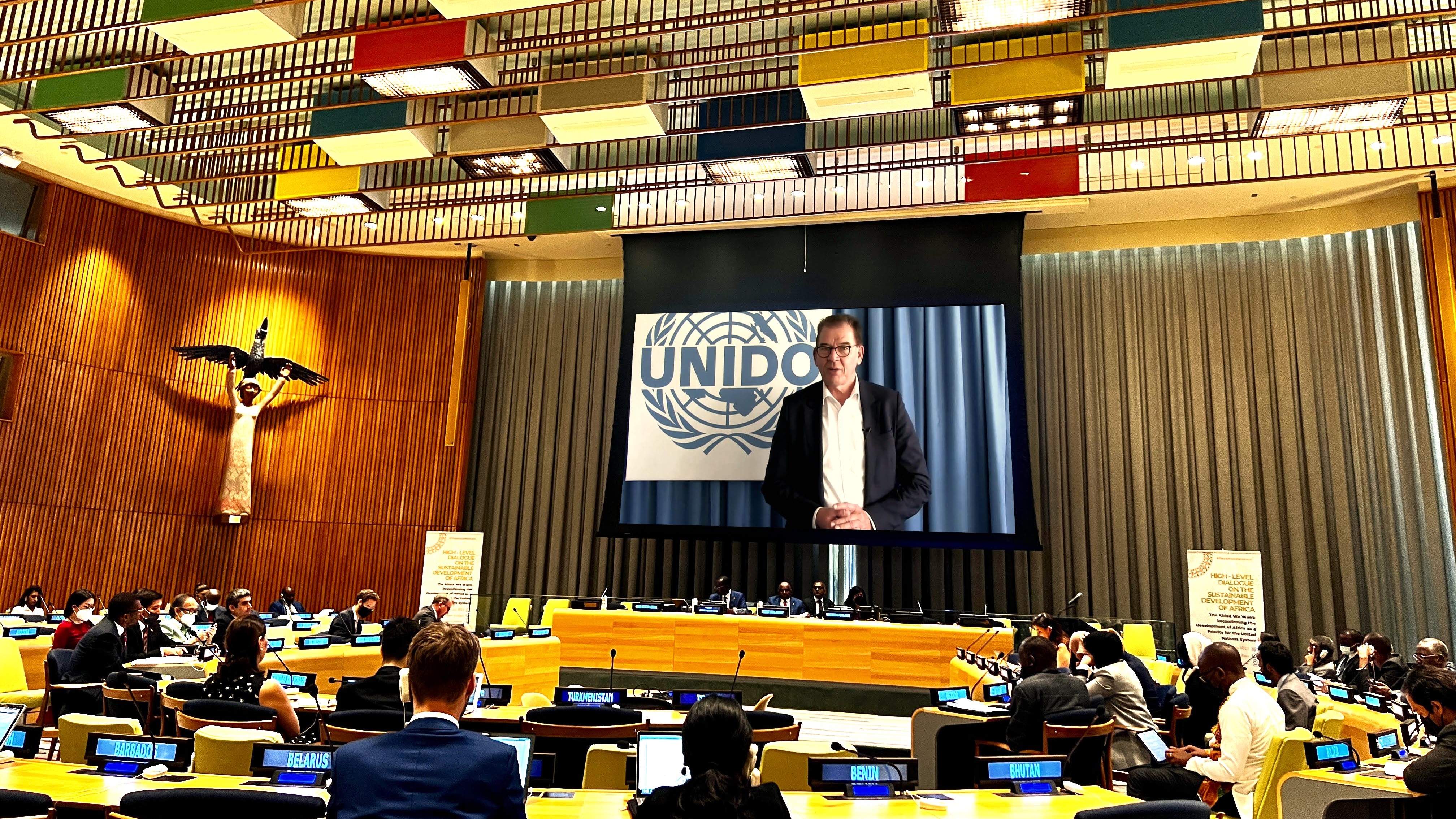 NEW YORK, 20 July 2022 - UNIDO plans to build "enormous opportunities" on the African Continent, Gerd Müller said in his remarks at the "Special High-Level Dialogue" of the Presidents of the GA and ECOSOC pivoting around policies and best practices to accelerate Africa's development (see concept note and UN web TV video).

As the former German Federal Minister of Economic Cooperation and Development, "Africa was my priority," Müller said.
"As the new UNIDO Director General, I'm also putting Africa at the centre of our efforts." One key priority is food security.

"We need to do more to realize the potential of the continent in agricultural production and agro-processing. The transfer of skills and technology and match-making of partners are key parts of the answer. So is access to new markets across Africa, Europe and worldwide."

Energy was critical in this context said Müller, describing the challenges. "It is not acceptable that almost half the population of Africa still has no access to energy. Coal-fired or fossil fuel-based power plants cannot be the solution for the future. Africa can and must become more and more a green continent of renewable energies. Therefore, we need massive investments in technology and infrastructure to create the energy solutions of the future and decouple growth from emissions." UNIDO is planning a green hydrogen day at this year's COP 27 to showcase transformative energy strategies and technologies in Africa, he said.

Together with the African Union Commission, UNIDO has also developed a pharmaceutical manufacturing plan for Africa as well as launching a global health industry development initiative in 2021, Müller noted. UNIDO will support the AU Summit on Industrialization and Economic Diversification, scheduled for November, to identify "many more such industrialization options throughout the continent".
For more information, please contact:
Ralf Bredel
Director and UNIDO Representative to the UN & International Organizations
R.Bredel@unido.org
Talita Correa de Oliveira Melo
Communications Specialist
T.Correadeoliveiramelo@unido.org