Experts recommend steps to make supply chains sustainable
08 June 2023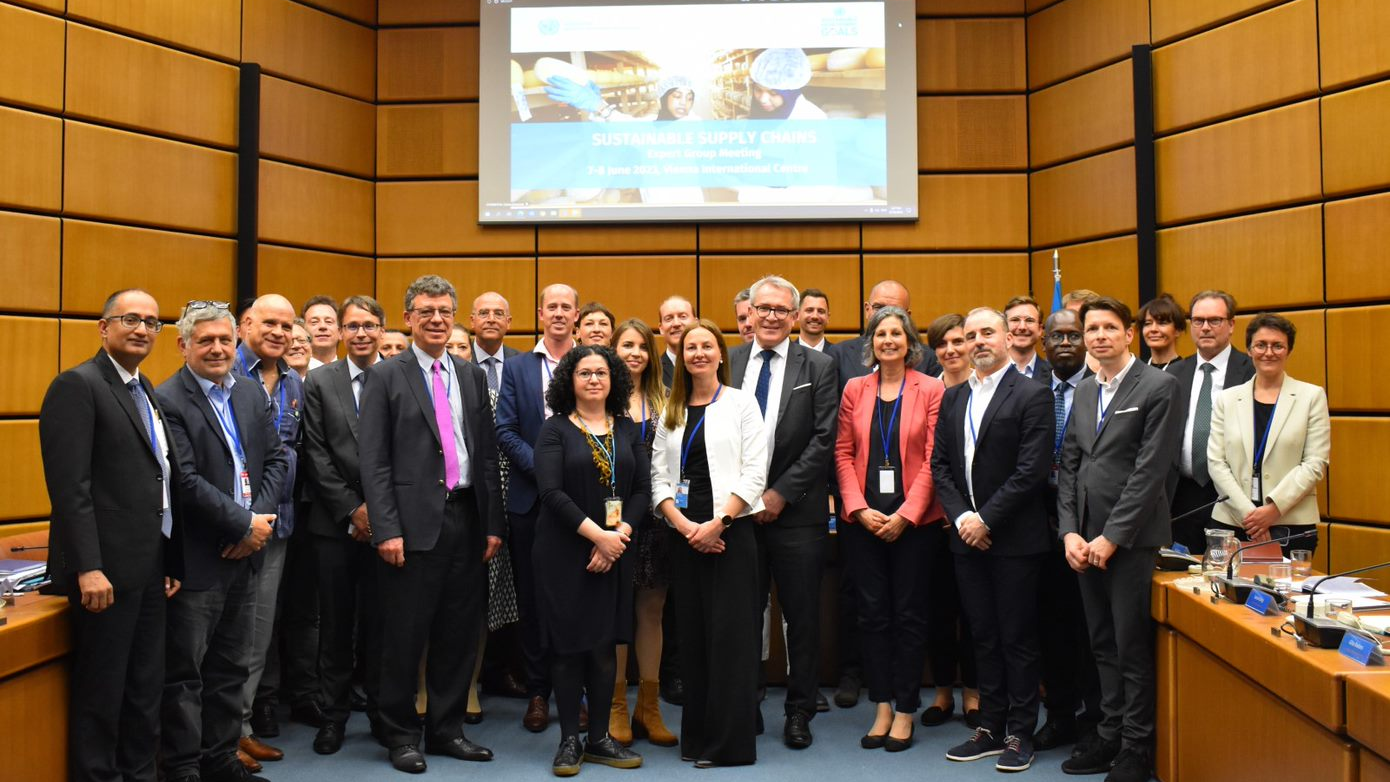 VIENNA - UNIDO convened an Expert Group Meeting to explore and take stock of on the current status and trends across the various dimensions of sustainable supply chains in the light of the new due diligence compliance requirements set by a number of countries and regions.
The experts agreed on the need to shift the perspective from the compliance aspect of due diligence legislation to a holistic one that emphasizes the positive impact of making supply chains sustainable. By reframing the narrative, there is an opportunity to proactively improve sustainability rather than simply meeting regulatory requirements.
The high level of complexity and the changing nature of supply chain governance leads to hard-to-solve challenges regarding compliance. However, if these are addressed in a way that ensures no one is left behind, there are far-reaching positive outcomes for people and planet.
The experts convened by UNIDO recommended seven steps to integrate sustainability dimensions in domestic, regional and global supply chains.
At the macro level:
Preparedness for crises. Sustainability of supply chains are constantly influenced and altered by multiple crises, including global warming and desertification that already jeopardizes upstream production in several parts of the world and most of the times it is also these same economies that suffer from poor business environments especially in rural areas or crisis-stricken areas. Investments are therefore needed at all levels into producers, enabling infrastructure and value chains.
Allowing adaptation journeys from (voluntary to mandatory legislation) enough time. One way to avoid unintended consequences is to understand the realities on the ground and start with a minimum standard while allowing companies enough time to show a pathway towards reaching standards of varying criteria.
At the meso level:
The need for harmonization. Given the complexity and diverse nature of the different national legislation, it is important not only to try to harmonize and converge due diligence regulations and requirements on a global governance level but to also simplify language and content, making them easy to understand for affected parties. Global conventions are increasingly cross-referenced in requirements with mixed results. A plethora of standards exist with limited levels of inter-operability and mutual recognition. Successful mainstreaming would be the driver for harmonization.
Coordination. Leverage neutral partners to bring the public and private sector together despite often divergent interests. Coordination effort must include the informal sector, community groups and the informal sector. Coordination is also needed on regional value chains.
Inclusiveness. The burden of achieving compliance must be borne by all parties. The risk of pushing down the costs in the supply chain is real and might exacerbate the pattern that price premiums are charged at final consumer stage but not trickling down to drive living income to workers or mitigating environmental footprint where it is mostly needed.
At the micro level:
Importance of traceability. Supply chain actors up to the level of the consumer need evidence, real time date supported through digitalization, sensors and their integration in production, warehousing, and logistics etc. This would allow for comparisons of the triple footprint of social, environment and competitiveness (price) even in multi-tier, complex, cross-border value chains. Although technology solutions exist in principle, last mile traceability remains a challenge due to low bandwidth and rural areas.
Dynamic monitoring of unintended consequences. Feedback loops are necessary, up to the level of the owners of the due diligence legislation in industrialized countries, to capture the presence and magnitude of unintended consequences and, if need be, recalibrate the legislation itself, its accompanying measures or its legislative equivalents in producer the countries.
International organizations, such as UNIDO, should take an active role in capacity building, coordination, advocacy, partnership building, setting up monitoring and evaluation frameworks as enablers to implement the above recommendations.
For more information, please read a summary of the meeting or contact: Division of Fair Production, Sustainability Standards and Trade, PST@unido.org