The most recent data for the first quarter of 2022 on global manufacturing production confirm the lingering, but weakening effects of the COVID-19 pandemic on global manufacturing, albeit with seasonal, regional and sectoral differences. Due to the aftermath of the pandemic as well as the ongoing Russian military offensive in Ukraine, the distribution of raw materials and products through global supply chains continues to pose a major threat.
The latest UNIDO World Manufacturing Report, published by the United Nations Industrial Development Organization (UNIDO), includes the most recent official data on global manufacturing production. The COVID-19 pandemic caused the first drastic global decline in manufacturing since the financial crisis of 2008/2009. As more data became available, it became apparent that the intensity and duration of the crisis were not as damaging to the manufacturing sector as initially feared.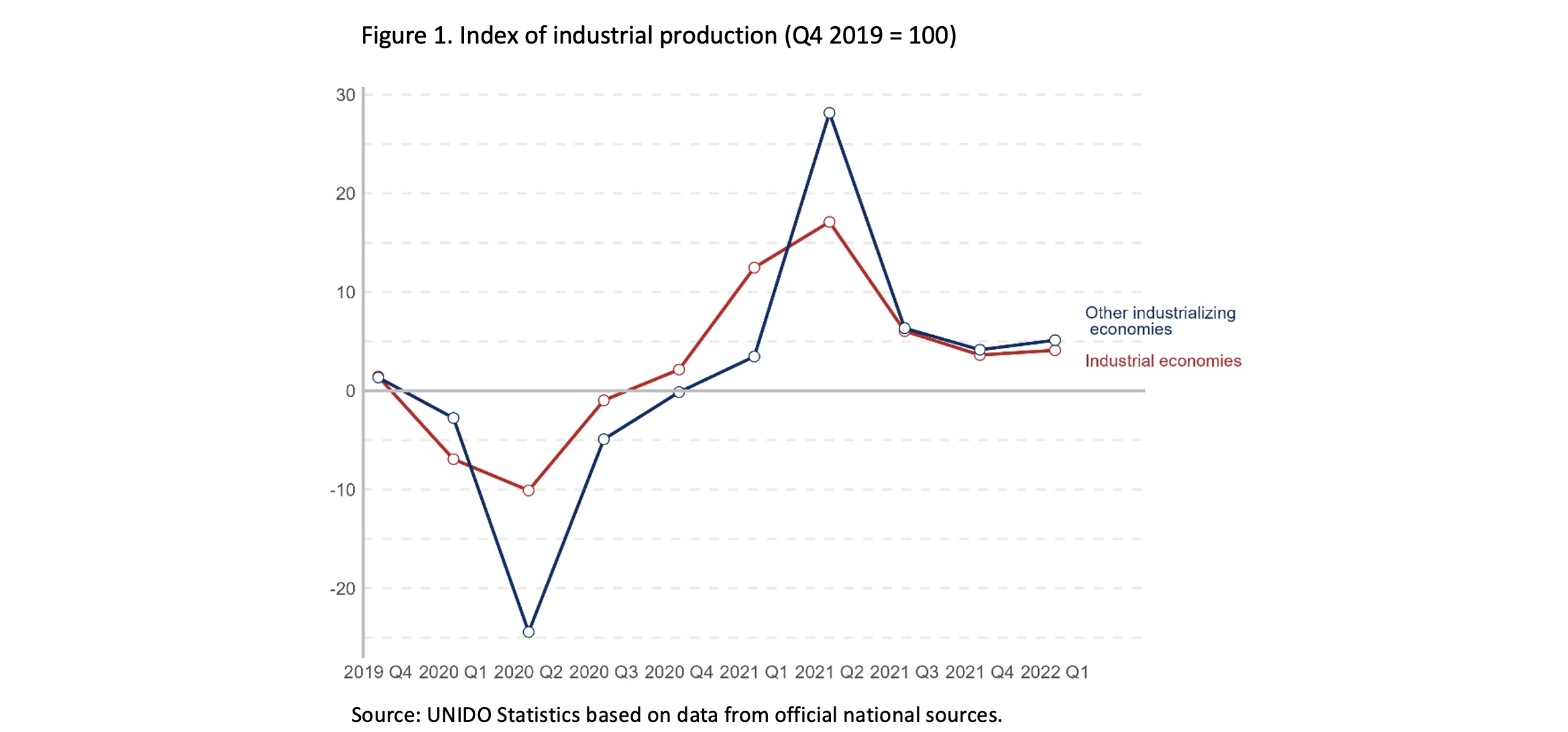 The UNIDO report also reveals varying trends across different industrial sectors. In the first quarter of 2022, the performance of medium-high- and high-technology industries (5.3 per cent) as well as of low-technology industries (4.2 per cent) was better than that of industries that rely mostly on medium-low technologies (2.2 per cent), such as mineral products or basic metals.
Since the fourth quarter of 2020, medium-high- and high-technology industries recorded high growth rates, primarily attributable to the strong performance of computers, electronics and pharmaceuticals. However, the production of motor vehicles, a higher technology sector, has struggled in recent quarters due to persistent supply chain disruptions.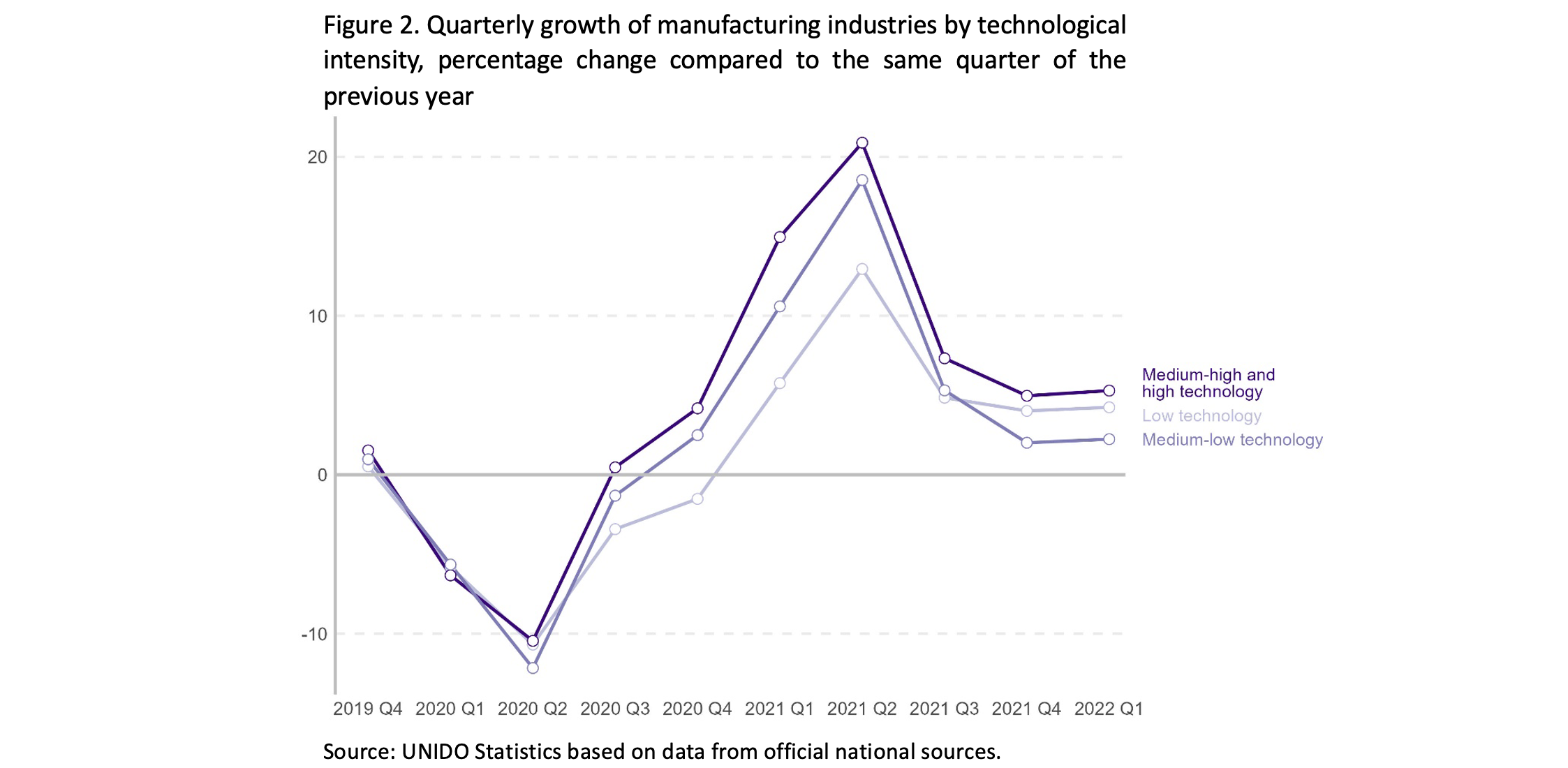 In addition to the observed figures for the first quarter of 2022, UNIDO's report also includes revised estimates for manufacturing growth in 2021 and prospects for 2022. The projections for global manufacturing point to further signs of recovery in 2022, with a growth rate of 3.9 per cent. Detailed data confirms the different growth trends across regions. Output of industrial economies is expected to grow by 3.8 per cent in 2022, following a rise of 7.4 per cent in 2021. Similarly, the manufacturing sector of other industrializing economies showed a solid recovery, bouncing back from a slight increase of 0.4 per cent in 2020 to a solid 5.7 per cent in 2021 and 5.4 per cent in 2022.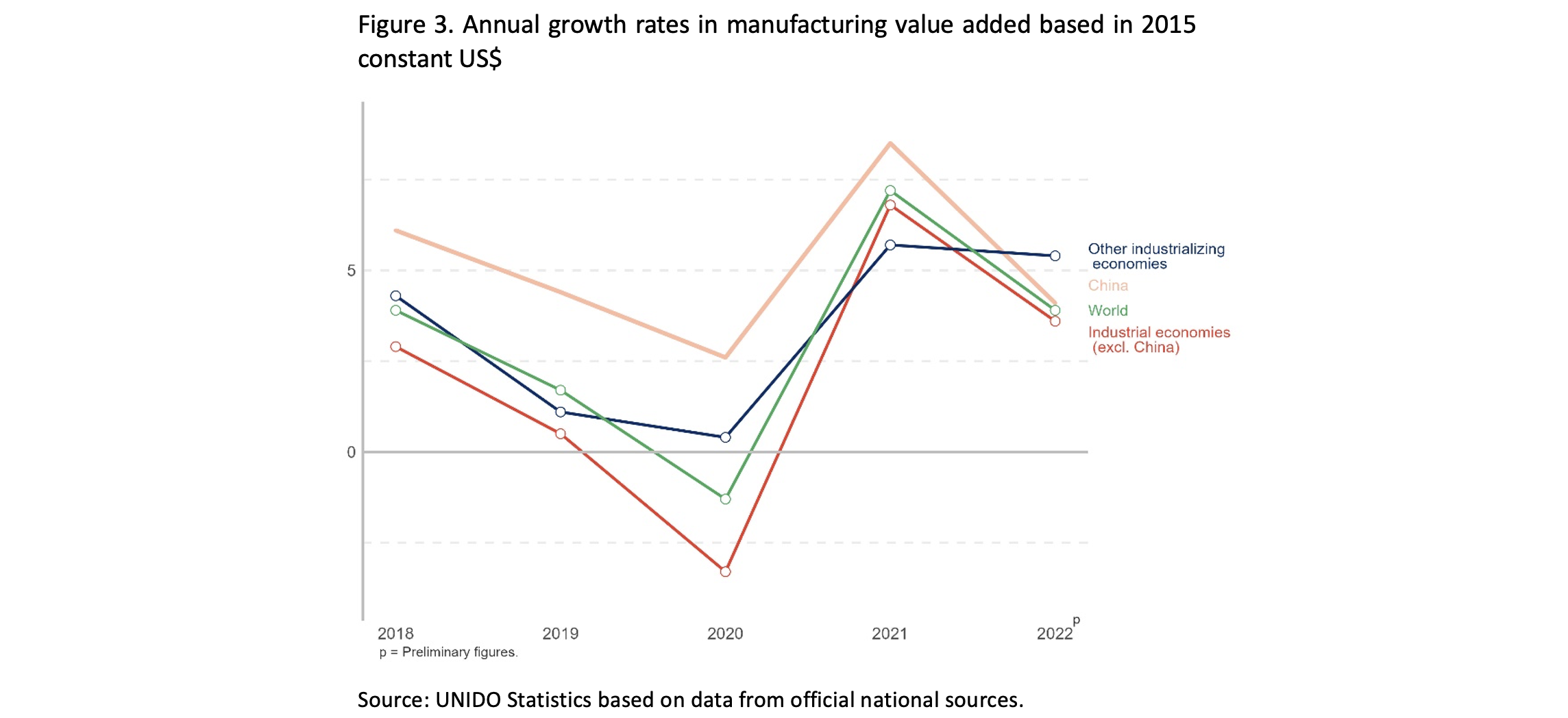 The full report is available here. It presents the most recent trends of global manufacturing at country, regional and industry level.
All data and analysis are based on seasonally adjusted data. Data can be downloaded through the UNIDO Data Portal or consulted in official UNIDO publications. For more information, please contact UNIDO Statistics.