Innovative Invest-in-ACP Platform launched at the World Investment Conference (WIC) 2022
13 September 2022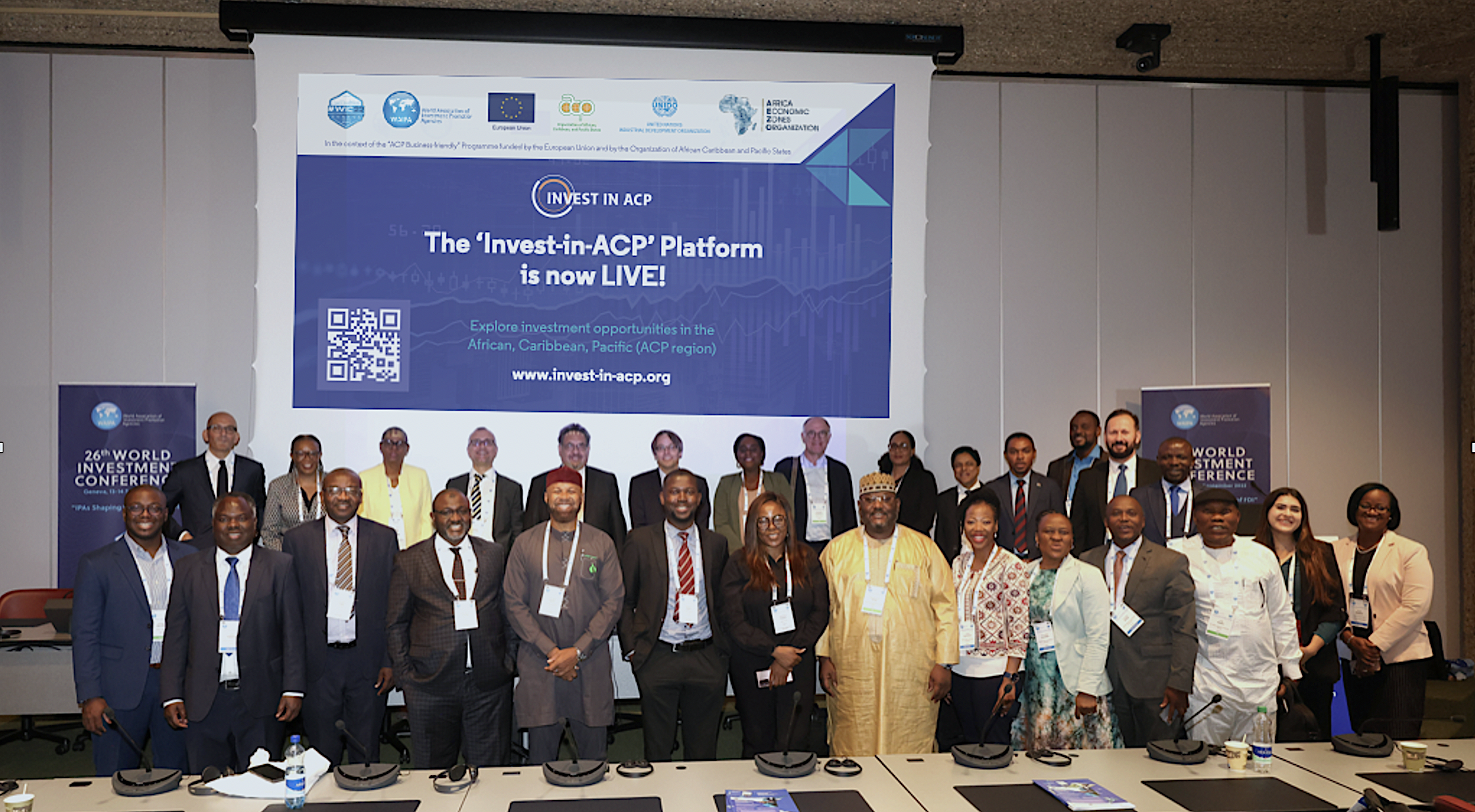 GENEVA, 13 September 2022 – The United Nations Industrial Development Organization (UNIDO) organized a Conference for Investment Promotion Agencies (IPAs) in the African, Caribbean and Pacific (ACP) region at the 26th World Investment Conference 2022 of the World Association of Investment Promotion Agencies (WAIPA), themed "IPAs shaping the future of FDI".
UNIDO officially launched its cloud-based, digital Invest-in-ACP Platform at the conference. The Platform was developed in the framework of "ACP Business-Friendly: Supporting value chains through inclusive policies, investment promotion and alliances" Programme, funded by the European Union (EU) and the Organisation of African, Caribbean and Pacific States (OACPS). It provides valuable and dynamic information on investment project opportunities, ACP country and regional level institutional partners. The Platform also houses information related to value chains, sectoral data, and information on industrial park sites and its related authorities.
In his welcoming remarks, Ismail Ersahin, Executive Director a.i. of WAIPA commented "Given the ever-increasing importance of IPAs, these knowledge-sharing events are critical, as they play an essential role in equipping IPAs with recent best practices and opportunities for ensuring steady flows of sustainable FDIs. I am hence delighted that the 26th WAIPA WIC also marks the official launch of UNIDO's cloud-based, digital Invest-in-ACP Platform and we look forward to reaching even greater heights with our sustained collaboration."
Cécile Billaux, Head of Unit, Micro-economic Analysis, Investment Climate, Private Sector, Trade and Employment (INTPA.E.2), European Commission noted the EU's appreciation of the Invest-in-ACP platform describing it as "user-friendly, bringing key targeted information about projects looking for investments, creating links to the financial community." She highlighted the importance of this work to the EU as it increasingly works with Development Financial Institutions (DFIs): "This Platform helps SMEs by driving investments and supporting DFIs".
Escipión J. Oliveira Gómez, Assistant Secretary General, Structural Economic Transformation and Trade, OACPS, affirmed the importance of the continuous partnership with the EU and the implementing agencies of the "ACP Business-Friendly" Programme, WAIPA and ACP IPAs. He quoted a proverb "If you want to go fast, go alone. But if you want to far, go together". Gómez expressed his hopes for the Invest-in-ACP Platform to drive investments and wealth to achieve peace and prosperity for people.
"We believe that the Invest-in-ACP Platform will bring a fundamental change in how ACP IPAs promote investment opportunities in their countries." said Bernardo Calzadilla-Sarmiento, UNIDO Director Division of Fair Production, Sustainability Standards and Trade. "This initiative is not only important for the attraction of FDI but serves to enhance the social and environmental impact of existing investors established in ACP countries."
Stefan Kratzsch, Industrial Development Officer at UNIDO, also presented the empirical results from a recent 2022 Survey for ACP IPAs conducted by UNIDO and WAIPA. The early findings of the Survey contribute towards a better understanding of emerging IPAs' strategies and technical assistance needs, especially those geared towards meeting their digitalization objectives.
Users also expressed their delight with the launch of the Platform. "The 'Invest-in-ACP' Platform has contributed to the opening of a new horizon which will allow us to reach potential investors who may be interested in investing in the Dominican Republic", highlighted Lohengrin de Peña, Investment Executive, ProDominicana.
Mercy Chemoiwo, Project Analyst at the Kenya Investment Authority (KenInvest) confirmed that: "'Invest-in-ACP' gives a project promoter the confidence to provide the information needed with knowledge that only the necessary details will be available to prospective investors while giving them the opportunity to have a large reach".
In the ambit of the vision of UNIDO Director General, Gerd Müller, "Progress by innovation", this Platform constitutes a major milestone for the crowding in of higher volumes of investments into the ACP region whilst maximizing investment impact on prosperity, people and the globe.
Visit the 'Invest-in-ACP' Platform here: www.invest-in-acp.org
Watch here impact stories of the "ACP Business-Friendly" (meso-level):
https://www.youtube.com/channel/UCYpt5y638GLIGpvd4E83csQ
The recording of the conference can be viewed here:
English: http://youtu.be/G2bDZFuI7v4
French: http://youtu.be/ju_NTsDDZEw
For further information contact:
Stefan Kratzsch
Industrial Development Officer,
Division of Fair Production, Sustainability Standards and Trade (IET/PST)