Textile supply chains are moving towards new directions, where sustainability and competitiveness are directly linked to building strategic partnerships along the value chain to share innovation, inspiration, and state-of-the-art solutions beyond business as usual. Specifically, the fashion industry is in the process of rethinking how it manufactures, consumes and disposes of textiles and apparel.
In the last 15 years, clothing production has approximately doubled. Globally, the USD 1.3 trillion clothing industry employs more than 300 million people, while cotton production accounts for almost 7% of all employment in some low-income countries. At the other end, the latest trends and data show that the negative impacts of the textile industry are set to dramatically increase by 2050 should there be no shift in the business as usual modality.
For Egypt, the cotton value chain forms an important pillar of the local economy. It is characterized by the fact that the entire value chain, from cotton cultivation over ginning, spinning, weaving all the way to the manufacturing of final garments and home textiles is present. Post-industrial cotton textile by-products from the manufacturing stages represent a large growth potential for the industry in Egypt, with around 23 kilo tonnes of scraps emerging from the that could be cycled back into fibre.
Making use of the untapped potential of by-products and waste streams is an important part of the circular economy, a metaphor for an economy where we move away from the take-make-waste consumption patterns and keep products and materials in use for as long as possible. Currently, the world is only 8.6% circular, leaving a massive amount of materials being wasted each year. The fashion industry is no exception to this, as less than 1% of the material used to produce clothing is recycled into new clothing and less than 15% of clothes are collected for recycling.
In such context, 'The Egyptian Cotton project' of UNIDO, in collaboration with Circle Economy, just launched the first of its kind report "Egypt's Market: Environmental and Economic Assessment of Post-Industrial Cotton Waste Recycling.", highlighting results of a denim-recycling pilot, 'RE.ACT', rolled out to support the development of circular solutions for denim recycling in the Egyptian cotton textile industry through strategic partnerships between Italy and Egypt, rallying industry stakeholders for knowledge and technology transfers.
On 1st December 2020, UNIDO in collaboration with Circle Economy delivered a workshop showcasing the promising results of the pilot report to a variety of local industry stakeholders and government representatives. The pilot was implemented by T&C Garments, Filmar SpA, Albini Group and Marzoli Textile Engineering part of the Camozzi Group.
According to cotton-textile private sector partners, circularity is likely to be one of the key business trends of the next decade.  They all agreed on the opportunities provided by such pilots and the need of supporting joint initiatives in this endeavor to work together for making circularity in textile the new normal.
Marco Marzoli, CEO of Filmar Network highlighted that sustainability is at the core of Filmar's work as it represents an important lever of development and value creation for a more sustainable growth. "That is why we are committed to support circularity in textile by investing in new business models and strategic partnerships. The participation to the UNIDO Re.ACT pilot has been truly inspiring: as member of the UN Global Compact and UNIDO's partner, we reaffirm our commitment to supporting joint initiatives in this endeavor and work together for a more sustainable future".
Stefano Albini, President of Cotonificio Albini Spa highlighted that this project can be the starting phase to implement a virtuous value chain of recycling in Egypt. "Recycling of post-industrial fabrics scraps and also, in a short future, of post-consumer garments will be an important step to enhance the sustainability in our Textile and Apparel business. Thanks to Unido for having managed this project with all the participants."
"We are focused on continuous innovation in mechanical regeneration of fibers" stated Cristian Locatelli, General Manager of Marzoli Textile Engineering, part of Camozzi Group. "Developing and adopting green technologies means for us at Marzoli to carefully balance economic with environmental sustainability.  Circularity of fibers, thanks to fabrics regeneration, is creating a synergetic value chain among all the stakeholders. The new paradigm of a circular fiber supply chain will accelerate learning and development of know-how for all participating stakeholders pushing innovation and opening up to new potentials."
This pilot tied a strategic partnership across the supply chain from manufacturers, producers, spinners and weavers uniting to trial post-industrial denim waste transformation into NE 30/1 cotton yarns to create high-value knitwear and fabrics. The finished fabrics produced a promising quality knitwear capsule collection through an educational 'Knitwear Design for Sustainability' workshop delivered by Italian fashion designer Marina Spadafora to Egyptian and Italian Fashion design students.
Local stakeholders including Marie Louis Bishara, President of the Ready-Made Garment Export Council and Cherine Khallaf, Representative of the Egyptian Ministry of Planning and Economic Development, shared their excitement in seeing such a promising opportunity for the Egyptian and global markets in advancing recycling in the cotton supply chain, highlighting that Egypt already has the full supply chain in one place and should grab this opportunity.
Emphasis was placed on advancing circular processes, the importance of collaboration and shared competencies, and pursuing technological advancements such as artificial intelligence in improving the processing of fabrics. In turn, such an opportunity would have a significant positive impact on the economic and environmental arena in Egypt, responding to rising market awareness and demand for cleaner high-quality products.
The business case and life-cycle assessment conducted with the support of Circle Economy's expertise on the recycled yarns produced in a scaled-up scenario, highlighted that the comparison with virgin alternatives is positive, with lower impact for all considered categories: water consumption, total energy demand and global warming potential.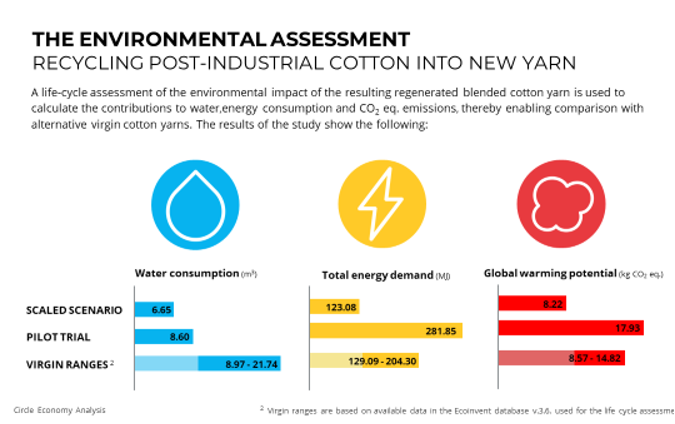 The economic assessment sheds light on the attractive opportunity that bringing a recycled cotton yarn value chain to life at scale in Egypt may present for industry stakeholders and on the rising opportunities for the Egyptian textile industry and market.
Egypt's strong national roadmap (Egypt's Vision 2030 Strategy) towards economic competitiveness and diversification further highlights the potential of the Egyptian cotton value chain, its fibre and products, to significantly improve the environmental and social sustainability of textile production to stay competitive within the global markets.  Government representatives shared that indeed Egypt is already on its way to a complete make-over of the cotton-textile industry, through all the supply chain in collaboration with the public sector, investing 250 M Euros into sector initiatives including but not limited to factories' revamp, while investing in sustainable agricultural practices for cotton production.
To learn more about key findings and the full report visit here.