Slovenia and UNIDO reinforce partnership for impactful technical cooperation
16 March 2023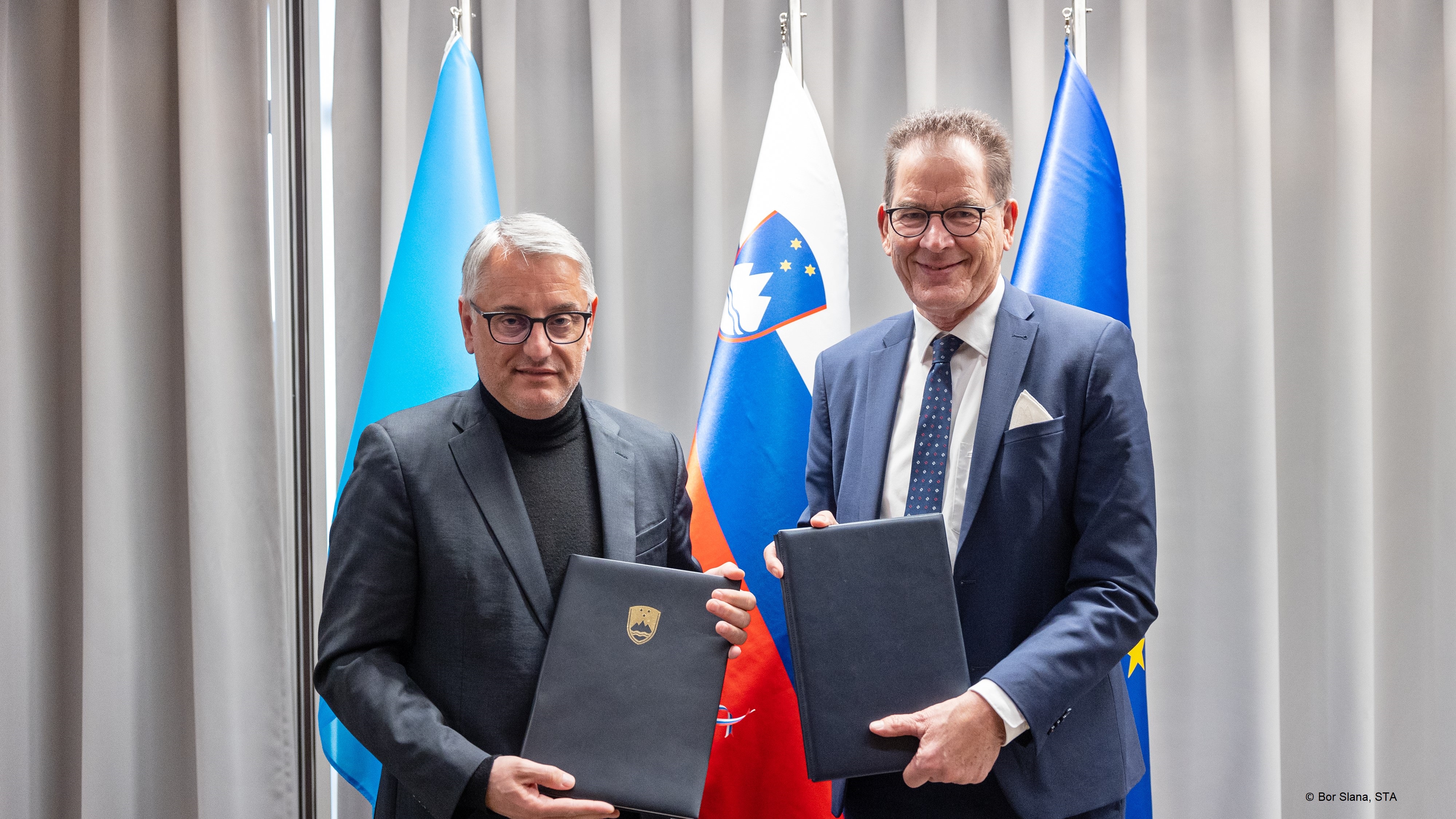 LJUBLJANA – Matjaž Han, Slovenia's Minister of Economy, Tourism and Sport, and Gerd Müller, Director General of the United Nations Industrial Development Organization (UNIDO), signed an Agreement on Cooperation, marking a new step in a long-standing and mutually reinforcing partnership.
The new agreement, signed during the Director-General's official visit to Slovenia, will strengthen cooperation and lead to the implementation of new initiatives.
The value of Slovenia's cooperation with UNIDO was noted by its President, Nataša Pirc Musar. The country looks forward to launching new joint activities, which will benefit developing countries and strengthen their capacities for inclusive and sustainable industrial development.
This is a significant moment for the Slovenia and UNIDO partnership, with its strong existing portfolio of projects that cuts across geographical regions and focuses on innovation ecosystems and the strengthening of trade capacities. The new agreement complements the Slovenia-UNIDO Roadmap for Cooperation signed in June 2022.
The Serbian Smart Manufacturing Innovation Centre (SMIC), which raises awareness of the opportunities and challenges of industry 4.0, digitalization, artificial intelligence and other frontier technologies, is one of the many results arising from the strong UNIDO-Slovenia partnership. The SMIC, located in a science and technology park in Novi Sad, provides demonstration facilities, tools for the assessment of readiness for digitalization in manufacturing and skills building, as well as technical services and training on digitalization and automation in specific industrial sectors.
For many years, the Ministry of Economy, Tourism and Sport of Slovenia has served as UNIDO's key national counterpart institution. Minister Han said, "We see UNIDO as a great platform for knowledge and technology transfer, innovation building and investment promotion. Through our joint work, we deliver cutting-edge solutions and foster sustainability and resilience building in the region and beyond."
Director General Müller said, "Slovenia is itself a great success story of industrial development, and is a role model for successful economic transformation. Now, Slovenia's know-how and technological capability is being put to use world-wide. Slovenia is a key partner with great potential for an ever greater role in international development."
An example of UNIDO and Slovenia's cooperation in support of other countries is a project funded by the Government of Slovenia to develop an innovation ecosystem and support infrastructure in Azerbaijan. UNIDO organized thematic workshops and training on topics such as innovation management, building start-up communities, and producing products that meet CE standards in order to access the European Union market.
With this new agreement, Slovenia and UNIDO will work together to capitalize on the country's potential in the areas of the automotive industry, industry 4.0 and digitalization, and to scale up regional initiatives.
For more information, please contact:
Solomiya Omelyan, UNIDO Regional Bureau for Europe and Central Asia
Email