UAE, UNIDO reinforce industrial partnership to boost resilience, sustainability
14 February 2023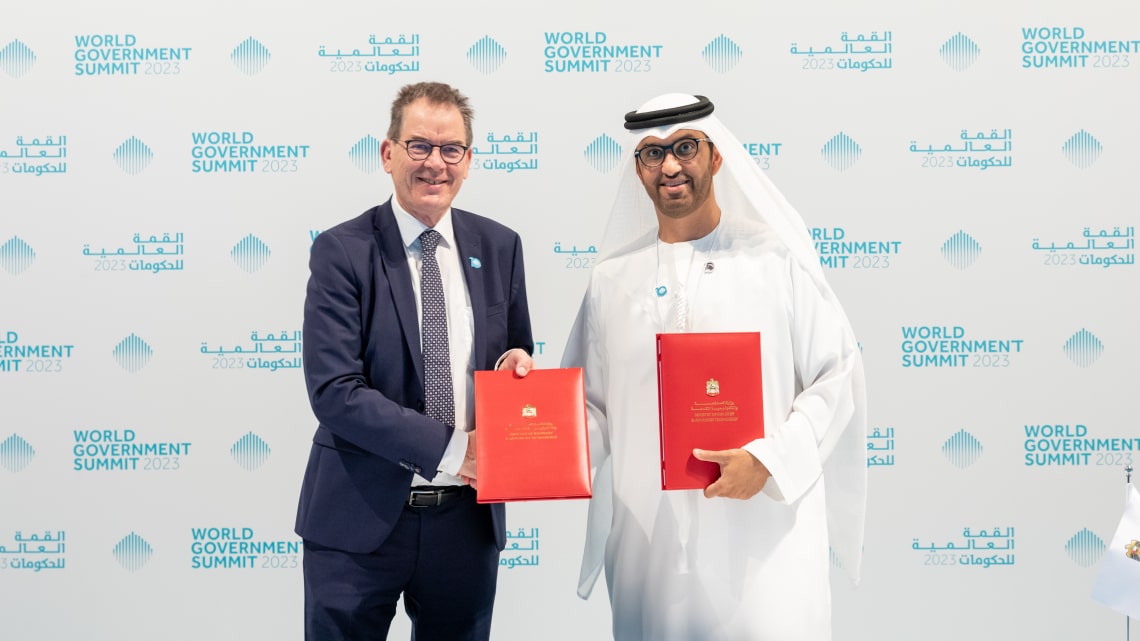 Dubai, 14 February 2023 – Sultan Al Jaber, Minister of Industry and Advanced Technology (MoIAT) and Gerd Müller, Director General of the United Nations Industrial Development Organization (UNIDO), today signed two significant joint declarations at the First Industry and Advanced Technology Forum.
The declaration at the Industry and Advanced Technology Forum, held on the sidelines of the World Government Summit, builds on the longstanding cooperation between UNIDO and the UAE. In 2019, the UAE hosted the 18th session of UNIDO's General Conference resulting in the adoption of the Abu Dhabi Declaration reinforcing the role of industrial development in the 2030 Agenda for Sustainable Development.
With the UAE aiming to become a global hub for future industries, this renewed commitment between UNIDO and the UAE draws on the organization's industrial development expertise, particularly in capacity building, resource efficiency, affordable clean energy, quality infrastructure and industrial policy.
The second joint declaration will establish the UNIDO International Centre for Industry Readiness in the UAE. The center is designed to support the capacity of the industrial sector to react to shocks and emergencies. It is being launched under a partnership between the Ministry of Industry and Advance Technology, the Abu Dhabi Department of Health and the Global MICE Organization Limited (GMOL).
The Centre will leverage the use of Fourth Industrial Revolution applications to upscale industrial capacity and readiness to respond to national and global emergencies. It will primarily focus on providing its expertise and services to the MENA region in the early stages with the aim of expanding its support to the African region and beyond.
Sultan Al Jaber, Minister of Industry and Advanced Technology (MoIAT) said: "The joint declaration aligns with our leadership's directives and MoIAT's drive to promote continuous cooperation with relevant international organizations. It also supports the exchange of expertise and knowledge to help achieve the objectives of the National Strategy for Industry and Advanced Technology."
Director General Müller said: "I would like to take this opportunity to thank the United Arab Emirates for its ongoing cooperation and trust. The two joint declarations that we have signed give a new dynamism to our cooperation. UNIDO has the innovative skills, technical expertise and knowledge. We are pleased to be working with the UAE to be part of the solution for the prosperity of the communities in need. Together we can achieve a lot."
For further information on the UNIDO-UAE partnership, please contact:
Hanan Hanzaz, Chief of the Arab Regional Bureau
And for further information on the UNIDO International Centry for Industry Readiness, please contact
Alejandro Rivera Rojas, Industrial Development Officer