UNIDO and China highlight the role of industrial parks for achieving sustainable industrialization at the 5th CIIE
05 November 2022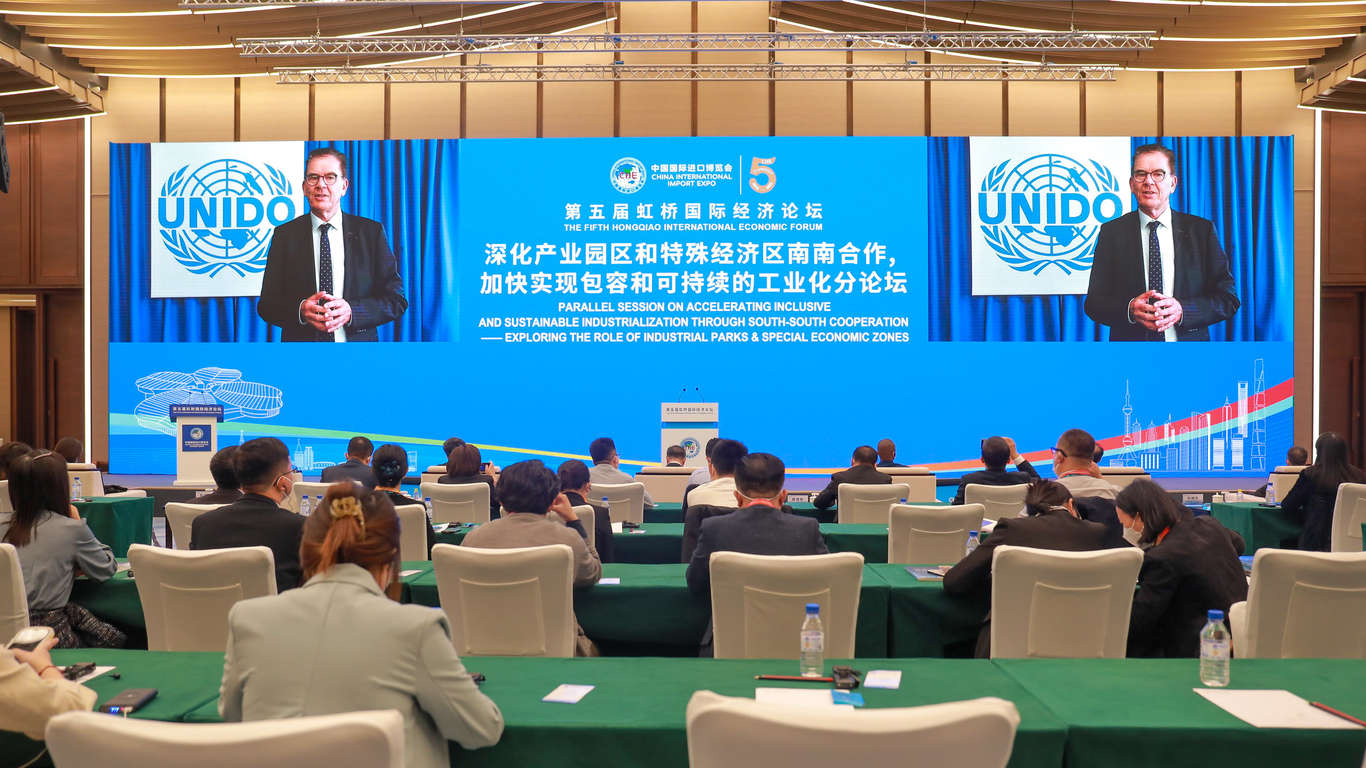 SHANGHAI, 5 NOVEMBER 2022 – As part of the 5th International China Import Expo (CIIE), UNIDO and the Ministry of Commerce of China jointly organized the Parallel Session of the Fifth Hongqiao International Economic Forum, titled "Accelerating inclusive and sustainable industrialization through South-South cooperation – exploring the role of industrial parks & special economic zones". The Session highlighted the pivotal role of industrial parks and special economic zones to stimulate growth and advance the achievement of SDG9, contributing to the 2030 Agenda for Sustainable Development.
The event gathered high-level representatives from the Governments of China, Ethiopia, Egypt as well as development financial institutions such as the African Development Bank, and enterprises, who engaged in dialogues, exchanged experiences and displayed best practices of innovative solutions to implement industrial parks and special economic zones.
Opening the session, Gerd Müller, Director General of UNIDO noted the long history of cooperation between UNIDO and China on industrial parks. "Industrial parks are an integrated tool to support sustainable industrialization", added the Director General.
Li Fei, Assistant Minister, Ministry of Commerce of China noted the appreciation for UNIDO's contribution to the facilitation of knowledge transfer for industrial parks using the South-South cooperation approach. He also presented achievements made by China as a result of the development of industrial parks.
In his opening statement Xin Guobin, Vice Minister, Ministry of Industry and Information Technology of China, thanked UNIDO for its long-standing support to the sustainable industrial development of China, and highlighted the Ministry's efforts to develop industrial parks towards industrial clustering, digitalization, greening and international cooperation.
Through their keynote speeches –Siddharth Chatterjee, United Nations Resident Coordinator in China, Xiaojun Grace Wang, Trust Fund Director of the United Nations Office for South-South Cooperation and Justin Yifu Lin, Dean of the Institute of New Structural Economics and Professor of the Institute for South-South Cooperation and Development of Peking University – underscored the importance of industrial parks and special economic zones for economic development through sustainable industrialization.
Emphasizing the role of South-South cooperation to support the exchange of industrial park knowledge, Ciyong Zou, UNIDO Managing Director of Directorate of Technical Cooperation and Sustainable Industrial Development highlighted that it brings partners together. Zou assured Member States and partners that "UNIDO will continue advancing new approaches to accelerate progress to make industrial parks instruments of development and innovation".
UNIDO also launched its Global Industrial Park Platform for Inclusive and Sustainable Industrialization at the session, in line with its vision to be a leading platform for knowledge and technology transfer, innovation and investments. As part of its continued solution driven approach, a set of guidelines for sustainable design, development and management of integrated agro-food parks was introduced.
A Virtual Exhibition booth, showcasing the organization's expertise and achievements in four areas: sustainable food systems, industrial parks and special economic zones, sustainable energy solutions and digital transformation is being displayed. The digital content and media campaign of the forum attracted more than one million visits.
For further information, please contact:
Jie Zhao
Chief
Regional Bureau, Asia and Pacific Region