UNIDO and Foundation FSSC agree on strategic partnership to promote farm-to-fork food safety in low- and middle-income countries
15 June 2022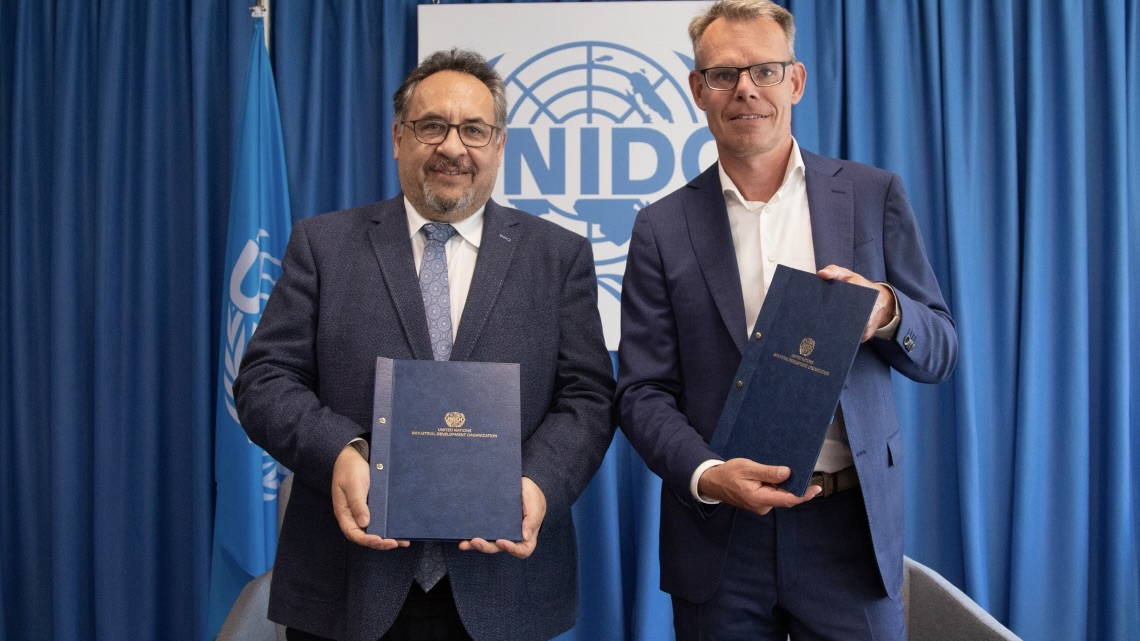 Vienna, 15 June 2022 – The United Nations Industrial Development Organization (UNIDO) and the Foundation FSSC – a global, non-profit and independent scheme owner that implements ISO-based management systems for global food safety in the consumer goods industry – signed a trust fund agreement to promote farm-to-fork food safety in low- and middle-income countries.
"UNIDO has a strong track record in promoting food safety along the entire value chain through effective food safety capacity-building initiatives", said Bernardo Calzadilla-Sarmiento, Managing Director of UNIDO's Directorate of Digitalization, Technology and Agri-Business. "We are committed to our strategic partnership with FSSC to reduce the socio-economic impact of foodborne diseases in selected low- and middle-income countries: global food safety is a shared responsibility that requires international collaboration and partnerships".
"Giving back is a key element to achieving FSSC's vision for creating a better world, and the partnership with UNIDO forms an integral part of our giving-back strategy", said Aldin Hilbrands, Director General of the Foundation FSSC. "Besides the partnership to support food safety capacity-building for local production and consumption in developing countries, the Foundation FSSC also actively participates by sharing knowledge to support and strengthen the local development of food safety systems".
Through capacity-building activities, the trust fund will develop robust food safety systems, thus reduce the socio-economic impact of food-borne diseases, in selected low- and middle-income countries: every year, two selected low- and middle income countries will receive support in creating a food safety culture among different stakeholders, including food safety practitioners, small and medium enterprises, national food associations and food safety authorities, to ensure that the food they make or control is safe for local consumption.
It is expected that the strategic UNIDO-FSSC partnership will have a synergetic effect on accelerating and scaling up their development impact on inclusive and sustainable industrial development, with the agreement running for an initial period of three years.
For more information, please contact:
Ali Badarneh, Chief of the Sustainable Food Systems division
**
About the Foundation FSSC:
The Foundation FSSC is a global non-profit and independent scheme owner that provides trust and delivers impact to the consumer goods industry. At FSSC, we have been delivering impact on global food safety for over 12 years. We do so by supporting the consumer goods industry in implementing ISO-based management systems, reaching its objectives and the United Nations Sustainable Development Goals.
About UNIDO's Department of Agribusiness:
Through a range of technical cooperation services targeted at the food and non-food sectors, the Department of Agribusiness assists developing countries in adding value to their agricultural output and in generating off-farm employment opportunities in rural communities, thereby contributing to rural economic development and structural transformation. The Department also fosters innovative approaches to building human capital and raising productivity, in particular through vocational and entrepreneurship training and industrial skills development in partnership with the private sector. Collaborating with International Financial Institutions, the private sector, and other UN agencies, the Department further supports the development of agribusiness corridors that promote private sector investment in agriculture and agribusiness. All of these activities contribute to food security, poverty reduction, youth employment and women's economic empowerment, thereby addressing the root causes of migration at the origin and generating prosperity in rural communities.