UNIDO Director General calls for a fairer global trade system with binding international standards
28 July 2022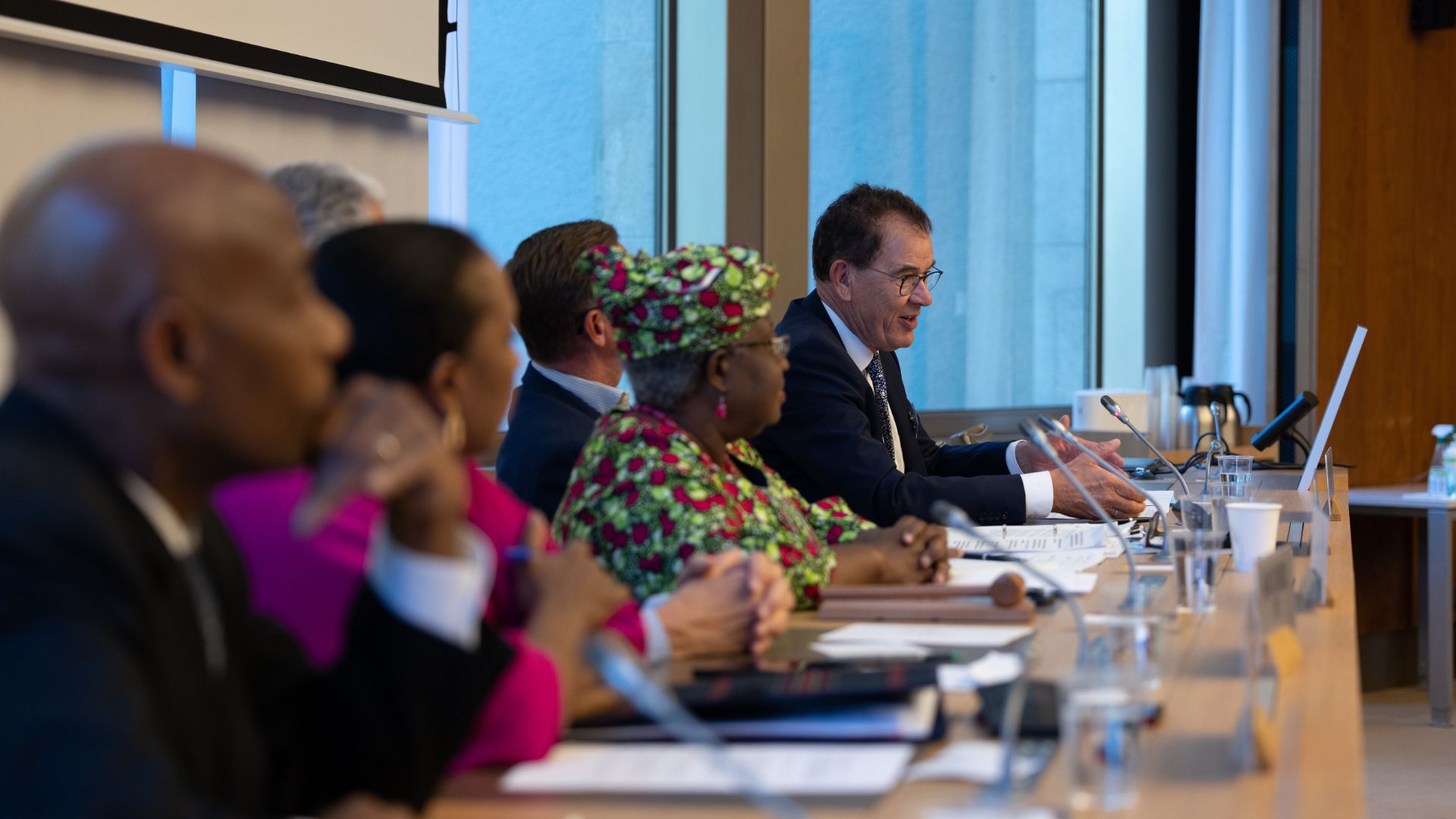 GENEVA, 28 July 2022 – UNIDO Director General Gerd Müller took part in the World Trade Organization's Eighth Aid for Trade Global Review with the theme "Empowering Connected Sustainable Trade". In his introductory remarks at the Opening Plenary session, Müller called for a move towards a fairer global trade system, with increased investment in productive capacity in developing and least developed countries. Moreover, he declared it a "moral must" that international social and ecological standards be established, respected and enforced to prevent the exploitation of nature, people, and especially children, in global supply chains.
Müller later participated in the roundtable discussion on "Better Trade for Better Health" focusing on the fight against illicit trade in medical products. He drew attention to the urgent need to combat substandard and counterfeit products and expand high quality manufacturing capacity for vaccines and essential medicines worldwide to assure a fair availability of these life-saving medicines and to avoid a repetition of the disastrous imbalance in the distribution of COVID-19 vaccines.
At its launch event, Müller signed the "Call to Action on Cotton". Having introduced an initiative for fair wages and trade in the textile industry during his time as Germany's Development Minister, he continues to push for binding standards in the industry, which is so central to the well-being of tens of millions of workers and to the clothing industry upon which we all rely.
In addition to participating in the Aid for Trade Global Review, Müller held a number of other meetings while in Geneva. Speaking with Ngozi Okonjo-Iweala, Director General of the World Trade Organization, Müller reiterated UNIDO's commitment to establishing binding international trade standards and building up regional production of essential medicines. Moreover, the WTO and UNIDO are proposing a move from "Aid for Trade"to "Investment for Trade".
Dr. Adhanom Ghebreyesus Tedros, Director General of the World Health Organization, and Müller discussed further cooperation between the two organizations. Müller stated that "the WHO needs to be further strengthened as the global competence center on health and the fight against pandemics". Both agreed on the need for a One Health approach involving reinforced local institutions and regulatory systems and a massive increase in local medical production capacity.
A meeting with Seth Berkley, CEO of GAVI, the Vaccine Alliance, explored opportunities to cooperate in order to best tackle new outbreaks like COVID-19 and legacy diseases like TB, hepatitis B and measles. Mueller said that "COVID 19 was effectively fought thanks to the enormous efforts of GAVI for structural immunization". Both concurred that closing logistical gaps in supply chains and enhancing local vaccine manufacturing are critical.
Müller also used his visit to establish partnerships with the private sector to advance sustainable development. Discussions with Ramon Esteve, President of the Swiss Trading and Shipping Association (STSA) as well as top managers from the leading companies Vitol, Cofco, ECOM, SGS, and Socfin, explored possibilities for partnerships in advancing fair commodity trade and supply chains. Talks with Diane Holdorf, Executive Vice President of the World Business Council for Sustainable Development (WBCSD), focused on mobilizing the private sector for the same goals.
Talks with the Head and members of the ILO's transition team, put in place by DG elect Gilbert Houngbo centred on cooperation on binding global standards in supply chains, a joint initiative to combat child labour, tackling youth unemployment through vocational training and updating the ILO-UNIDO Working Agreement.
A meeting with Geneva-based Permanent Representatives to UNIDO outlined Müller's vision for the Organization and on plans for enhanced cooperation in Africa, the Caribbean Region and in Asia. Ambassadors called on UNIDO to facilitate the mobilization of investment and transfer of technology.