UNIDO TICAD 8 Week
26 August 2022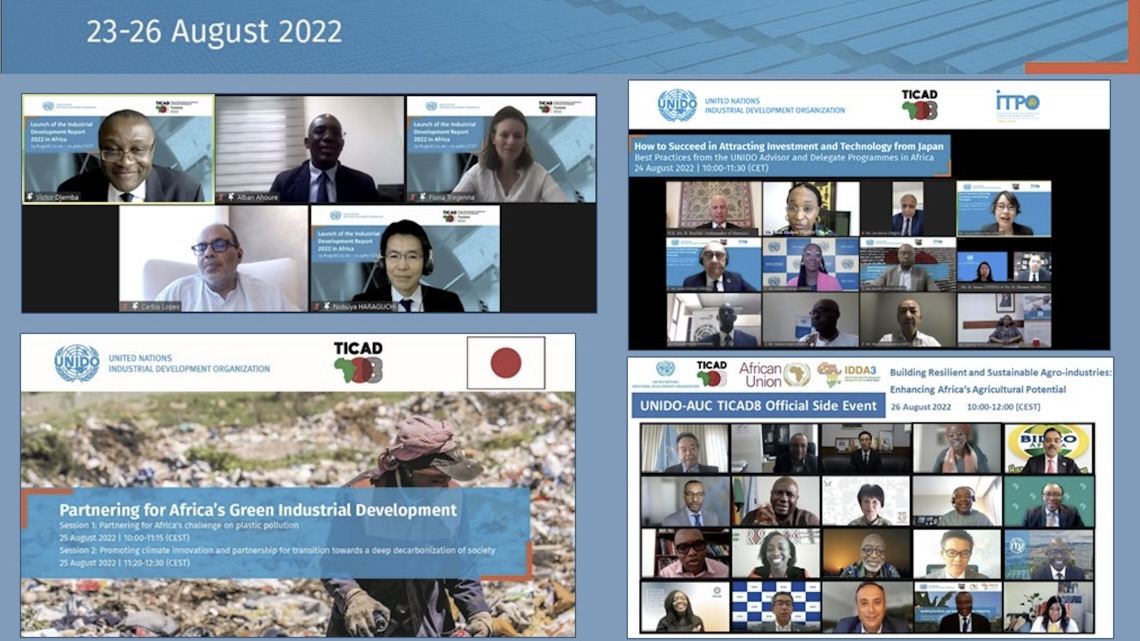 VIENNA, 26 August 2022 - Five virtual events on various themes, including the launch of the Industrial Development Report 2022 in Africa, marked the observance of the Eighth Tokyo International Conference on African Development (TICAD 8) Week at UNIDO.
The events were organized to coincide with TICAD 8 led by the Government of Japan held on 27 and 28 August 2022, in Tunisia. TICAD8 revolved around three themes: "Achieving sustainable and inclusive growth with reduced economic inequalities"; "Realizing a sustainable and resilient society based on human security" and; "Building sustainable peace and stability through supporting Africa's own efforts" in the post-pandemic context.
To advance UNIDO's contribution toward inclusive and sustainable industrial development (ISID) in Africa, through the IDDA III-TICAD and UNIDO-Japan cooperation framework, a series of knowledge sharing events took place from 23 to 26 August. This included the regional launch of the UNIDO Industrial Development Report 2022 in Africa. Webinars on investment and technology transfer from Japan, on Africa's green industrial development, including solutions for plastic pollution and to enhance decarbonization capacities, and on building resilience via sustainable agro-industries were held.
The UNIDO TICAD8 Week attracted the participation of approximately 550 stakeholders including high-level dignitaries from the African and Japanese Governments and amongst others, the private sector, African Union Commission, UN agencies, development and financial institutions and civil society from across the world.
UNIDO, the specialized UN agency for Industrial Development has been an active partner and supporter of the TICAD process since its launch in 1993. The support to TICAD has become more relevant and significant since UNIDO was tasked to lead the implementation of the Third Industrial Development Decade for Africa (IDDA III) initiative. The IDDA III aims to anchor Africa on a path towards inclusive and sustainable industrial development (ISID).
UNIDO's contribution to TICAD8 reaffirms the importance of African-led development amid shared global challenges. It highlights the need for multilateral cooperation initiatives such as TICAD and IDDA III to enable Africa reach the goals of the 2030 Agenda for Sustainable Development, and the African Union's Agenda 2063 The Africa We Want.
For further information, please contact:
Mr. Victor C. Djemba, Chief
UNIDO Africa Division
Ms. Matilda Muweme, Senior Programme Officer, IDDA III Secretariat
UNIDO Africa Division