UNIDO's third virtual edition of the LKDF Forum responds to the importance of skills development and a resilient workforce
20 October 2022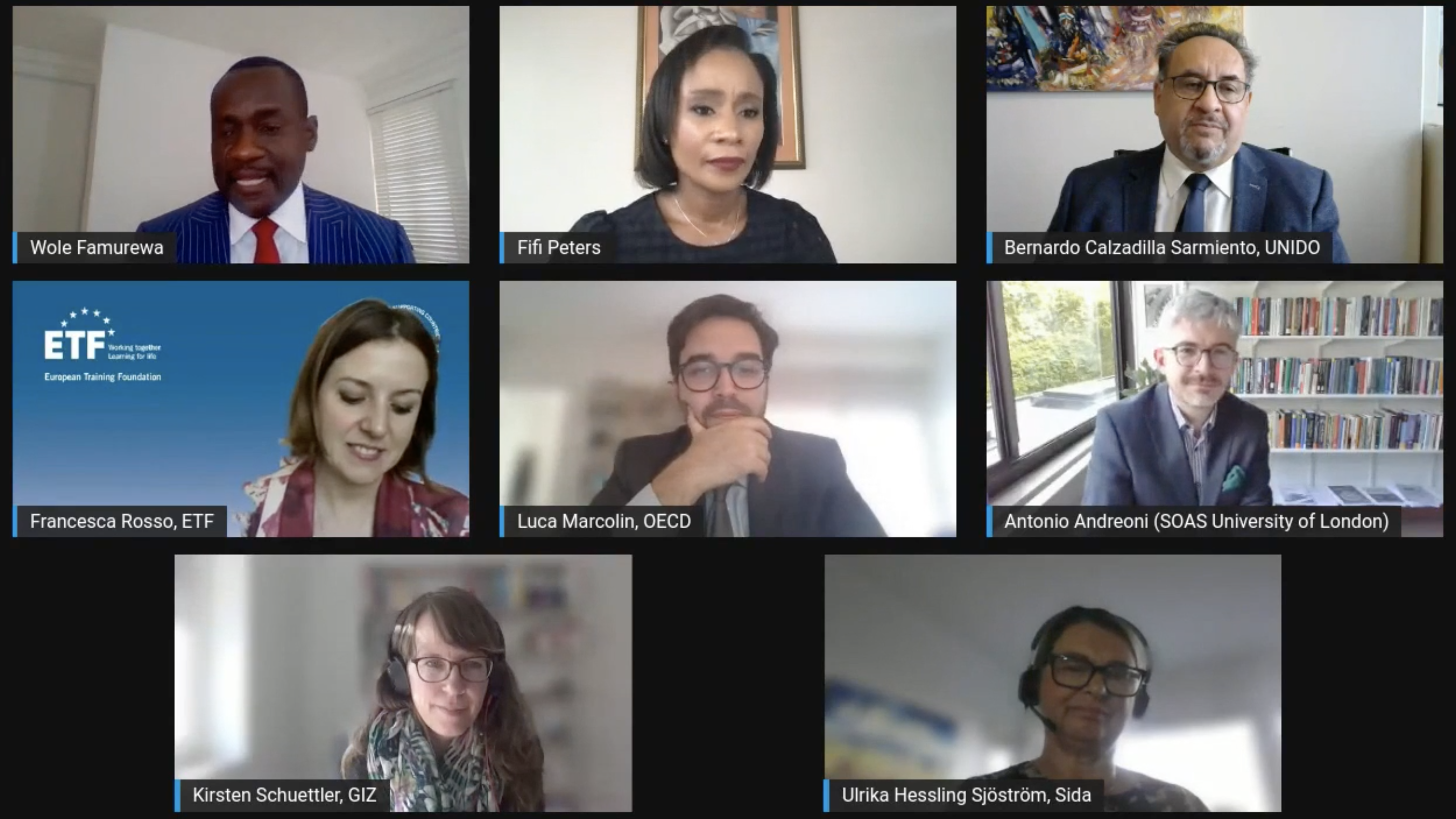 VIENNA, 20 October 2022 – According to Deloitte, only 10% of firms are equipped to reskill their employees to meet company needs. Recognizing the importance of skills development and a resilient workforce, on 19 and 20 October 2022, UNIDO's Learning and Knowledge Development Facility (LKDF) held its third virtual edition of the LKDF Forum. This year's theme, "Skills for Resilience: Are We Ready for a Skills Revolution?", sparked the interest of an audience composed of high-level dignitaries, representatives of the public and private sectors, head of international organizations, civil society, academia, EU representatives, and young leaders.
"Our virtual event today is happening while the world struggles with the after-effects of the Covid-19 pandemic, climate change and too many conflicts worldwide", said Gerd Müller, Director General of UNIDO, during his opening remarks. "To build a more sustainable future we need to change. Developing skills is one of the key priorities. Together we recognize that building resilience of workers and the resilience of organizations is critical to withstand these crises and the next", said Müller.
During their opening remarks, high-level dignitaries highlighted the importance of building a more resilient workforce. The Forum drew participation from Ministers from Cambodia, Morocco, Somalia, Uganda, Sierra Leone and Liberia, other UN agencies including UNESCO and the International Labour Organization (ILO), and partners such as WorldSkills International and the European Training Foundation.
Highlighting the role of youth for a more resilient future, Jayathma Wickramanayake, the United Nations Secretary General's Envoy on Youth said, "To truly address young people's long-standing disparities and challenges, we must ramp up skills development, education, and training that is fit for the present and fit for the future". Wickramanayake also explained that being resilient means being dynamic, and that approaches to skills development must be needs-driven to ensure that young people will be more resilient despite unexpected challenges.
Six panels featuring experts from a wide range of sectors and backgrounds discussing resilience in skills from an individual, institutional, educational system (TVET) and private sector level took place. Bernardo Calzadilla-Sarmiento, Director of the Division of Fair Production, Sustainability Standards and Trade at UNIDO helped to set the scene, and noted, "Emergency preparedness is not enough. We need to put individuals at the center of any transformation and provide the necessary skills, good governance, and a holistic approach that takes all players into account".
The forum called on the international community and policymakers to take concrete steps in working towards resilience in skills development initiatives. In closing, Gunther Beger, Managing Director of the Directorate of SDG Innovation and Economic Transformation at UNIDO, stressed that "We need to generate consensus and continuous engagement among partners on facilitating reskilling and upskilling initiatives, promote a culture of lifelong learning through digital, flexible and inclusive learning modalities to establish a stronger and more resilient skills infrastructure that is demand-oriented and inclusive".
For more information, please contact:
The Learning and Knowledge Development Facility (LKDF)
Email
Official recording of the LKDF Forum 2022 will be available in due course on the LKDF Youtube channel.