The winners of the UNIDO Global Call for "Innovative Ideas and Technologies vs. COVID-19 and beyond" are announced
14 July 2020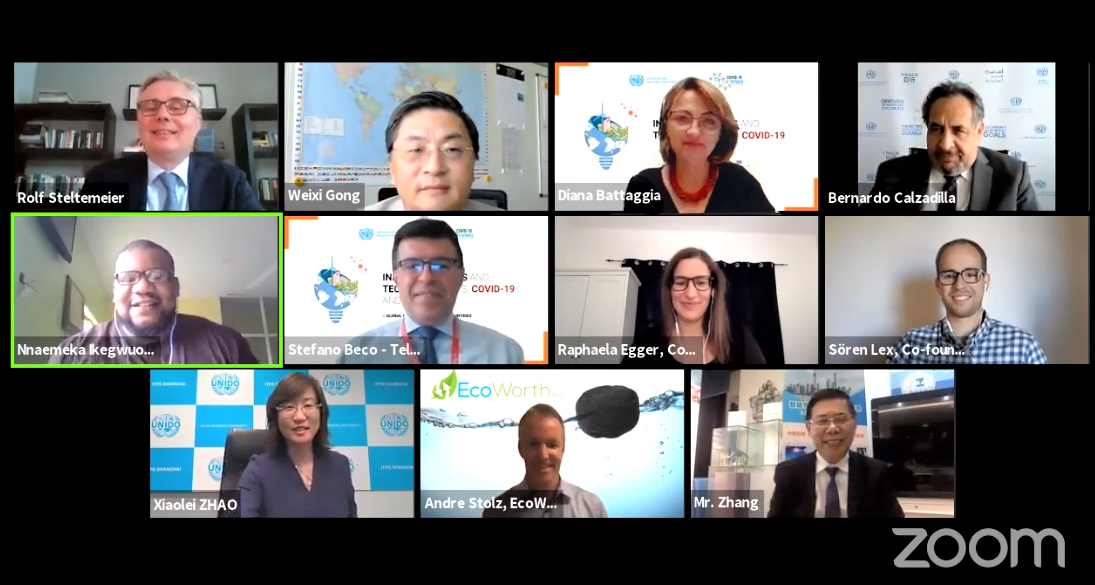 VIENNA, 14 July 2020 – The winners of the Global Call for "Innovative Ideas and Technologies vs. COVID-19 and beyond" organized by the United Nations Industrial Development Organization (UNIDO) were announced during the concluding Award Ceremony, held in live streaming on 14 July 2020.
Through the 1100 applications submitted from 108 countries from around the world, the initiative successfully identified innovative solutions and scalable technologies worldwide to assist developing countries in tackling the disruptive sanitary crisis and the far-reaching socio-economic effects of the current COVID-19 pandemic.
The winners of the four strategic categories of the Global Call were identified based on the vote of a jury comprised of internal and external experts. Due to the close vote from the jury, two winners were identified for the Health Emergency category, while one winner was identified for each of the other three categories as follows:
The Award Ceremony was opened by Bernardo Calzadilla-Sarmiento, Managing Director, Directorate of Digitalization, Technology and Agri-business, informing that "UNIDO is stepping up its efforts and working with its Member States and other UN agencies to support developing countries to first respond to the crisis, and then recover better, building more equal, sustainable and resilient economies through Inclusive and Sustainable Industrial Development".
The Award Ceremony was moderated by Diana Battaggia, Head of UNIDO Investment and Technology Promotion Office (ITPO) Italy, and the winners per category were introduced by Xiaolei Zhao, Head of UNIDO ITPO Shanghai and Rolf Steltemeier, Head of UNIDO ITPO Germany. Representatives from the identified proposals per category were offered the opportunity to present their proposals in front of the live audience.
To maximize visibility to the awarded proposals and support the conclusion of international partnerships, UNIDO will provide the winners of the Global Call with advisory and mentorship services through its ITPOs, as well as with the opportunity to showcase their innovative solutions on the occasion of the upcoming EuroScience Open Forum 2020 (ESOF2020) and Expo Dubai 2021.
During his closing remarks, Weixi Gong, Chief, Investment and Technology Promotion Division, ITP Network Secretariat Coordinator, commented that the solutions identified through the Global Call offer an opportunity in view of recovering from the current COVID-19 crisis. "Instead of going back to unsustainable systems and approaches, we need to move towards renewable energy, sustainable food systems, gender equality, stronger social safety nets, and more sustainable consumption and production patterns in an international system that can deliver consistently and universally – with the Sustainable Development Agenda as our guide".
For more information and details please visit the relevant webpage.
Watch full recording of the webinar:
For more information, please contact:
Weixi Gong
Chief, Investment and Technology Promotion Division, ITP Network Secretariat Coordinator