SwitchMed – Switching to a resource efficient and greener growth

SwitchMed is an initiative, funded by the European Union, which supports eight countries in the Southern Mediterranean (Algeria, Egypt, Israel, Jordan, Lebanon, Morocco, Palestine and Tunisia) in achieving sustainable productive and circular economies. Under the lead of UNIDO, and in collaboration with UNEP-DTIE, UNEP/MAP, SCP/RAC, and local partners, SwitchMed supports and connects stakeholders from different business sectors to scale up eco and social innovations in the Southern Mediterranean. Together with actors from the industry, SMEs, emerging green entrepreneurs, civil society and policy makers, SwitchMed seeks to support patterns of Sustainable Consumption and Production through policy development, demonstration activities and networking - unlinking economic development from environmental degradation.
Assisting the private sector in turning challenges related to environmental degradation and rising production costs into opportunities is at the core of the MED TEST II component - a unique and innovative part of the SwitchMed Program. The Transfer of Environmentally Sound Technology (TEST) methodology of UNIDO addresses rising energy and raw material costs by demonstrating how best practices in Resource Efficient and Cleaner Production (RECP), with an attractive return on investment, can be integrated into current business operations of the Southern Mediterranean industry.
But to effectively transform industries in switching to a production that uses less resources, reduces pollution, and can support businesses to manage the transition of becoming more competitive, calls for a change in knowledge, attitudes and practices related to resource consumption in the production. Therefore, the MED TEST II project has followed an approach that can strengthen the national capacities of offering RECP services and develop the local market for sustainable production services to local industries, in combination with 125 RECP industry demonstrations that have been able to showcase the potential for RECP in the Southern Mediterranean region.
To date, 682 industry professionals and 44 service providers have been trained and engaged in applying the TEST methodology, and 125 industries from five production sectors have demonstrated the business case of a resource efficient and cleaner production in the region, bringing economic and environmental benefits, including matchmaking with existing financing instruments.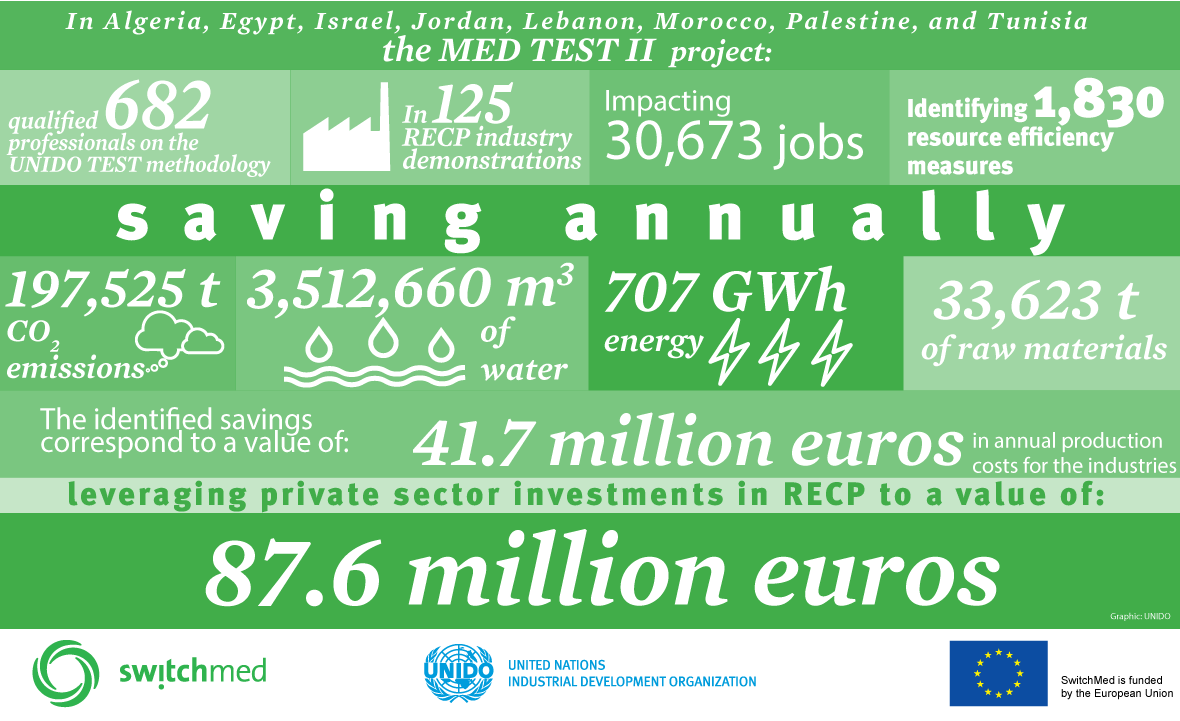 The MED TEST II project has also proven to become an important mechanism to demonstrate for national policymakers the advantages of a switch to Sustainable Consumption and Production that can balance environmental and economic challenges to create additional growth opportunities for the economies. Consequently, UNIDO has cooperated with a number of national institutions and stakeholders to include and scale-up the benefits of resources efficient production in national policies and developed eight national roadmaps.
In parallel to MED TEST II, UNIDO has organized the SwitchMed B2B events in Lebanon, Tunisia, Morocco and Egypt, bringing leading businesses from the EU's Eco-Innovation and LIFE Programme together with local stakeholders and businesses in the region. Seeking to connect European knowledge networks in innovative eco-business solutions, the SwitchMed Business Networking has assisted local SMEs in the region to find eco-innovative solutions for their production that can help the businesses to save resource and production costs.
The perennial event, SwitchMed Connect, unites stakeholders from the SwitchMed programme and seeks to build synergies, exchange knowledge in interactive sessions, seminars, scale-up workshops on how to make the Switch towards a more Sustainable Consumption and Production in the Southern Mediterranean region. Leading start-ups and entrepreneurs, industry representatives, change agents, policy and financial institutions engaged in the circular and sharing economies in the Mediterranean, come together, once every year, in Barcelona to share stories, expertise and experience on eco and social innovations.
For more information about the perennial SwitchMed Connect event, click here.
Contribution to the Sustainable Development Goals