Introducing Ethiopia
Ethiopia is a federal democratic republic with nine states and two city administrations. With an estimated population of 94 million, it is the second most populous country in Africa. It is also one of the continent's fastest growing economies. The country's gross domestic product (GDP) was USD 46.87 billion in 2013, with a growth rate of 10.4 per cent the same year and an average growth rate of 10.9 per cent since 2004. The rate of growth is projected to average 7.3 per cent from 2015 to 2018.
Economic growth is primarily driven by government-led development policies, with a rapid expansion of public infrastructure and basic services. Increasing exports and foreign direct investment have also fuelled growth.
Agriculture remains central to the country's structural transformation and poverty reduction efforts. The agricultural sector contributes 44 per cent of GDP, while industry's share remains relatively small, accounting for 13 per cent of GDP. The manufacturing subsector amounts to four per cent of the overall GDP.
National development targets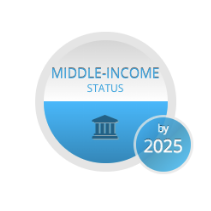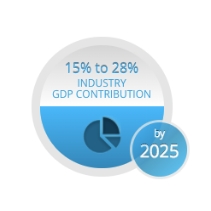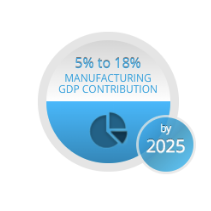 PCP ETHIOPIA
A unique opportunity to boost the economy
UNIDO has been actively involved in Ethiopia since 1968, with nearly 300 projects covering a wide range of technical assistance interventions, such as vocational training, cluster building and value chain development. In addition, between 1999 and 2008, UNIDO implemented two phases of its Integrated Programme for Ethiopia.
The Programme for Country Partnership (PCP) for Ethiopia brings together development partners, UN agencies, financial institutions and the business sector ─ under the leadership of the national Government ─ to help achieve the goals set out in the country's industrial development strategy and Growth and Transformation Plan II (GTP II, 2015-2020).
The PCP focuses on three light manufacturing sectors: agro-food processing; textiles and apparel; and leather and leather products. These sectors were chosen due to their prospects for job creation, strong linkages to the agricultural sector, high export potential and capacities to attract private sector investment. They will act as a springboard for the transformation of Ethiopia's economy from one based on agriculture, to one driven primarily by light industries.
UNIDO has a technical team dedicated to executing the PCP at its Vienna headquarters.
Ethiopia: moving towards inclusive and sustainable industrial development (2014) Play video
PARTNERS
The African Development Bank (AfDB), European Investment Bank (EIB), European Union (EU), Food and Agriculture Organization of the United Nations (FAO), International Fund for Agricultural Development (IFAD), International Finance Corporation (IFC), United Nations Development Programme (UNDP), World Bank (WB), as well as China and Italy are among the key development partners operating in Ethiopia. Development partners provide support through short- and medium-term interventions to upgrade infrastructure, increase agricultural productivity, generate youth employment, and develop the financial services sector. The various programmes and projects are aligned with the Government's Growth and Transformation Plan.
Watch this video for more information.