African policymakers expect severe COVID-19 impact on industry - UNIDO survey
17 November 2020 Frank Hartwich, Anders Isaksson and Jenny Larsen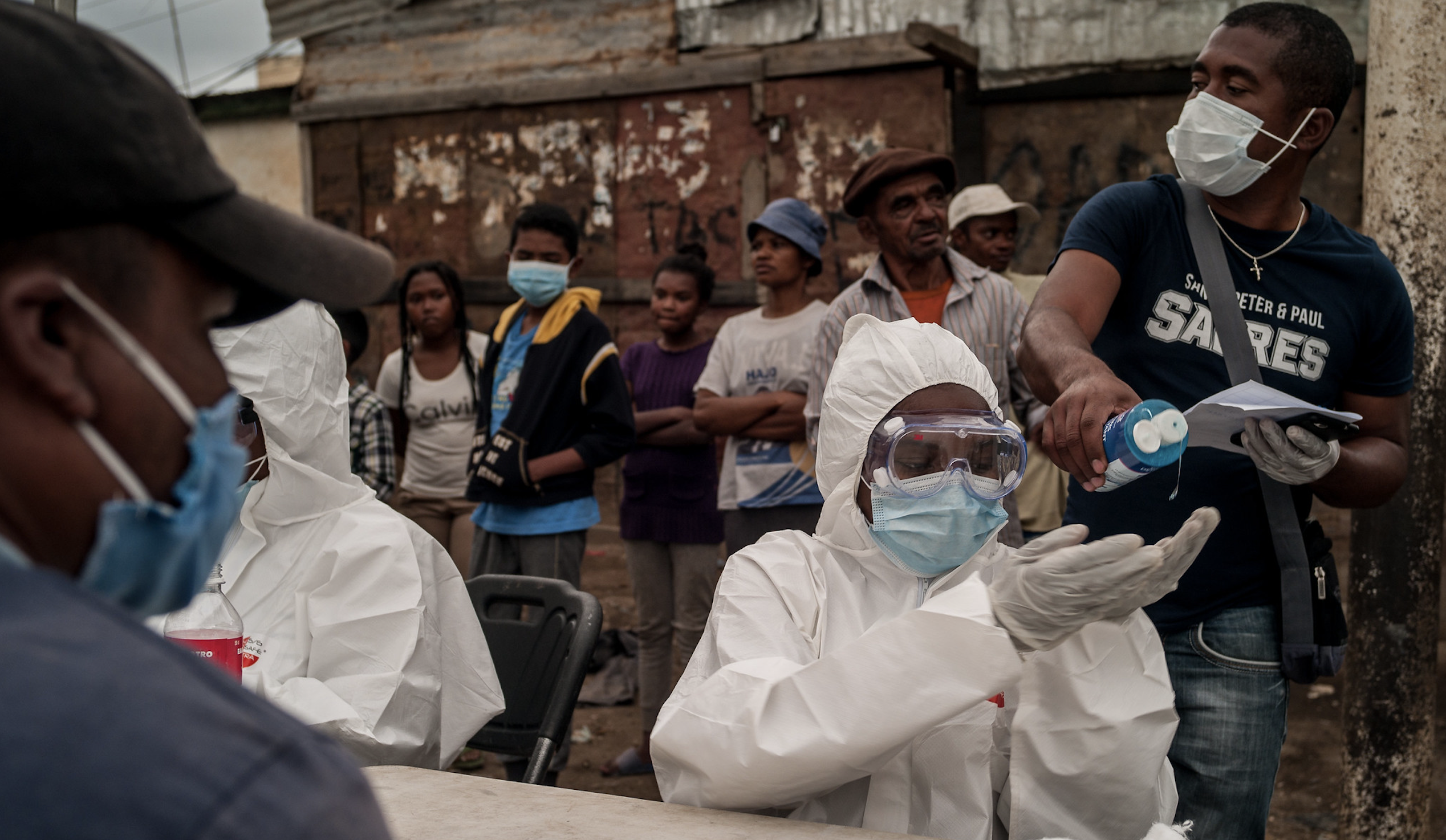 Photo credits: World Bank Photo Collection
By Frank Hartwich, Anders Isaksson and Jenny Larsen
Africa has so far been spared the worst health effects of the COVID-19 pandemic. But despite a lag in the arrival of the virus on the continent and a large informal sector, policymakers say the impact on industry will be severe. More help is needed at international level to develop policies to prepare industry for the post-COVID-19 economic environment.
In a new online survey of policymakers in African ministries of industry, the majority said they expected industry revenue to drop by more than 25 per cent in 2020, with some suggesting it could be over 50 per cent. In the survey carried out by the UN Industrial Development Organization (UNIDO), just over half the respondents expected recovery to take at least a year, while the remainder said at least two years was more likely.
One major reason given for the anticipated fall in revenue is the widespread supply shortages of inputs caused by the pandemic, along with a simultaneous drop in demand and supply, and factory closures.
"While African economies did not, per se, intensify the stay-at-home policies and lockdown protocols, they were still hit with a double whammy effect that has played out both on the supply and demand side for manufacturing goods," according to the UNIDO working paper based on the survey.
The crisis will harm already vulnerable economies, many of which had previously been on a promising growth path. If predictions of a longer recovery prove correct, it threatens to reverse some recent development progress.
The longer that mitigation policies are kept in place, the greater the risk that other measures necessary to push forward industrial development will be neglected. "If COVID-19-related policies imply a delay in industrialization and a slowing down of productivity, we can expect to see a regression of some of the advances in development experienced hitherto in Africa," according to the UNIDO paper.
In its more conservative outlook scenario, the United Nations Conference on Trade and Development (UNCTAD) predicts a drop in African GDP of at least 1.4 per cent in 2020, with least developed countries (LDCs) and small island developing states (SIDS) most affected. In a more pessimistic outlook, it says exports could fall by over 16 per cent, with countries such as Nigeria and Ethiopia suffering severe losses.
The impact on industry comes on top of a general trend of slow to stagnant industrialization on the continent. UNIDO figures show that Africa's share of world manufacturing value added (MVA) stands at 1.6 per cent, with signs of deindustrialization in some countries, especially LDCs. There has also been a general fall in the share of manufacturing in GDP across most regions, although there have been signs of consolidation in recent years.
Evidence from the UNIDO survey shows that some African countries have in some cases copied policy measures on COVID-19 response introduced in more developed countries, without considering the attendant substantial fiscal burden. Meanwhile, state budgets have had to be used for more pressing needs such as direct cash transfers to vulnerable groups and the poor, leaving less scope for industry-saving measures.
So far, governments have used mainly short-term measures to help firms survive the crisis, partly because of the time lag in the virus arriving on the continent, but also because of a lack of awareness and of capacity to design longer-term measures.
The dominance of informal enterprises in many parts of the industrial sector has made it difficult to channel business support because so many firms are not registered. In addition, policies that support industrial businesses to move beyond the cashflow crunch and put their business back on solid feet in the new COVID-19 and post-COVID-19 environment are even less prominent, if not absent. This is not only because of tight state budgets, but also because of the limited capacities among agencies providing business development services to help implement such policies.
According to respondents, the crisis has also slowed the work of government and disrupted the flow of information between government and industry, which is likely to weaken not only the quality of policies designed by government but also the level of buy-in from industrial sectors and other stakeholders. The necessary focus on the crisis has also taken attention away from other projects, such as essential programmes to improve basic infrastructure, policymakers say.
The most common measures implemented to date by the majority of countries are tax payment deferrals, delays in debt payments and extensions of credit lines. Around half of countries participating in the survey are providing subsidies to businesses.
As the pandemic continues to rage around the globe, economies are focusing increasingly on medium- to long-term measures to reorient business towards a 'new normal', on the assumption that the COVID-19 shock will have a permanent impact on the supply and demand of goods.
According to the UNIDO survey, African policymakers expect structural changes in supply and demand to have a significant impact on industrial firms. But, as yet, few governments have put in place measures to train workers, nor have they taken a longer-term perspective to implement measures to boost innovation, although most administrations have taken action to support the improvement of products and processes. The weak support for innovation may reflect lower stages of development in some economies.
Only a third of countries taking part in the survey have acted to support firms to deal with the changes in value chains and international markets, despite the fact that this is perceived by most to be a serious bottleneck.
On the question of how long measures were likely to remain in place, most respondents saw a two-year horizon as most likely. The also felt that the current set of policies was insufficient to save industry, and that more action is needed.
Asked how they perceived the role of the international community, half of those who responded called for long-term activities such as training of ministry staff, improvements in the availability, collection and quality of industrial statistics, and support for policy work related to COVID-19 and wider industry issues.
Looking ahead, the UNIDO paper states that policies to reorient business hold the key to post-crisis recovery:
"The recovery from the shock of COVID-19 will likely not allow a return to pre-crisis normality. Policies to identify new alternatives for the organization of global production networks and to build, diversify and reorient productive capabilities will be an important component of the strategies to build resilience against future disruptions."
UNIDO suggests that to be able to reopen fully, economies will need flexibility and close monitoring to phase out COVID-19-related measures and incentivise business. Policies should focus on developing alternative supply networks centred on local, domestic markets, allowing industry to stand on more solid ground.
As well as diversifying production and boosting production, it will also be necessary to improve the performance and reliability of local health care systems, linking them to local manufacturing supply chains.
UNIDO and other United Nations organizations have the knowledge and capacity to help coordinate efforts to support the most vulnerable industries worldwide - a view supported by the survey, which calls for a greater role from international organizations such as UNIDO in analyzing problems and developing policy solutions.
A forthcoming UNIDO survey of African industry will shed more light on the impact of the crisis at firm level.