Climate action in Tunisia
16 April 2022 Mashrou3i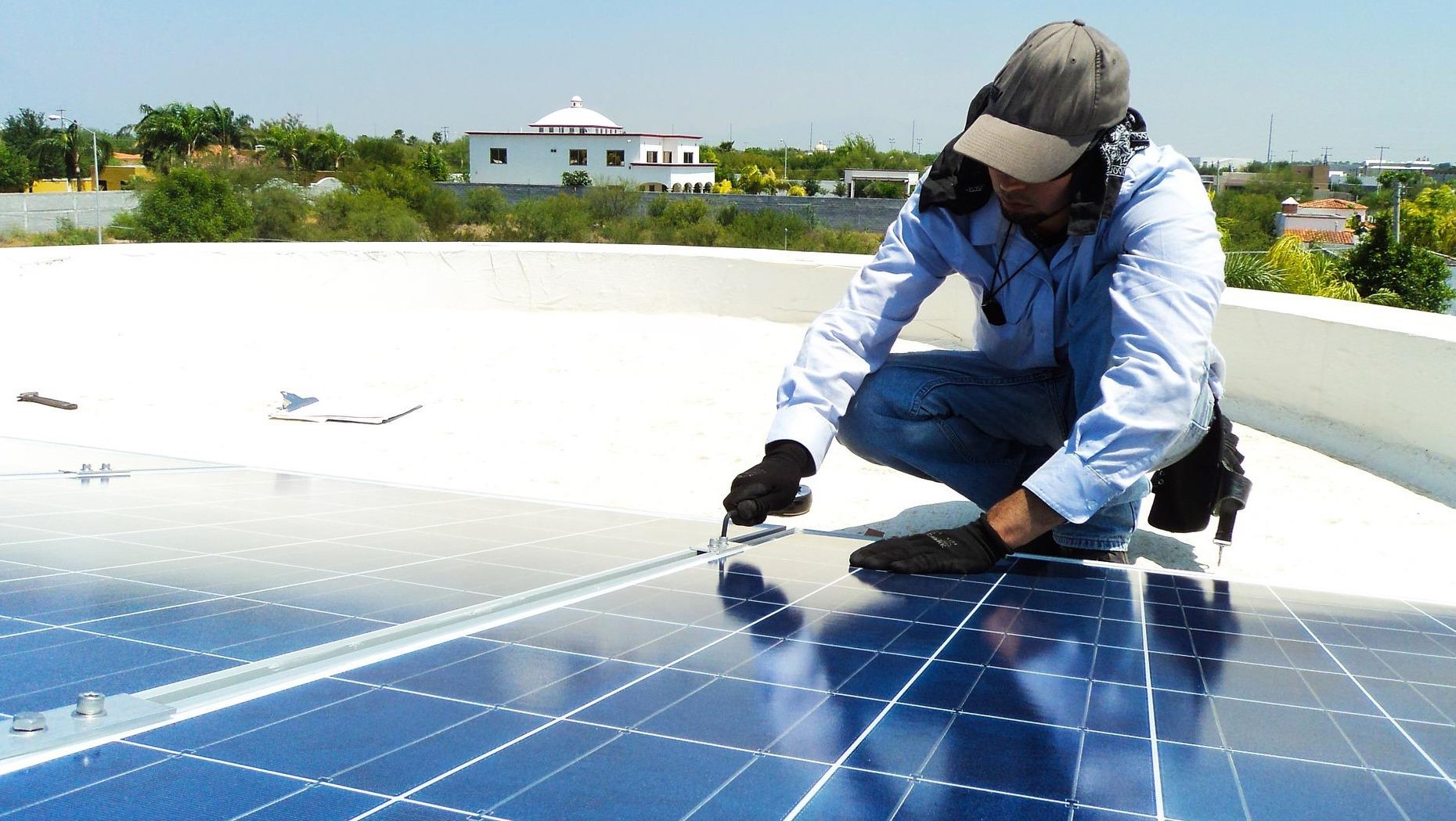 In a world where men still dominate industrial activities, Imen Jabli, a young engineer from Sidi Bouzid, proves that thanks to her skills and ambition, a woman can not only lead a successful business, but can also have a positive impact on her environment and promote sustainable development.
At only 30 years of age, Jabli is the founder of INARA Solutions, a company that studies, designs and installs photovoltaic panels. Based in Sidi Bouzid, a city in the centre of Tunisia, the company covers all the central regions of the country. Its customers are mainly individuals, industrialists and especially farmers, to whom it offers an efficient and sustainable solar pumping solution.
After graduating in renewable resources engineering from the National Institute of Agronomy in Tunis in 2016, Jabli started her professional career as an employee in a research office in Tunis. When the COVID-19 pandemic began in March 2020, she returned to her home region to work remotely during the confinement. It was then that she realized the opportunities the central regions offered in terms of renewable resources.
"When I returned home, I realized that there was a need for photovoltaic solutions. So, I did some research and started my own project study. It all happened in a very natural way. I was simply ready at that time to invest in a business project and despite the context that could frighten many, I felt that the time was right."
With self-financing, she launched her design office in Sidi Bouzid in 2021. With the help of her brother, and assisted by an administrative employee, Jabli faced down many challenges in setting up her business and prospecting for clients. Her status as a young woman didn't facilitate her entry into the market. With a smile and a strength of character all her own, Jabli looks back on her beginnings with lucidity.
" I faced many challenges with suppliers and clients because I am young woman in a male-dominated sector. It's hard to get people to take you seriously. Over the last year, I've learned how to adapt my behaviour and to be seen as a confident leader to gain their respect."
In her first steps as an entrepreneur, Jabli found support from Mashrou3i ('my project' in Arabic), a joint project implemented by the United Nations Industrial Development Organization (UNIDO), the United States Agency for International Development (USAID), the Italian Agency for Development Cooperation (AICS) and the HP Foundation. Alongside entrepreneurship training and business coaching, a vital pillar of the Mashrou3i project involves providing technical assistance to existing enterprises to enhance competitiveness and create jobs in Tunisia's interior regions.
Thank to several Mashrou3i training sessions, Jabli improved her technical and managerial skills and built a productive relationship with the project's coach.
"The training in photovoltaics particularly helped me to improve my technical capacities to ensure the launch of my activities. I was also supported by a coach, who, to this day, is always available to answer my questions and help me with my needs."
Jabli says, "When I started, I was motivated to work with 100% Tunisian resources. But to ensure the quality of the product, I decided to source only materials produced in Germany, which are designed for the intense heat of the country's arid regions, in order to ensure the quality of my service and its sustainability."
Jabli commands respect through the rigour and ambition she has developed during her entrepreneurial journey in a region where asserting oneself as a female leader is no easy task.
"In 10 years, I know where I will be. I will be a businesswoman and I will have positioned my company on the Tunisian market but also developed my activities on the African market, educating people for a sustainable and green future."
The above is an edited version of Leading climate action in Sidi Bouzid published in Women Entrepreneurs: Mashrou3i in Focus - International Women's Day 2022
Further reading:
Young Tunisian entrepreneur unlocks opportunities in the natural and organic cosmetics industry
Diversification: Tunisian company turns a crisis into an opportunity
Tunisia's entrepreneurs swing into action against COVID-19