Climate action: young Egyptians making more of energy management
14 March 2023 Charles Arthur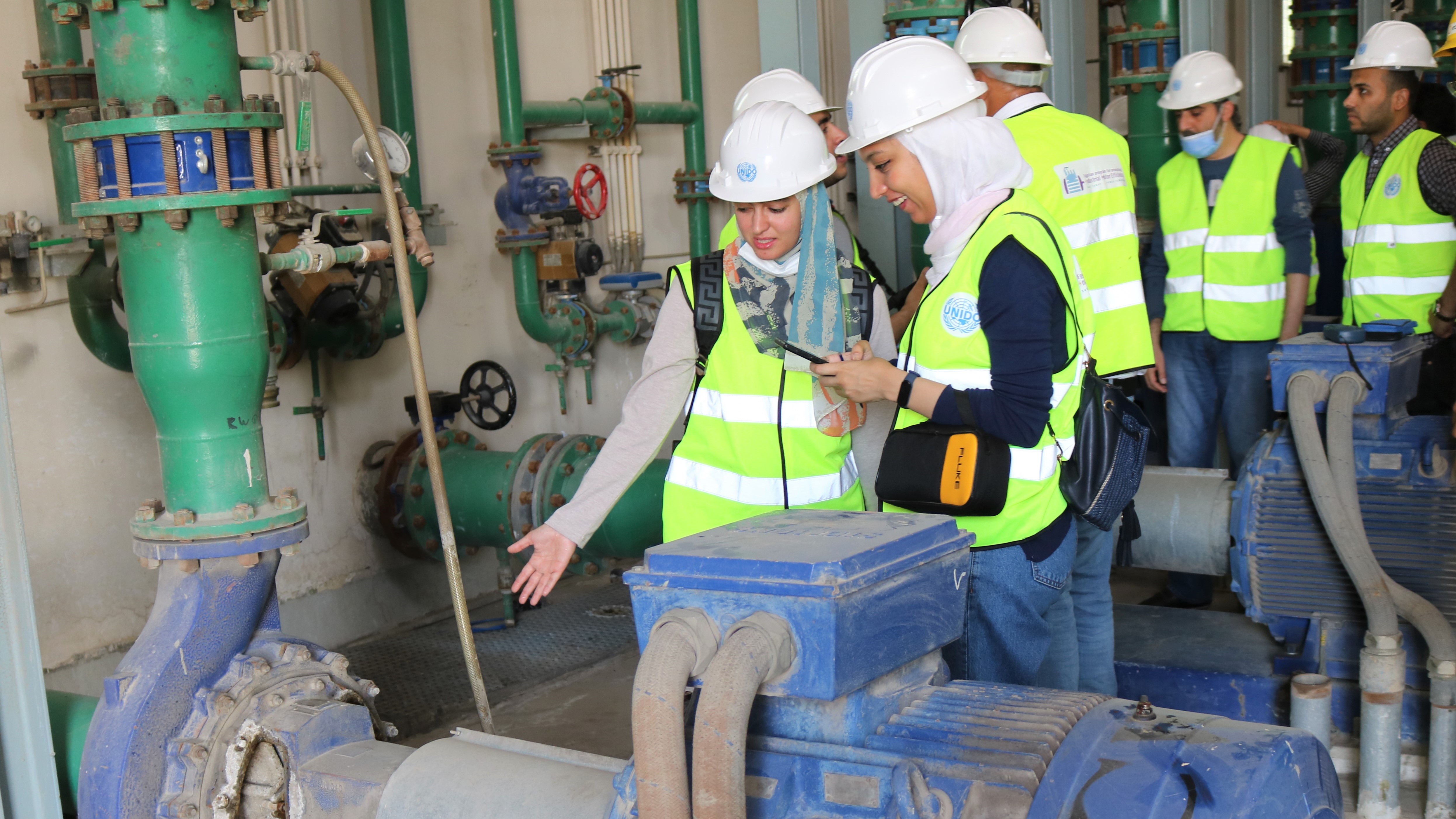 Young people across the globe are taking the lead on climate action. But to make the most out of their efforts, they need to have the right knowledge.
One of the most pressing challenges for emerging economies is the scarcity of jobs among youth. But the sustainable energy and energy efficiency sectors can deliver a significant number of job opportunities.
In this context, the United Nations Industrial Development Organization (UNIDO) is working to help Egypt's youth realize their potential.
Two UNIDO projects, Utilizing Solar Energy for Industrial Process Heat in Egyptian Industry and Industrial Motors Energy Efficiency Programme, recognize the need to develop the necessary human capital pipeline to meet the needs of the rapidly growing sustainable energy sector. At Egypt's universities, UNIDO is running capacity building and training sessions on energy management.
UNIDO spoke to some of the participants in the training courses.
Amira Fouad is 30 years old and a graduate in energy and renewable energy engineering at Ain Shams University. She has recently finished a master's degree in renewables.
Fouad said the training provide by UNIDO made her realize that "energy management is a multi-dimensional process. Being sustainable is not just adding a couple of solar panels on the roof. It's a complete process that involves every operation."
Asked what she would have told world leaders who gathered at the UN Climate Conference on Climate Change (COP27) in Sharm El Sheikh if she had had the chance, Fouad replied, "We need swift action, as climate change effects are escalating. Let's break the huge issues down to smaller ones to resolve, and set the politics aside. We don't have another planet as a spare."
She believes better governance, more knowledge, wider access to technology, and overcoming resistance to change, are pivotal to encouraging action on renewable energy, energy efficiency and climate change
She says youth understand the current problems and are "the generation that will bear the biggest weight of consequences". Her advice for young activists is to be "persistent to make sure that the message is delivered and the change is adopted."
Sanaa Ahmed is 20 years old and is currently studying sustainable energy at Cairo University. Her biggest takeaway from the energy management training delivered by UNIDO was that she learnt how to reduce her daily consumption of electricity.
She says she sees herself contributing to the clean energy transition and energy efficiency and to mitigating climate change by raising awareness, educating herself more on the topic, and reducing her daily energy consumption.
Ahmed believes that it is possible to encourage gender mainstreaming so that more females engage in environmental work by organizing events at schools and universities where female engineers can talk about the importance of this field for the future.
"If I were to say one sentence to encourage other young women to be proactive about clean energy transition and climate justice, it would be that it is our moral responsibility to not leave a dying world to our children."
Sherif Hesham is a 20-year-old currently studying sustainable energy engineering at Cairo University. He told UNIDO, "Since I was 16 years old, I was truly interested in energy, mostly the clean and sustainable ways to generate it, but I was not until I was 18 that I understood more about the climate change and global warming we are facing nowadays. All of this happened when I was just a student reading about energy in my school."
Hesham explains while he was a trainee at a factory he saw the need for a renewable energy transition. "I believe that accelerating the renewable energy transition is a must and will be beneficial in the future."
He says the UNIDO training helped him develop ideas about how to conserve energy and why it is so important.
In the future he sees himself contributing to the energy transition.
"As a member of the community, I can contribute by following the United Nations' solutions and recommendations. As an engineer studying renewable and sustainable energy engineering, I can contribute by working in programmes or jobs that generate renewable energy or by researching into how to find better and efficient ways (of making things)."