Since the outbreak of COVID-19 pandemic in Iran, the number of hospital patients has increased significantly, as in other countries, and the generated medical waste has put an extra burden on hospitals.
The first cases of COVID-19 infections were recognized on February 2020 in the city of Qom but, within a short time, the capital, Tehran, and its environs, became the worst affected region.
As the number of confirmed patients increased at an unexpected speed, the medical waste generated far exceeded the existing capacity for medical waste management and disposal.
There are currently more than 160 hospitals in the Tehran Province, by far the most populous of the country's 31 provinces and, by the time the virus took hold, each day they were generating some 110 metric tons of waste. Around half of this waste was potentially infectious. If not handled properly, the medical waste could easily spread the coronavirus, infecting the hospital staff dealing with its management and disposal.
Due to equipment shortages, hospitals were forced to increase the loads of existing disposal units, causing the devices to malfunction. Furthermore, because of the restrictions on the supply of replacement parts for equipment as a result of international sanctions on Iran, the authorities appealed for help.
On 1 April 2020, Kazem Gharib Abadi, Ambassador and Permanent Representative of Iran to the United Nations and other International Organizations, sent a letter to Li Yong, the then Director General of the United Nations Industrial Development Organization (UNIDO), requesting assistance in developing an emergency project to support the functioning of medical waste disposal equipment.
In the framework of the project, "Emergency response assistance to the outbreak of the coronavirus disease in the Islamic Republic of Iran", supported by the China International Development Cooperation Agency (CIDCA) through the South-South Cooperation Assistant Fund, UNIDO has procured two sets of medical waste disposal equipment from the Chinese Chongqing Gient Heating Industry Co. Ltd., and has installed and commissioned the equipment and provided virtual training for local staff on the environmentally sound management of medical waste.
Thanks to UNIDO, two hospitals in Tehran, the Imam Khomeini Hospital and the Firouzgar Hospital, can now effectively process four tons of medical waste per day using a non-combustion technology.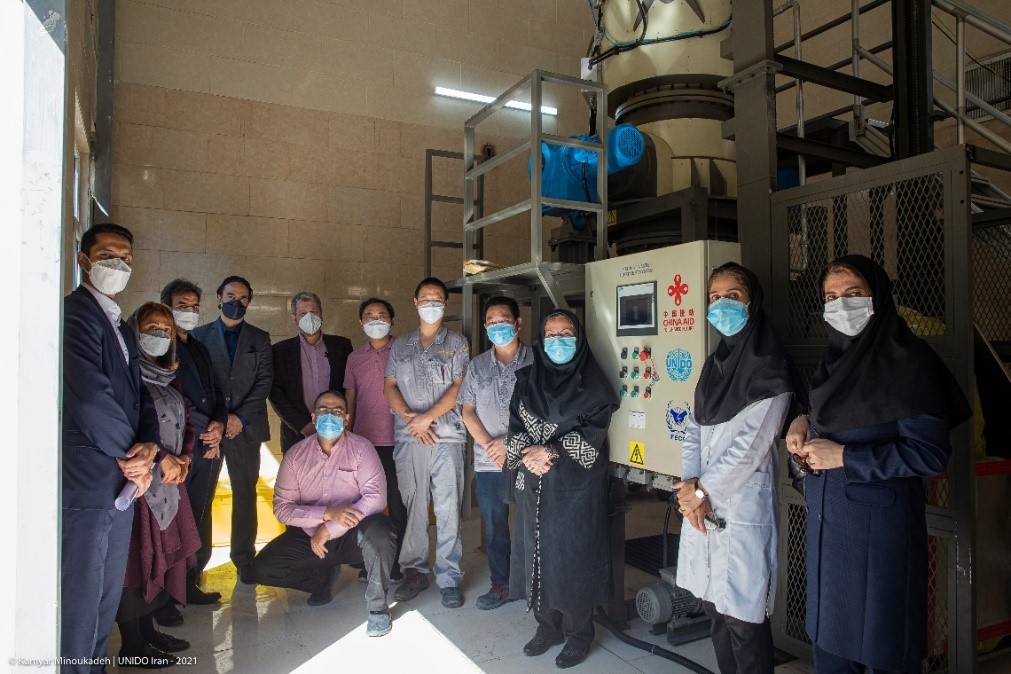 "Already 120 participants, from occupational health experts of hospitals and health centres to universities, have received the required training," said Dr Ahmad Jonidi, Head of the Environmental and Occupational Health Centre (MoHME).
"Trainers who have successfully completed the training, will train other trainers from other medical universities and educational health centres," he added.
Stephan Sicars, Managing Director of the UNIDO Directorate of Environment and Energy, stressed the importance of South-South cooperation as an effective modality to share knowledge and technology to allow countries to build back better after the global pandemic and to learn from each other.